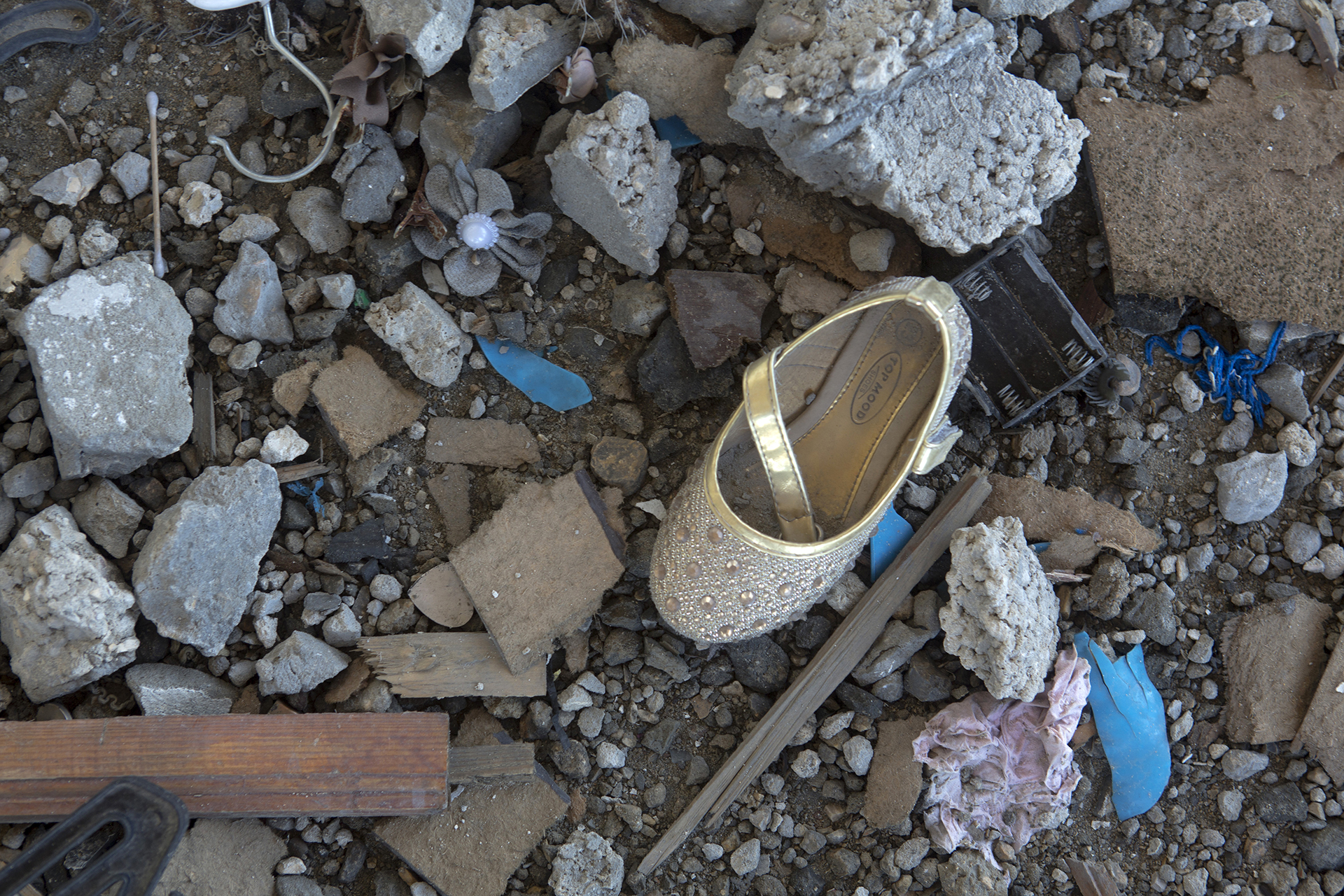 Rubble of the Maadi house
During the 2014 Israeli assault on the Gaza Strip, 142 Palestinian families lost three or more members. Some of the families were wiped out entirely.

The #ObliteratedFamilies project tells the stories of some of these families, their loved ones who were killed and those left behind.
Behind every erased Gazan family is an Israeli pilot. Behind every orphaned child who has lost his brothers and sisters in the bombing is an Israeli commander who gave the order and a soldier who pulled the trigger. Behind every demolished house are the Israeli physicist and hi-tech specialist who calculated the optimal angles for maximal impact. And there is the army spokesperson (backed by legal experts) who always evaded the journalist's question: how proportional is it to shell an entire building with all its inhabitants? What – in your laws – justifies killing 23 family members, babies, children and the elderly among them, in one fell swoop of a missile?
There is one very present absentee in the "stories" below: Israeli society. Whether those members of society directly responsible, from government ministers and general military staff down through the ranks, or those who are indirectly responsible in their support and refusal to know. Have the direct accomplices – most of whom preserve their armed anonymity – ever shown any interest in knowing who was targeted by their sophisticated smart bombs? Or how many unarmed civilians they killed, their names, how many girls and boys, how many members of a single family, how many entire families have been erased? Disastrously, the safe guess is that physical distance and the fact that both soldiers and commanders did not have to soil their hands with blood nor see the mangled bodies with their own eyes helped them greatly to bury any information, knowledge, and thought.
Before and between the major onslaughts of 2008-9, 2012 and 2014 "smaller-scale" Israeli assaults were carried out, and they too wiped out lives, or erased the toil of many years and added traumas onto past disasters. Another link in such a long chain of injustices that one's head is dizzy with disbelief, or the need to forget. At times, Gazans themselves help one forget: with their humor, their warmth, the continuity of life and vitality their creativity which breaks through all barriers and limitations of the siege and the pain, their silences – for they are sick of telling, or because what's the point. But more than ever, more than any previous large-scale or smaller-scale assault, after 2014, the quenched eyes of Gazans have recounted how that was the most horrific of attacks.
The UN Office for the Coordination of Humanitarian Affairs (OCHA) calculated that 142 families lost three or more members, each of these families in a single Israeli shelling or bombing. The total was 742 persons, more than 25% of all Palestinian casualties of that summer. There is nothing more difficult than gathering testimonies from people whose families have been nearly wiped out, to try and describe the horrendous vacuum which has been created and cannot be filled. The choice of "only" ten families, is a statement: testimony gathering and reading must not become automatic. It mustn't, lest feelings be dulled. Therefore, the silences and the spaces between the spoken and the unspoken, between the written and the unwritten, speak for all the rest.
The erasure of entire families was one of the appalling characteristics of the 2014 assault. These were no errors or mistaken personal choices on the part of a pilot or a navigator or a brigade commander. This was policy. There are no anonymous players here: the identity of the policy makers is well known, as are their names and positions. Between July 7 and August 26, Israel carried out about 6,000 air raids on the Gaza Strip and fired 14,500 tank shells and about 35,000 artillery shells. 2,251 Palestinians were killed, among them 1,462 civilians, 551 of whom were children, and 299 women. Some of the non-civilians killed – namely combatant members of the armed organizations – were not killed in battle but under the same civilian circumstances where their relatives were also killed: in their beds, in their own homes, during the fast-breaking meal, in their residential quarters.
As stated in B'Tselem's report "Black Flag", which investigated 70 of the 142 incidents, with the exception of a few cases Israel never gave any explanation for bombing or shelling those houses with their inhabitants inside. In other words, Israel never disclosed what and who were its targets: perhaps one of the family members, perhaps a weapons stash in the house or fire opened from a neighboring house? But the systematic action and the silence both show that Israel finds it 'legitimate' and 'proportional' to kill entire families: if one of their members is a Hamas fighter, if a weapons stash is held nearby or in their home, or for any other similar reason. What does it mean? That it is legitimate to shell nearly every home in Israel, for nearly every Israeli family has an armed soldier, and many homes are inhabited by senior army officials, and important military and security installations are situated in the heart of Israeli civilian population. This is an absurd and criminal criterion of warfare, opposed to international law and basic principles of justice. But the majority in Israeli society embraces it as right and justified.