Sandra Whitehead, Wisconsin Muslim Journal, May 23, 2023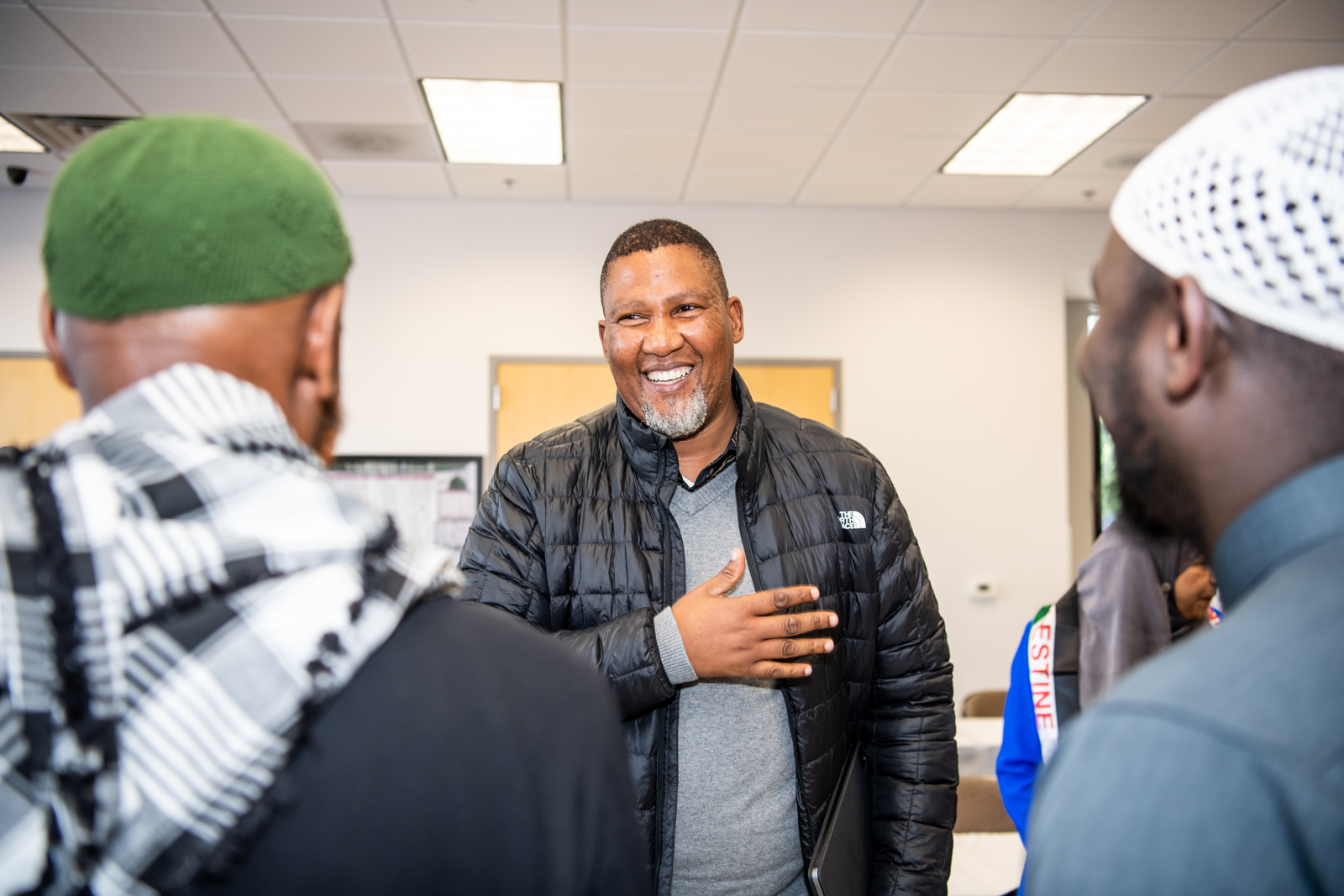 Photos by Mouna Photography
Nkosi Zwelivelile Mandela, the grandson of globally respected icon of resistance against injustice Nelson Mandela, meets members of Milwaukee's Muslim community.
About 40 community and interfaith leaders joined the Milwaukee Muslim Women's Coalition at the Islamic Resource Center in Greenfield May 15 to welcome the grandson of anti-apartheid activist and South Africa's first president Nelson Mandela on the launch of his six-city U.S. tour to commemorate the 75th anniversary of the Nakba, the 1948 expulsion of Palestinians from their homeland.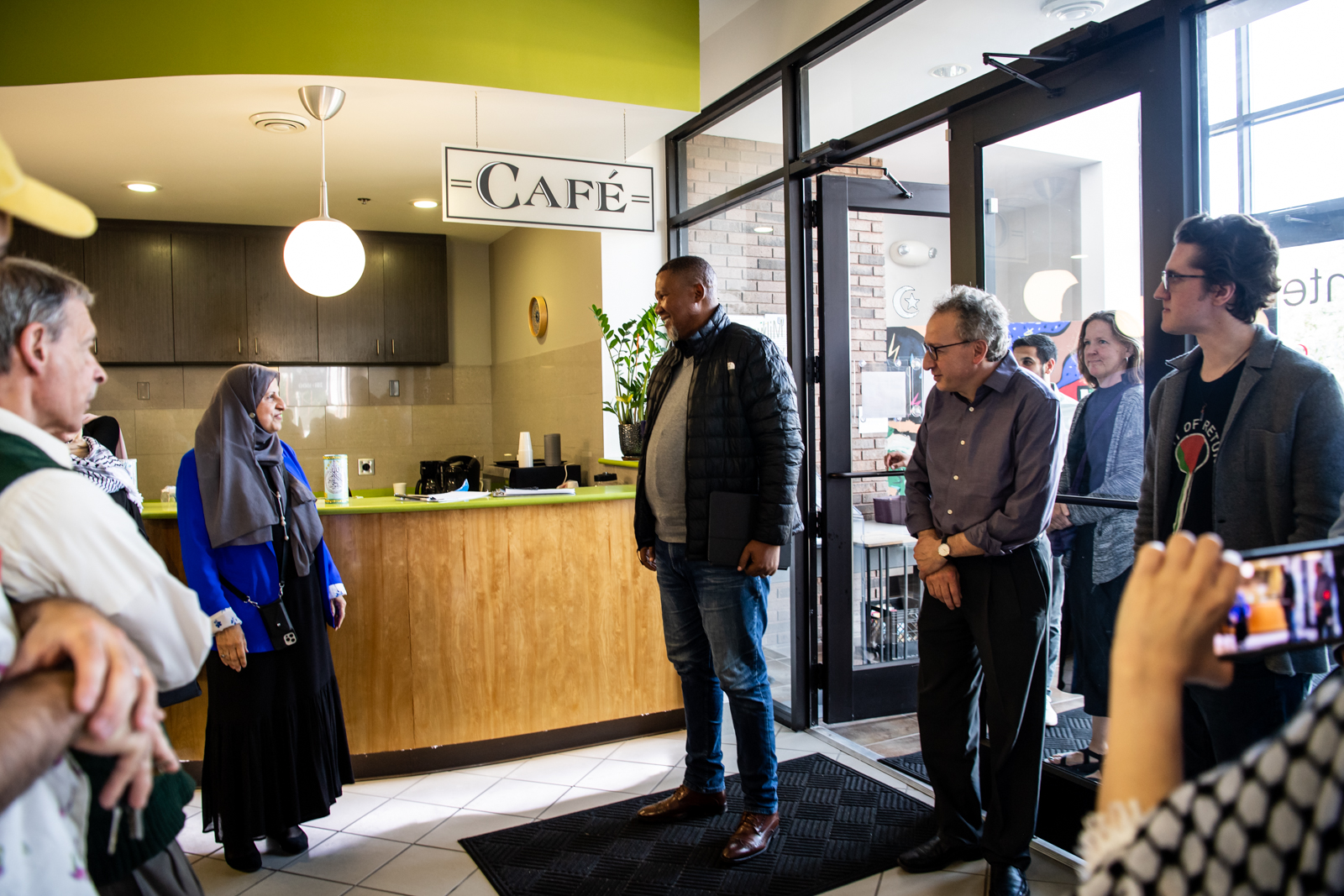 Milwaukee Muslim Women's Coalition president Janan Najeeb (left) welcomes activist and South African parliament member Nkosi Mandela (center) to the Islamic Resource Center in Greenfield.
Nkosi Zwelivelile Mandela, the South African parliament member and chief of the Mvezo Traditional Council, repeated the well-known message of his grandfather: "Our freedom is incomplete without the freedom of Palestinians." In his weeklong U.S. tour, Mandela spoke in Milwaukee, Minneapolis, Cleveland, Los Angeles, San Francisco and Chicago.
Following the dinner at the IRC, Mandela began his tour with a speech at Turner Hall in Milwaukee in which he called on the audience to consider what they could do individually and collectively to support the Palestinian cause. He spoke about how the BDS movement (boycott, divestment and sanctions) had been effective in South Africa and would work to liberate Palestinians.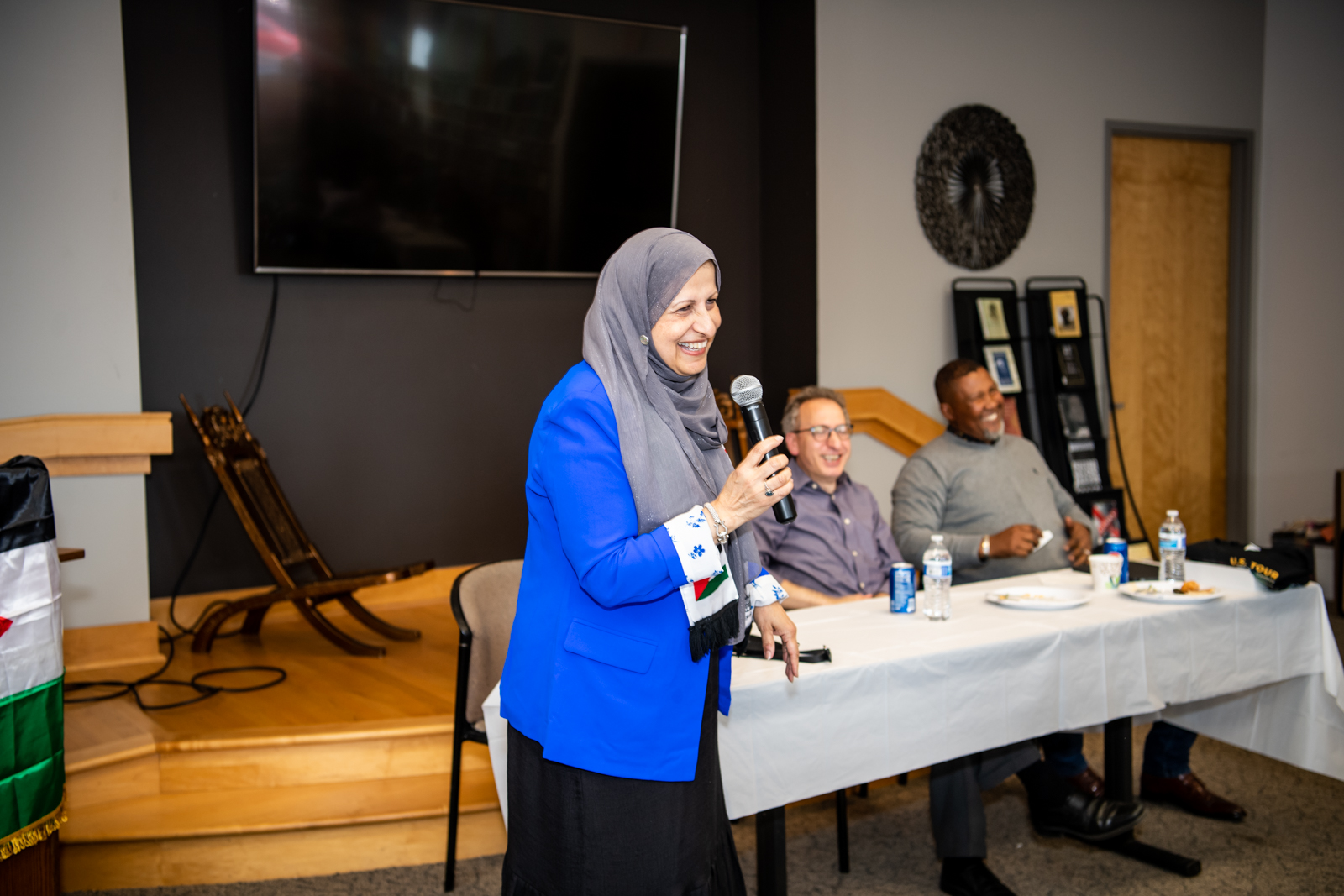 "His message was uplifting," said MMWC president and IRC director Janan Najeeb. "If it is possible for South Africa to be free after 350 years of colonialism and six decades of apartheid, it is possible for Palestinians to also one day be free."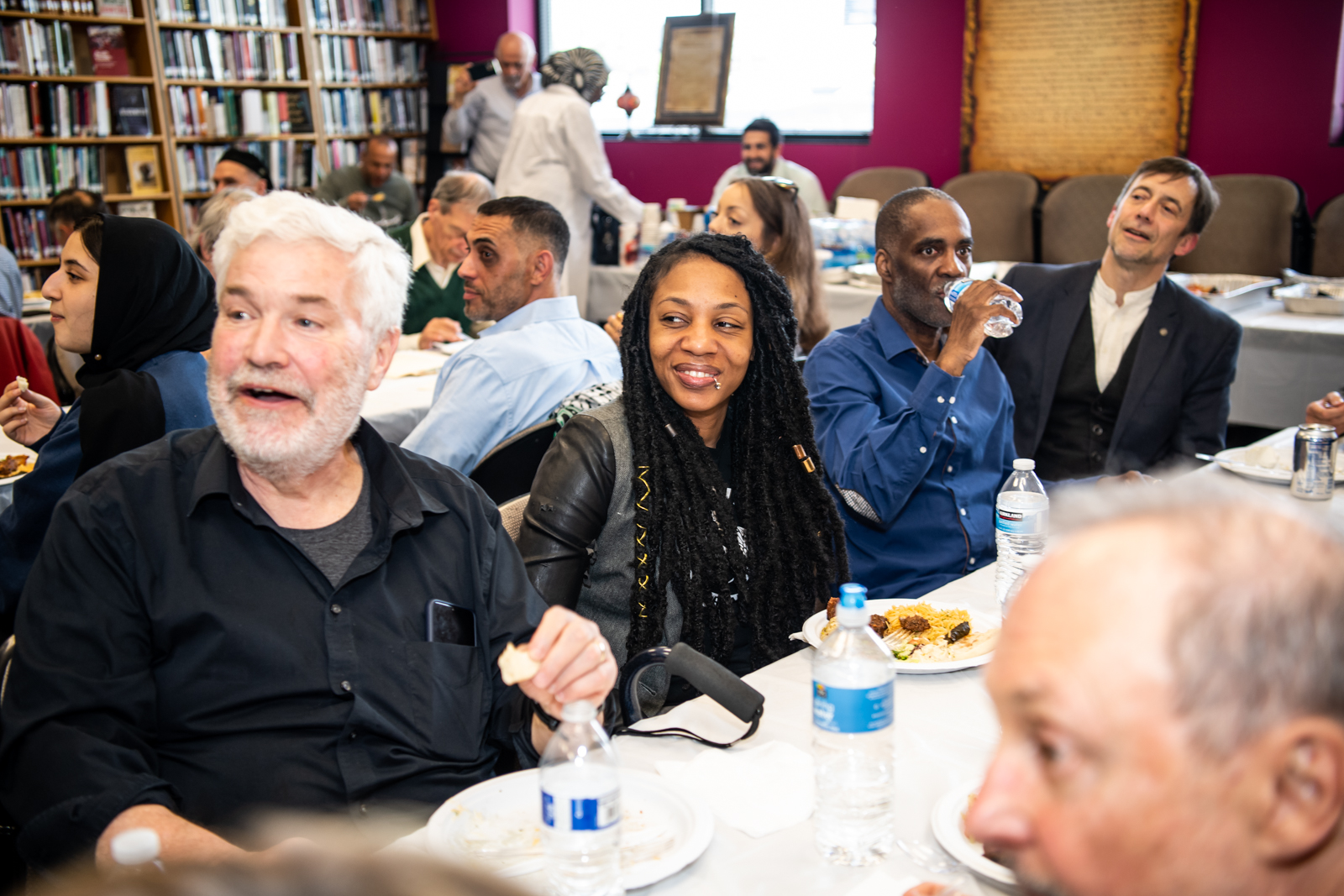 MMWC president Janan Najeeb (left) welcomed community leaders to a reception for South African activist and parliamentarian Nkosi Mandela (right). Haitham Salawah (center) represented the U.S. Palestinian Community Network, which co-sponsored Mandela's U.S. tour.
Continuing his grandfather's legacy
Haitham Salawdeh, the U.S. Palestinian Community national treasurer and Milwaukee chapter co-chair, introduced Chief Mandela. The national tour was hosted by the U.S. Palestinian Community Network and the National Alliance Against Racist & Political Repression. Madison for Palestine was also instrumental in bringing Mandela for this tour.
Salawdeh thanked Mandela for visiting six U.S. cities "to tell the story of our people. Coming from the leadership of anti-apartheid and speaking on the 75th anniversary of the Nakba, your visit here today is historic."
After thanking USPCN and Madison for Palestine for the invitation, Mandela said, "When the invitation came, I immediately accepted the call to duty."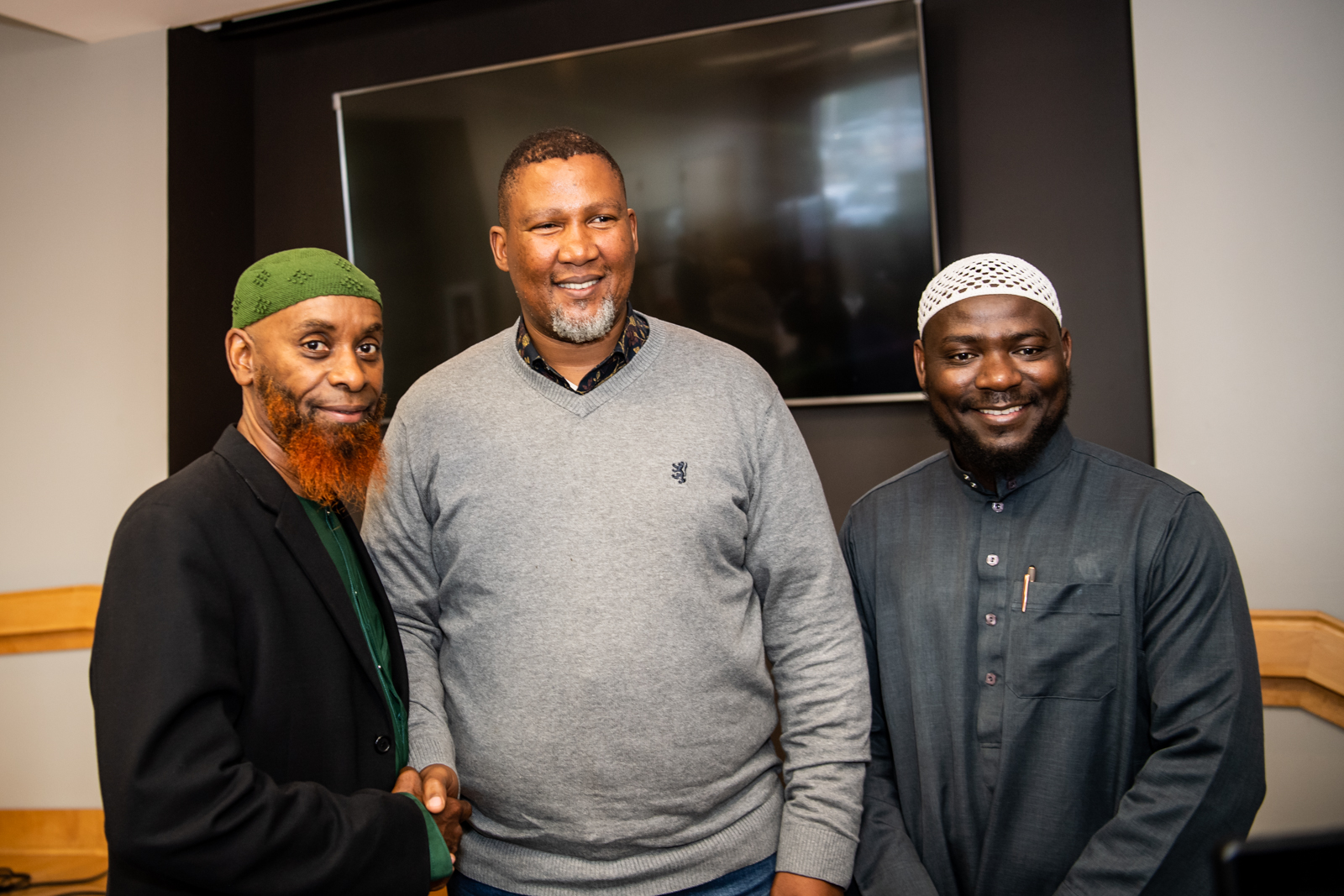 He shared a story about his first experience of meeting his grandfather "at the young, tender age of 9-years-old in Pollsmoor Prison "I met my grandfather at the young, tender age of 9-years-old in Pollsmoor Prison … It was in 1983. I didn't know where I was going or who I was going to meet. Suddenly, I saw him coming down the corridor."
After his grandfather hugged members of the family, he turned to Nkosi. "You must be my grandson.
"I had 100 questions in my head. I saw bars on every window and every door. This was clearly a prison and if my grandfather was in prison, he had shamed our family. For a 9-year-old boy, a prison is a place for those who have done wrong in society. I became very angry and very bitter from that experience."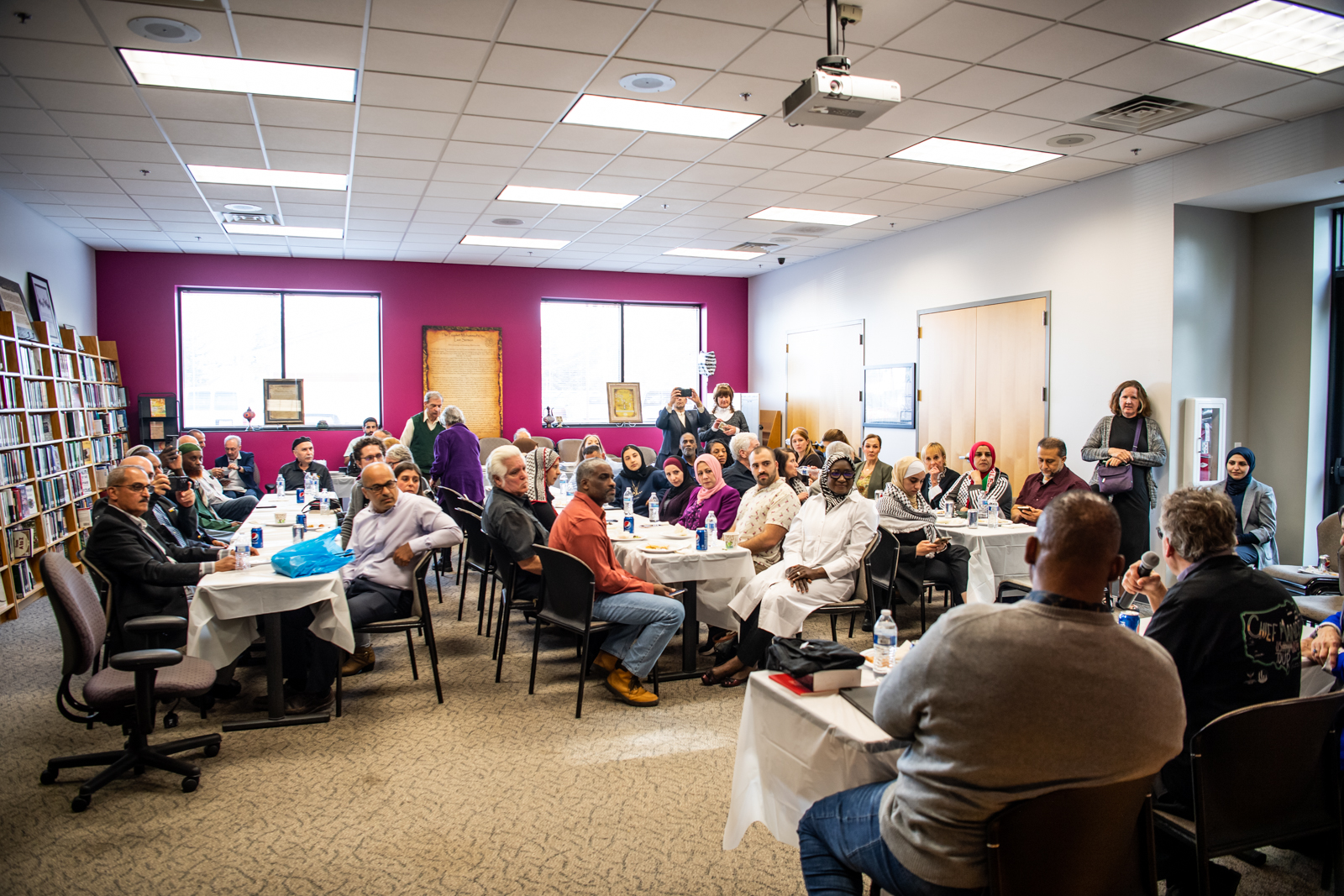 He learned later that his grandfather wrote a letter to his friend Helen Joseph, a white woman who was a South African anti-apartheid activist.
He told her he recently had a visit from his grandson whose English was bad and would she please assist him. "It was the only letter I ever saw from my grandfather that was not heavily censored," he said.
Young Nkosi was embarrassed because "my grandfather thinks I can't speak English," but what his elder was really communicating to his comrade was that his grandson didn't know who his grandfather was and the ideals and principles he stood for. He wasn't familiar with the struggle for liberation. He was asking Joseph to educate his grandson about the cause.