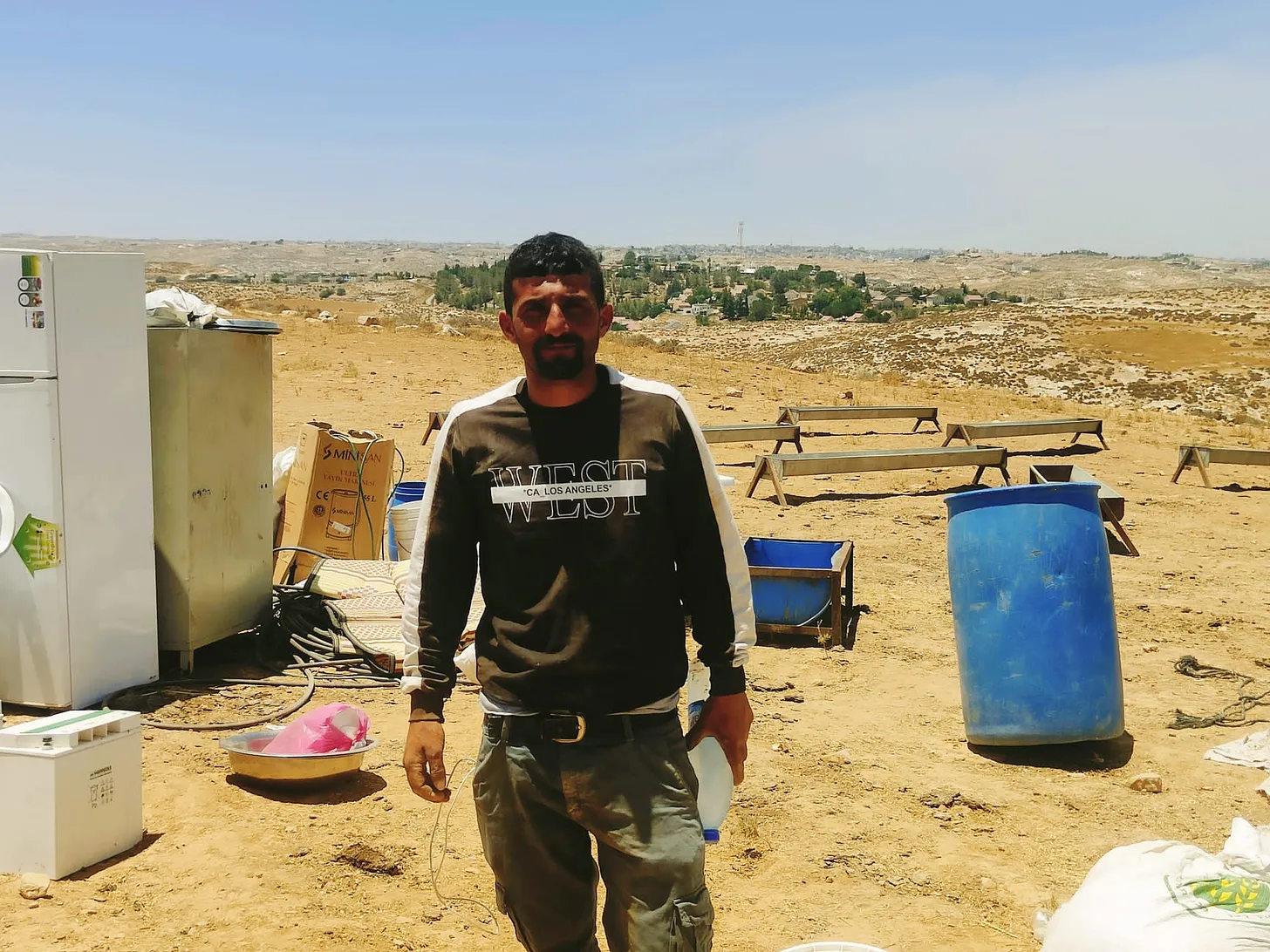 "Saleh Awad, this is my name. I live in the village of Wadadah, in the South Hebron Hills, with eleven members of my family. My life is a simple and beautiful life. I rely on our sheep to earn a decent life for my children and my family, going out in the morning to graze them and returning home in the evening very tired. When I see my children though, my fatigue goes away immediately, as I eat and enjoy dinner with them.
But, you know, we are under a ruthless occupation by the Israeli military. My whole life has changed in the last three years. I have become fearful, anxious, and lack a sense of security, due to the Israeli settlers who built a sheep farm on the mountaintop just west of my house. The farm is only four hundred meters from my house. These days, the settlers from the farm regularly chase me from my land and expel my sheep from the pastures. I have suffered great losses from their actions, but I still say, I have to bear it, I will not leave my land.
One day, I was grazing my sheep near my house. Suddenly, I heard that three settlers were attacking my house and my children. I left my sheep and went to defend my house and my family. I know that I can't confront them because they carry weapons, but you know the heart of a father. And it happened again, and again. They kept coming, to attack my house, my children, and my family. I became very anxious, I couldn't sleep at night for fear of the settlers attacking my home.
So, I decided I needed to leave. I demolished my house with my own two hands. I was dying inside every moment of it, I felt so sad and depressed. But I told myself for the sake of my children and my family's safety, it is what had to be done.
I left to an area close to the village and said that my family and I would be safe there, or that's what I thought. But before I even built my house, the so-called Civil Administration of the Israeli military came and stopped me. They didn't allow me to build, so here I am living in the open under the scorching sun with my family."
Saleh Awad left his house in order to protect his family from the oppressive violence of the settlers. He was so scared in his house, he feared he would lose one of his children. He left his house thinking that he would be safe, but that didn't happen. Instead, the Israeli occupation pursued him and stopped him from building a tent for him and his children.
It is hard to believe, to see Saleh in a world that lies when they call for human rights. What is happening here in the South Hebron Hills is a shame for those who call for human rights while not seeing the crimes that the settlers are committing against the Palestinians people.
Support Humans of Masafer Yatta
Launched a year ago
Keep up to date about what's going on in Masafer Yatta.