The Madison-Rafah Sister City Project owns films and can lend them for free public showings or household viewing. Our members can also introduce the film and facilitate discussion (see Speakers).
Gaza | Palestine and the West Bank
Gaza
Gaza Strip (2002)
James Longley. VHS and DVD. 74 min.
"A documentary to make the stones weep," as the Village Voice said. Longley keeps a focus on 13-year-old Mohammed, whose recreation is challenging Israeli tanks. Film stays very close to real people's lives as we experience one of the world's cruelest situations. Longley made "Iraq in Fragments" in 2005. Reviews • Website
https://www.youtube.com/watch?v=4kla_bxt2NE
Dispatches: The Killing Zone (2003)
Sandra Jordan and Rodrigo Vasquez. VHS. 52 min.
Documentary by two British journalists who travel to the Gaza Strip and immediately experience Israeli gunfire and teargas as they cover a memorial service for Rachel Corrie. Staying five weeks, they document the Corrie killing, the fatal shooting of Tom Hurndall and that of British cameraman James Miller, as well as the deaths and injuries of scores of Palestinians.
https://www.youtube.com/watch?v=gpkgB3VwICg
Peace, Propaganda and the Promised Land (2004)
Bathsheba Ratzkoff and Sut Jhally. DVD or VHS. 80 min.
A superb analysis of how U.S. media coverage of the Israel- Palestine question is slanted. Includes a theory of media filtration and a host of well-chosen examples drawn from actual "news" coverage. Commentary by many major figures. See Dispatches: Unseen Gaza below for a case study of this film's points. Reviews • Website
Dispatches: Unseen Gaza (2009)
DVD. 48 min.
This film aired on UK Channel 4 at the end of the January 2009 Israeli attack on Gaza. It focuses on news coverage of the Israeli assault. It details how Israel kept all journalists at least a mile away, preventing any reporting by Western news personnel inside Gaza. It shows that this media control was planned several months before the attack, with the military operation itself, because the Israeli government looked to correct their failure to control the media during the 2006 war on Lebanon. Except for Al Jazeera and Press TV, they succeeded brilliantly.
This film is an excellent case study of the broader points raised in Peace, Propaganda and the Promised Land. Review • Trailer
Where Should the Birds Fly? (2013)
This film by Palestinian director Fida Qishta tells the compelling and moving stories of two remarkable young women living in Gaza and the struggle of Gazans trying to maintain their humanity and humor while hoping to find some sense of normality in a world that is anything but normal.
https://www.justwatch.com/us/movie/where-should-the-birds-fly
Gaza in Context (2016)
This short film provides necessary context for understanding the humanitarian crisis that Gaza faces today and highlights Israel's continuous military aggression against the Strip. https://www.youtube.com/watch?v=bmRPkfAN2EU&feature=emb_logo
Ongoing Gaza Closure: The Impact on Daily Life (2016)
Video by the Palestinian Centre for Human Rights in Gaza further highlighting the effects of the closure on Palestinian livelihood including its impacts on the agricultural and fishing sector. https://www.youtube.com/watch?v=ymVXef_C97k&feature=emb_logo
Dr. Mads Gilbert Has a Prescription for Gaza (2016)
Norwegian physician Dr. Mads Gilbert, who worked in Gaza during Israel's major military assaults, explaining Israeli bombardment of civilians and civilian infrastructure and the effects of blockade which have both devastated public health. https://www.youtube.com/watch?v=TH2-RVJGQ_8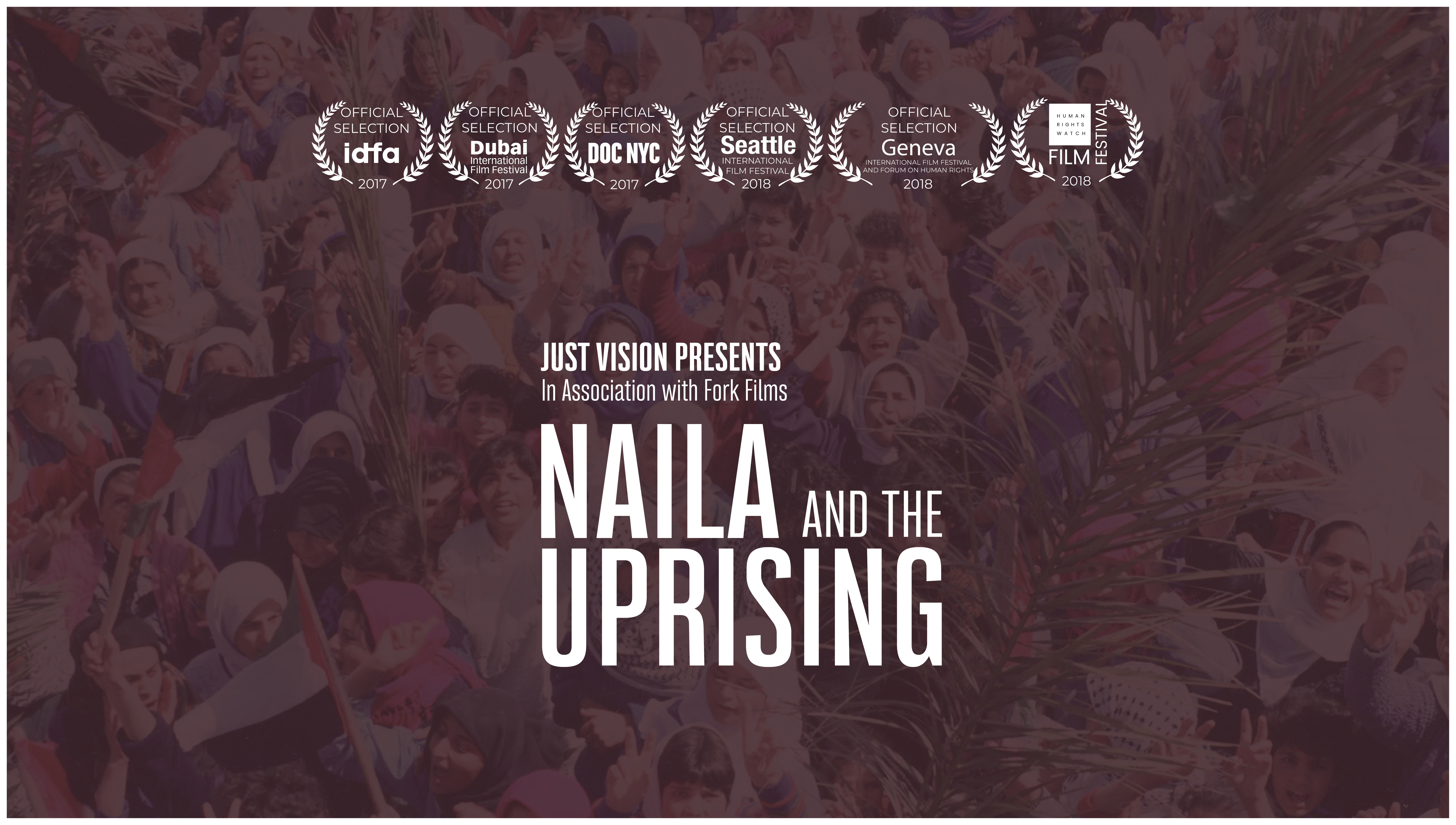 NAILA AND THE UPRISING (2017)
When a nation-wide uprising breaks out in 1987, a woman in Gaza must choose between love, family, and freedom. Undaunted, she embraces all three, joining a clandestine network of women in an inspiring story that weaves through the most vibrant, nonviolent mobilization in Palestinian history – the First Intifada.
FILM'S WEBSITE
Watch the Film
Fishing in the World's Largest Prison (2017) &
Don't Shoot, We're Fishing! (2017)
Two short videos based on materials produced by the Union of Agricultural Work Committees in Palestine showing the experience of Palestinian fishers under blockade, confronted by Israeli warships, sharp restrictions on their areas for fishing, and the political, military and economic blockade of Gaza.
https://www.youtube.com/watch?v=hkegZmXd8iQ&feature=emb_logo
https://www.youtube.com/watch?v=f50WIl-06Is&feature=emb_logo
Gaza's Environmental Crisis (2018)
This video outlines the escalating humanitarian crisis in Gaza, i.e. the lack of clean water and electricity cuts. https://www.youtube.com/watch?v=R1L23cIT-9I
Gaza: An Inquest into its Martyrdom: Norman Finkelstein on the Many Lies Perpetuated About Gaza (2018)
US Scholar Norman Finkelstein outlining the vast destruction that Israel committed against Gaza during Operation Protective Edge in 2014. https://www.youtube.com/watch?v=6w249X-uaxQ
COI on Gaza Protests (2018)
VIEWER DISCRECTION ADVISED: This video from the UN Commission of Inquiry on the 2018 protests reveals footage of Israeli snipers shooting Palestinian demonstrators during the Great March of Return. https://www.youtube.com/watch?v=4uCj1JTldJI&feature=emb_logo
Norman Finkelstein on Israel's 'Murderous Assault on Nonviolent Protesters' in Gaza (2018)
Interview with American scholar Norman Finkelstein on Israel's brutality during the Great March of Return. https://www.youtube.com/watch?v=KVx4h3sM62o
Switzerland: Israel "Intentionally Shot Children, Journalists" – UN on 2018 Gaza Protests (2018)
Video of UN Independent Commission of Inquiry outlining Israeli violations of international law during the Great March of Return. https://www.youtube.com/watch?v=9LOutTPJ4xI
Six Miles Out (2018)
A We Are Not Numbers video which tells the story of a day in the life of Gaza's fishers. https://youtu.be/MGRDoWZu784
Gaza Fights For Freedom (2019)
This full-length documentary includes much footage on the Great March of Return and life in Gaza. Rent on Vimeo (https://gazafightsforfreedom.com/) or purchase at https://empirefiles.store/

One Day in Gaza (2019)
BBC Two and PBS Frontline documentary. PBS never showed it; the documentary was pulled from the schedule and replaced with a previously aired program.
https://www.bitchute.com/video/hx5EgoVpmZav/
Palestine and the West Bank
To commemorate the anniversary of the Palestinian Nakba, the American-Arab Anti-Discrimination Committee (ADC) announced the online publication of a guide to Palestinian film and filmmaking. It features information on and access to hundreds of films and film institutions, giving an unprecedented overview of almost every aspect of Palestinian filmmaking.
PALESTINE IN FILM
A Guide and an Annotated Filmography By Marvin Wingfield, American-Arab Anti-Discrimination Committee (ADC)
Just Vision Film Library
Browse their award-winning films, all available to stream for free. Just Vision is a non-profit team of filmmakers, journalists, storytellers, and human rights advocates based in Israel-Palestine and the U.S. Founded in 2003, Just Vision is nonpartisan and religiously unaffiliated.
FEATURE-LENGTH FILMS
After Jenin
Jenny Morgan, 2002. VHS. 52 min.
Filming began immediately after the destruction of Jenin Refugee Camp by Israeli forces. The devastation of a desperate people is poignantly portrayed. Images of a harsh reality are prominent – mass burial pits and piles of rubble where homes, businesses and villages once stood. Includes images from Nablus and other West Bank towns invaded by Israel in early 2002. (See also "Jenin, Jenin," below.)
Cover Up: Attack on the USS Liberty
History Undercover (TV), 2001. Locally taped VHS. 50 min.
During the Six Day War in 1967 the USS Liberty was attacked in international waters by Israeli forces. 34 Americans were killed. Yet the U.S. government helped to cover up the incident from the American public. A thorough examination of the incident and the reasons behind it.
Cultures of Resistance
Iara Lee, 2011. HDCAM or DVD. 73 minutes.
Does each gesture really make a difference? Can music and dance be weapons of peace? In 2003, on the eve of the Iraq war, director Iara Lee embarked on a journey to better understand a world increasingly embroiled in conflict and, as she saw it, heading for self-destruction. After several years, travelling over five continents, Iara encountered growing numbers of people who committed their lives to promoting change. This is their story. From IRAN, where graffiti and rap became tools in fighting government repression, to BURMA, where monks acting in the tradition of Gandhi take on a dictatorship, moving on to BRAZIL, where musicians reach out to slum kids and transform guns into guitars, and ending in PALESTINIAN refugee camps in LEBANON, where photography, music, and film have given a voice to those rarely heard, CULTURES OF RESISTANCE explores how art and creativity can be ammunition in the battle for peace and justice. Website
In a Prison Called Palestine
Free Speech TV, 2002. VHS. 91 min.
Covers a Global Exchange peace-making "reality tour" to Israel and Palestine. A slice of life seen through the eyes of Americans traveling for 8 days on a political tour through the region.
The Iron Wall
Mohammed Alatar, 2006. DVD. 58 min.
One of the best new (2006) films; fine maps, historical summaries. This thorough documentary gives an excellent historical background, as well as conveying an understanding of the scope and intentions of Israel's huge separation wall project, together with the effects on Palestinians.
Israel's Secret Weapon
BBC documentary, 2003. VHS. 60 min.
Made while U.S. and U.K. accused Iraq of creating nuclear weapons. Meanwhile, Israeli whistleblower Mordechai Vanunu had been in prison 17 years for exposing Israel's nuclear bomb factory to the world. Tells the story of the Israeli bomb, Vanunu, and Israel's continuing wall of silence.
Jenin, Jenin
Mohammed Bakri, 2002. VHS. 54 min.
Covers Israel's invasion and near-total destruction of Jenin Refugee Camp in April 2002. At least 56 Palestinians were killed. Human Rights organizations branded Israeli actions as war crimes. Meanwhile, Israel and the U.S. mounted a massive and partially successful spin control operation centering on the word "massacre." (See also "After Jenin," above.) Website
Occupation 101: Voices of the Silenced Majority
Sufyan and Abdallah Omeish, 2007. DVD. 90 min.
This thought-provoking and powerful documentary on the current and historical causes of the Israeli-Palestinian conflict presents a comprehensive analysis of the facts and hidden truths surrounding the never ending controversy and dispels many of its long-perceived myths and misconceptions. Website
Occupied Minds
James Dajani and David Michaelis, 2006. Locally-taped VHS. 60 min.
Two journalists, one Palestinian-American, one Israeli, journey to Jerusalem, where each was born. An emotional and intensely personal odyssey ensues in the streets of the contested city. Website
Palestine is Still the Issue
John Pilger, 2004. DVD. 53 min.
Pilger made a classic documentary by the same title in 1977. In this new documentary he returns to the area to ask why the Palestinians remain caught in a terrible limbo, with Israeli military occupation stronger than ever. Pilger says it is time to bring justice, as well as peace, to Palestine. This is one of the best documentary explorations of the Palestinian experience. Website
Peace, Propaganda and the Promised Land
Bathsheba Ratzkoff and Sut Jhally, 2004. DVD or VHS. 80 min.
A superb analysis of how U.S. media coverage of the Israel- Palestine question is slanted. Includes a theory of media filtration and a host of well-chosen examples drawn from actual "news" coverage. Commentary by many major figures. See Dispatches: Unseen Gaza above for a case study of this film's points. Reviews • Website
Rana's Wedding
Hana Abu-Assad, 2002. DVD. 86 min.
A feature comedy. Rana's father decrees that she must marry before he goes abroad and gives her a list of candidates to choose from. Determined to marry the man she loves, Rana has ten hours to find him and arrange the marriage in the maddening conditions of occupied East Jerusalem. Reviews • Website
Tragedy in the Holy Land
Dennis Mueler, 2001. VHS. 71 min.
Fills a void in accounts of the Israeli-Palestinian struggle by viewing history through the lens of the Palestinians. A provocative documentary that addresses the core issues of land and identity, using rarely seen archival footage. Interviews with numerous experts and scholars. Reviews • Website
Until When . . .
Dahna Abourahme, 2004. DVD. 76 min.
Follows lives of four Palestinian families living in Dheisheh Refugee Camp in Bethlehem. They talk about their past and discuss the future with humor, sorrow, frustration and, occasionally, with hope. In the process the viewer gets a deep view of Palestinian lives under occupation. Website
SHORTER FILMS
Breaking the Silence: Israeli Soldiers talk about Hebron
2005. DVD. 38 min.
Testimonies of soldiers about their service in Hebron, where the lives of over 100,000 Palestinians are subject to the control of Israeli Defense Force troops protecting a few hundred fanatical Jewish settlers. Film made by the organization of discharged Israeli soldiers who have decided to break the silence imposed by the IDF on their experiences as enforcers of the occupation.
The Children of Ibdaa: To Create Something Out of Nothing
S. Smith Patrick, 2002. VHS. 29 min.
Documentary about "creating something out of nothing" with a children's dance troupe in Dheisheh Refugee Camp in Bethlehem. Shows life in the Camp, and includes a visit by the children to their grandparents' villages in present-day Israel.
The Israeli Wall in Palestinian Lands
Andrew Courtney and Emily Perry, 2004. DVD. 43 min.
(28 min. version also included). Two American activist filmmakers explore the impact on the wall on the lives of seven ordinary Palestinians. Several perspectives on the wall and on Israel's objectives are included.
Life Under Occupation — Testimonies from an Occupied Land
Frank Barat, 2008. Online and downloaded DVD. 26 min.
A documentary about life in Palestine and more especially in Nablus, the biggest city of the West Bank. Surrounded by checkpoints, Nablus has seen during recent years its unemployment skyrocket and more and more people living under the poverty line. The picture in the refugee camps is even bleaker. This is the story of Palestinians and Internationals trying to reach out to the world to end Israel's collective punishment of the Palestinians.