An AIPAC and Capitol Hill veteran explains the lobby's tactics of reward and retribution.


M.J. Rosenberg, February 14, 2019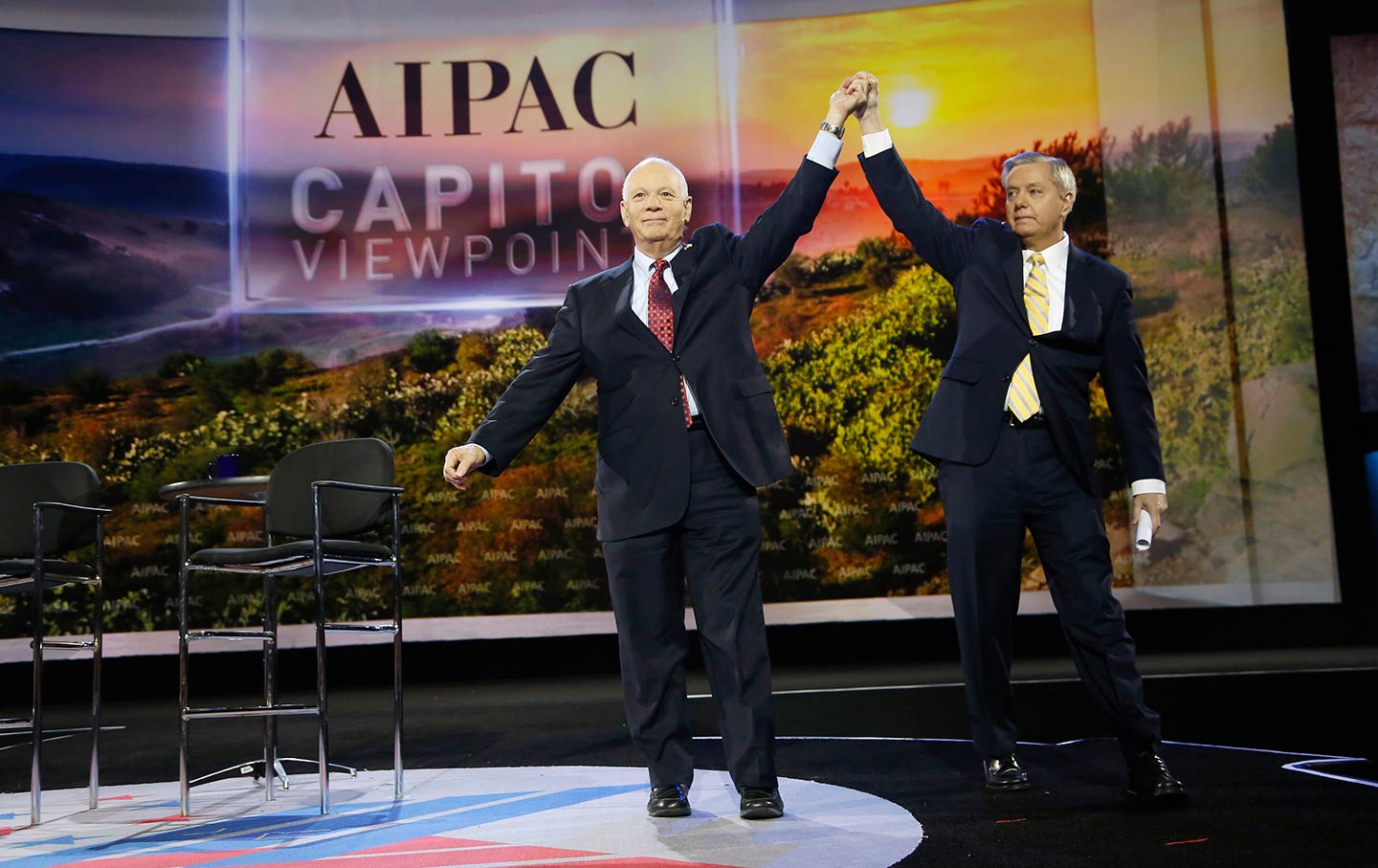 US. Senator Ben Cardin (D-MD) and Senator Lindsey Graham (R-SC) (right) join hands as they take the stage to address the American Israel Public Affairs Committee (AIPAC) policy conference in Washington, on March 1, 2015. (Reuters/Jonathan Ernst)
One thing that should be said about Representative Ilhan Omar's tweet about the power of the American Israel Public Affairs Committee (more commonly known as AIPAC, or the "Israel lobby") is that the hysterical reaction to it proved her main point: The power of AIPAC over members of Congress is literally awesome, although not in a good way. Has anyone ever seen so many members of Congress, of both parties, running to the microphones and sending out press releases to denounce one first-termer for criticizing the power of… a lobby?
Somehow, I don't think the reaction would have been the same if she had tweeted that Congress still supports the ethanol subsidy because the American Farm Bureau and other components of the corn/ethanol lobby spend millions to keep this agribusiness bonanza going (which they do). Or that if she had opposed the ethanol subsidy, she would have been accused of hating farmers.
That's American politics; the only difference between all the domestic lobbies that essentially buy support for their agenda is that AIPAC is working for a foreign government, a distinction but not much of a difference when the goal is to maintain a status quo that is not necessarily in the national interest.
What did Omar tweet that was so terrible, anyway? Actually it was two tweets that produced the unsettling but oh-so-telling coming together of President Donald Trump and House Speaker Nancy Pelosi in common denunciation of the first-term member of Congress. Omar's crime: daring to suggest that campaign contributions orchestrated by AIPAC play a large part in achieving bipartisan support for anything proposed by the Israeli government and/or its lobby, AIPAC.
This is, of course, something everyone knows and which even a former president of AIPAC once admitted in a conversation that was recorded by an interlocutor. In fact, as early as 1988, 60 Minutes did a segment on how AIPAC divvies up the money. (Moreover, I, as an employee of the lobby from 1973 to 1975 and 1982 to 1986, repeatedly and personally witnessed the whole process of funding and defunding, which is anything but a secret within the organization. Additionally, I spent close to 20 years as a legislative assistant to Democratic House and Senate members and saw AIPAC's tactics of reward and retribution from that vantage point too.) Continue reading →