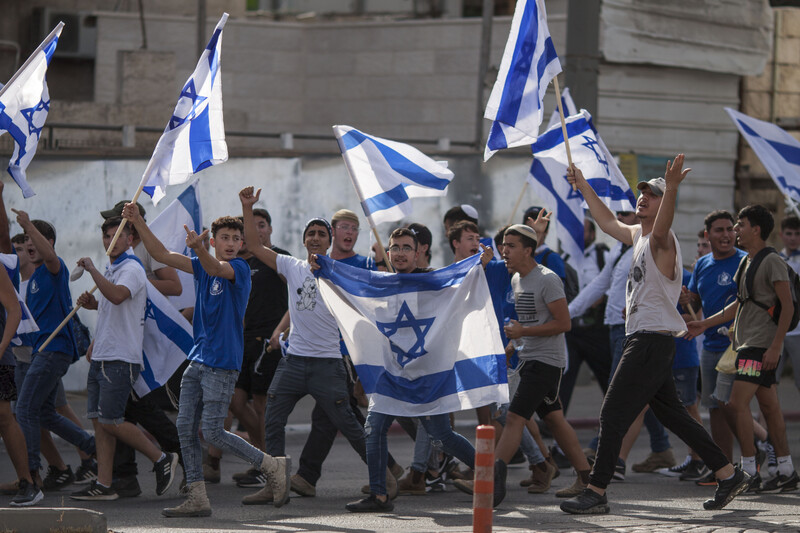 Israeli Jewish extremists marching through the Old City of Jerusalem to celebrate its occupation and colonization, on 29 May 2022. (Mustafa Bader, ZUMA Press Wire)
Tamara Nassar, The Electronic Intifada, 30 May 2022
Tens of thousands of Israeli Jewish ultranationalists marched through Jerusalem on Sunday to demonstrate their hatred towards Palestinians and assert dominance over the militarily occupied city.
Many attacked Palestinians and chanted for genocide.
This was part of the annual "March of the Flags" on Jerusalem Day, a holiday invented by Israel to celebrate its occupation and colonization of the city in 1967.
Over 2,600 extremists entered the al-Aqsa mosque compound on Sunday, an unprecedented number, according to Israeli media.
A large crowd also gathered at the iconic Damascus Gate to Jerusalem's Old City, waving the flags of Israel and the anti-Palestinian Jewish nationalist group Lehava:
Israeli Jews began their provocations early in the day. Reporters noted that they were more violent and confrontational on Sunday than in previous years.
Footage shared by Haaretz journalist Nir Hasson shows Israelis throwing a chair and other objects at Palestinians, who throw objects back: