The justifications given for the deaths of Palestinian protesters just don't add up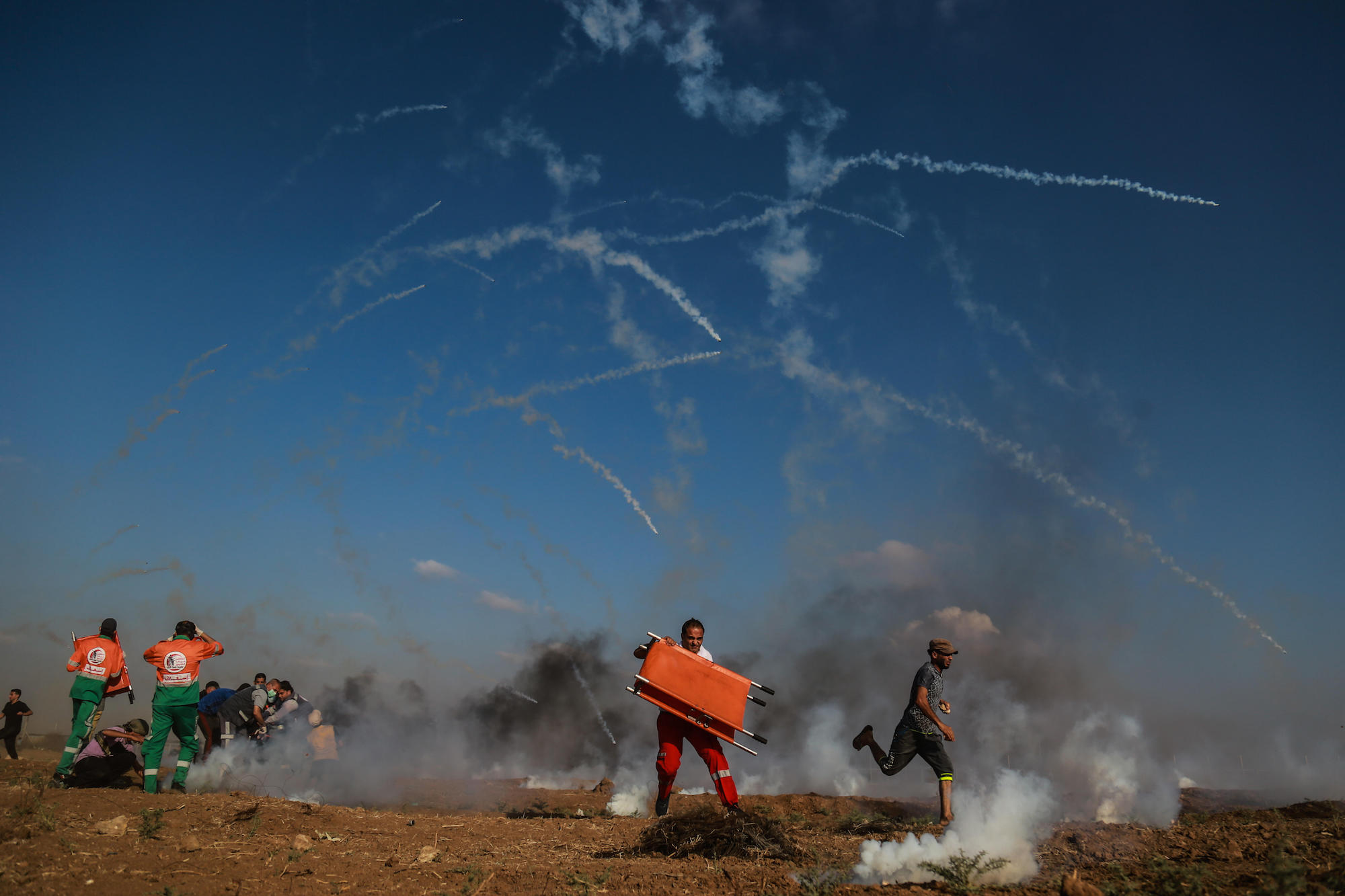 Khan Yunis, Gaza Strip, June 1, 2018. Israeli tear gas canisters fall toward Palestinian protesters and medics during clashes with Israeli security forces along the Israel-Gaza border. Photo courtesy dpa picture alliance/Alamy Stock Photo.

Muhammad Shehada and Jamie Stern-Weiner, VICE, Jun 12 2018
Over the past ten weeks, tens of thousands of Palestinians in Gaza have participated in the "March of Return," mass nonviolent demonstrations to protest Israel's illegal siege. Throughout, Israel has responded with violent force.
As of June 7, Israeli forces had killed more than 110 Palestinians in the course of the protests, including 14 children, and injured more than 3,700 with live ammunition. In order to brutalize the people of Gaza into submission while minimizing the international criticism that accompanies lethal force, Israeli snipers deployed along Gaza's perimeter fence methodically shot the legs of Palestinian demonstrators. "The aim," reports the Israeli newspaper Ha'aretz, was "to leave as many young people as possible with permanent disabilities." To this end, the snipers used expanding bullets that "pulverized" bones and left exit wounds the size of a fist. According to the Secretary-General of UNRWA, the United Nations agency providing education and healthcare for refugees in Gaza, "many" of those shot will suffer "life-long disabilities." Mission accomplished.
In order to legitimize its resort to overwhelming force, Israel has sought to cast doubt on the popular character of the demonstrations in Gaza and to present them as a threat to its security. A number of myths about the Gaza protests have consequently gained widespread traction. They bear as tenuous a relation to reality as Israel's insistence back in the 1980s that the overwhelmingly nonviolent First Intifada comprised a "campaign of terror" by "mobs," or, more recently, its repeated denials that the Israeli military deployed white phosphorus in Gaza during Operation Cast Lead.
No one is suggesting that Palestinian forces have never engaged in violent forms of resisting Israel's protracted, illegal siege—which has made Gaza "unlivable," according to UN officials. But the current protests are overwhelmingly nonviolent, and have been met with murderous force.
Here are some of the most prominent myths about these recent protests, and why they're not true.
The demonstrations in Gaza are violent
The Government of Israel claims that the Gaza demonstrations have featured "violent mass incidents" that were "exceptional in their scope and the extent of threat they posed." These violent incidents allegedly included the throwing of grenades and explosive devices, as well as the firing of live ammunition at Israeli soldiers. But such claims are either un-evidenced, implausible, or blown so out of proportion as to misrepresent what transpired.
First, credible observers report that, while a minority of demonstrators threw stones and flaming bottles toward out-of-reach Israeli soldiers, the demonstrations "have largely involved sit-ins, concerts, sports games, speeches, and other peaceful activities." An American journalist in Gaza found that, even among those demonstrators who approached the fence, "[t]here were no guns, no grenades, no rockets." Fieldworkers for the respected Palestinian Center for Human Rights in Gaza "did not witness weapons or armed persons even dressed in civilian clothes among the demonstrators," while Amnesty International informed us that, as of June 8, it had "not seen evidence of the use of firearms by Palestinians against Israeli soldiers during the protests." This would explain why Israeli soldiers felt able to stand around in plain sight of the protesters while taking pot-shots into the crowd. Armed security personnel in civilian clothes were present at the protest tents—but not near the fence—in order to guard the high-profile political figures in attendance, obstruct intelligence-gathering by collaborators, and maintain public order. Although a couple of isolated violent incidents occurred far away from the perimeter fence, none of the numerous witnesses we contacted had seen even a single "armed protester" or any armed individual approaching the perimeter fence.
Second, Israel has presented no credible evidence of armed protesters or armed attacks. Even a veteran Israeli military correspondent noted that "[n]either we nor the international media received images and firsthand testimonies illustrating the danger and the threat to the snipers and other IDF [Israeli military] forces deployed along the fence." The same correspondent mocked Israel's refusal to permit journalists to approach the Gaza fence, instead positioning them "at a safe distance… where they were in no danger of being hit by a rock or by a marble fired from a sling or, God forbid, inhaling teargas."
The connection between the underwhelming threat that confronted Israeli soldiers and the military's failure to provide reporters with compelling propaganda material appears not to have occurred to him. Did he expect the IDF to send him a photo of a "marble fired from a sling?"
Inasmuch as Israeli forces were equipped with sophisticated surveillance equipment, including "footage from drones hovering" overhead, and insofar as Israel claimed to use lethal force only against "those who are with weapons," the lack of evidence of these alleged explosives and live ammunition is surely cause for wonder. What "evidence" Israel has provided only underlined the absence of a military presence at the demonstrations. Witness, for instance, the images and footage of what Israel termed "grenades" and "improvised explosive devices," but which were in fact homemade firecrackers, familiar to Gazan teenagers who sometimes set them off at weddings and parties, which make a loud noise and little else.