A man carries steel bars with bare hands in a yard filled with scrap metal. (Mohammed Al-Hajjar)
Amjad Ayman Yaghi, The Electronic Intifada, 15 October 2019
On 5 May, Israeli airplanes struck targets in Gaza.
The bombings came with the usual tragic consequences: 25 Palestinains were killed, among them 14 civilians. Four Israeli civilians also died in rocket fire from Gaza.
It was one of those "spikes in tensions" that for the briefest of moments shines a media spotlight on Gaza.
That spotlight didn't stay long enough to see what else happened. As calm returned, a contractor, Muhammad Abu Jebah, gathered together a group of laborers to extract metal from the rubble of the Abu Qamar building, which was destroyed in one of the bombing raids.
Abu Jebah thinks of it as a new industry, one that arose after Operation Cast Lead, the Israeli attack on Gaza in late 2008 and early 2009, and one that illustrates the lengths to which Palestinians in Gaza have to go to survive.
Trucks and bulldozers move in first to clear the rubble. Then a team of men filter through the building to smash concrete and extract the metal inside.
Once that is done, they realign the metal and reconstitute any large stones.
It is backbreaking hand-scarring work. It is also potentially toxic, according to environmentalists.
But it is necessary since Israel is prohibiting steel and other building materials from entering Gaza.
"Most of the men working for me feed a dozen or so relatives," Abu Jebah told The Electronic Intifada. It is desperate work for desperate people, he conceded. "It is the economic circumstances that has driven people to do these jobs."
Dangerous work
Abu Jebah has been doing this work ever since the Israeli offensive which began in December 2008. Despite the inherent dangers, he considers his activities to innovative. They started as a clearing operation before morphing into a recycling business.
But the process is more than simply hard work. According to Ahmed Hilles, an environmental scientist at Al-Azhar University in Gaza, material from destroyed buildings can contain pollutants that are hazardous both to people and the environment.
Hilles has done some testing on samples of the concrete in the rubble. He found traces of nickel, lead and arsenic, as well as explosive materials
"These are dangerous to those working in recycling destroyed building concrete or extracting metal," Hilles told The Electronic Intifada, though he qualified this by noting that due to import restrictions, screening abilities in Gaza are not entirely reliable.
Hilles, who is also in charge of the public awareness department at the Palestinian Authority's environment quality office, monitors the harm caused by the Israeli occupation, especially in instances when buildings or agricultural land are shelled.
During the 2014 attack on Gaza, the Palestinian Authority's environment department asked the UN to send a delegation to Gaza with equipment to test materials Israel was using to measure their impact on the environment and people.
The UN accepted the invitation but Israel refused to cooperate with the UN, during or after the attack, and the delegation never entered Gaza, according to Hilles.
"The Israeli occupation doesn't want the world to see its crimes," Hilles said.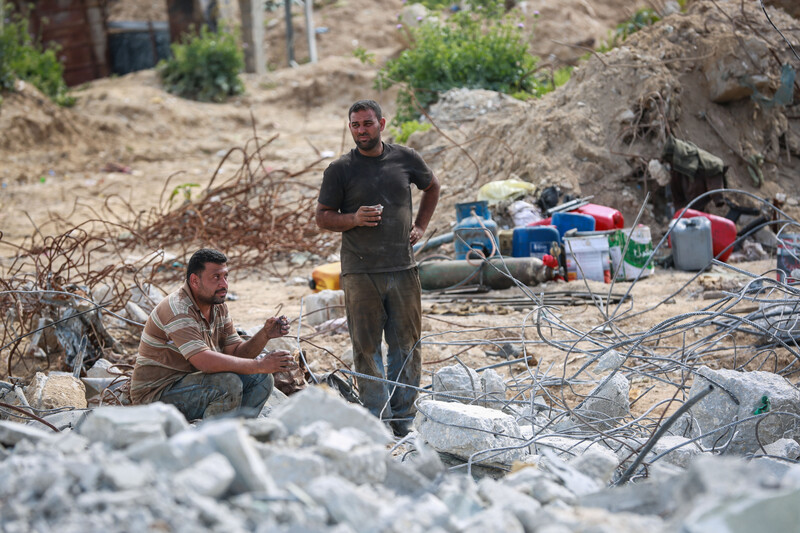 Two men enjoy a coffee break after bending steel back into shape. (Mohammed Al-Hajjar)
He said any large scale bombardment would always bring with it the risk of contamination and pollution and not just because toxic materials can be released from crushed concrete. The soil becomes irradiated under bombardment and when it rains this radiation can seep into the underground water supply, Hilles said.
Hilles said he had warned contractors and workers in the field, but no one had acted.
Abu Jebah said he had heard the warnings of toxins and other harmful materials, but said life in general was harsh and dangerous in Gaza.
"The worker in Gaza is a victim of the economic conditions and the Israeli occupation, and the only choice now is between staying safe or saving his family from hunger."
Fadel Dawood, a dermatologist with the Indonesia Hospital in Gaza, treated four people in his private practice who had been working in concrete and iron recycling. They all suffered infected, cracked skin on their hands and were warned not to go back to the job after intensive treatment.
"Toxic materials from Israeli rockets are everywhere. If skin suffers sustained exposure to these materials, some of which are also carcinogenic, it is highly prone to infections."
Workers are toiling day and night to extract concrete and metal from buildings that have been leveled by missiles since they have no choice but to work, he conceded, but they are also "ignorant of the dangers."
No choice but to work
Among piles of molten metal in a special workshop in Jabaliya in northern Gaza and under a scorching sun, Ahmed Naser, 40, put aside the hammer he uses to straighten metal.
He has secured jobs for two of his sons, Ayman and Ali, doing the same work. The family is from Jabaliya, and he has been doing this kind of work for ten years.
He convinced his sons to follow in his footsteps only because there is no other work around.
"No one likes to work with hot metal all the time," Ahmed said.
He takes home between $8 to $10 on an average day.
"But I am looking after ten relatives," he said. "None has any income."
His son, Ayman, works with his dad from 7 a.m. to 5 p.m. "We don't have a choice. This is work."
Another metal worker, Ahmed Dogmush, 28, is in a similar position. His earnings have to feed his five children.
In spite of the long hours and the hard work, the body becomes accustomed to exhaustion, he said, though he also suggested he would take alternative work if it existed.
"I've heard that this is dangerous work that could make us ill. I stayed away for a month before, but I came back because I needed the money."
Amjad Ayman Yaghi is a journalist based in Gaza.