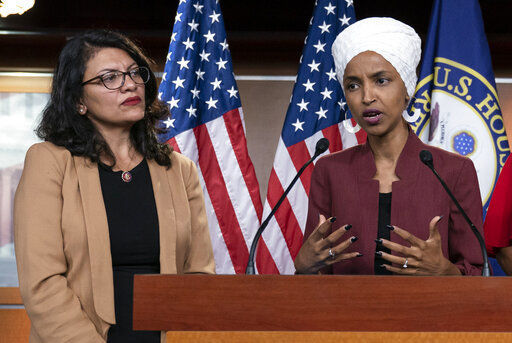 In this July 15, 2019, file photo, U.S. Rep. Ilhan Omar, D-Minn, right, speaks, as U.S. Rep. Rashida Tlaib, D-Mich., listens, during a news conference at the Capitol in Washington. (J. Scott Applewhite)
TSELA BARR AND BARB OLSON, The Cap Times, August 23, 2019
Last week, the Israeli government took the unprecedented step of denying two sitting members of the U.S. Congress, Reps. Ilhan Omar and Rashida Tlaib, entry to Israel.
Their crime was to set up their own independent fact-finding trip to visit Palestine rather than participate in the scripted, AIPAC-sponsored free trip to Israel that most Congress members participate in.
They couldn't be allowed to meet with Israeli or Palestinian peace activists, or visit places like heavily occupied Hebron that aren't on the itinerary of the AIPAC junket.
Tlaib and Omar had to be kept out because they had the gall to criticize Israel and express support for the non-violent South Africa-inspired Boycott, Divestment and Sanctions (BDS) movement seeking justice and human rights for Palestinians.
This may be outrageous, but it is hardly surprising. Israel has been denying entry to Palestinians since they began expelling them in 1948. The discrimination and harassment experienced by Palestinian, Arab and/or Muslim travelers seeking to enter Israel, or just pass through it to visit the illegally occupied Palestinian territories, is well-known. Recently they have also kept out Jewish Americans who support BDS and champion Palestinian human rights.