Rabbi Laurie Zimmerman, The Cap Times, May 17, 2018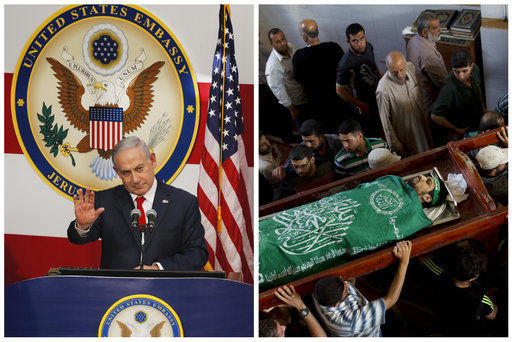 Israel's Prime Minister Benjamin Netanyahu speaks at the opening ceremony of the new U.S. embassy in Jerusalem on Monday, May 14, 2018, left, and on the same day, Palestinians in Gaza City carry the body of Mousab Abu Leila, who was killed during a protest at the border of Israel and Gaza. Netanyahu praised the inauguration of the U.S. embassy in Jerusalem as a "great day for peace," as dozens of Palestinians have been killed in Gaza amidst ongoing clashes. (AP Photo)
As I watched the glitz and glamour of the celebration marking President Trump's decision to move the U.S. Embassy to Jerusalem, I was filled with shame. The backdrop of Israeli and American flags emblazoned with "Thank You President Trump" smacked of self-righteousness and complacency. One political leader after another emphasized his or her unwavering support for Israel without regard for Palestinian rights or sovereignty. Two evangelical pastors invited to bless the celebration had long public records of vilifying Muslims and Jews, among many others. As a rabbi I felt deeply shaken; this spectacle was a violation of everything I believe in.
As I watched, scenes of the Israeli military firing live ammunition on protesters in Gaza flashed across my screen. On this one day, May 14, the military killed 58 Palestinians and injured thousands. The excessive and lethal force against protesters who posed no imminent threat to Israeli soldiers or civilians was chilling. Palestinian leaders explained why they were protesting in the Great March of Return: Israel's military siege was strangling their economy, making every aspect of their lives intolerable. They wanted the world to know that 70 years ago their people became refugees as Jews, many of them refugees themselves, established the state of Israel.
While most American Jewish organizations rejoiced at the Embassy move and defended the killings in Gaza, I sensed that many American Jews were not so sure. After all, we overwhelmingly distrust President Trump and oppose every move of his presidency, from the Muslim ban to anti-immigrant legislation to support for the NRA to stripping the poor of what's left of a meager safety net. That he panders to antisemitic white supremacist groups and aligns himself with the Christian right's anti-woman platform only fuels our disgust.
We recognize that Jerusalem is a city of many faiths, filled with religious sites that are sacred to Jews, Muslims, and Christians. By moving the U.S. Embassy to Jerusalem, the United States and Israel have destroyed Palestinian aspirations that it could be the shared capital of both peoples, and Trump has sent a clear message: He is opposed to brokering a just and viable Israeli-Palestinian peace agreement.
To fully appreciate why Palestinians are protesting in Gaza, we must try to comprehend the humanitarian disaster on this tiny strip of land that is home to 2 million Palestinians. Gaza is an open-air prison. Israel controls its borders, allowing very few people or goods in or out. As the unemployment rate soars over 40 percent, despair runs deep. Three wars have pounded the Strip to dust, destroying its basic infrastructure. Now, most people enjoy just a few hours of electricity a day. Hospitals are gravely short on medications and supplies. Most Palestinians do not have access to clean drinking water. In just two years, according to the United Nations, their one source of water will be depleted.
Our leaders refuse to listen. Instead, they celebrate the Embassy's move to Jerusalem and defend Israel's disproportionate response in Gaza. But we must recognize this for the hubris it is. As the Hebrew Bible teaches, "Do not stand idly by while your neighbor's blood is shed."
As the holy month of Ramadan begins for my Muslim neighbors and friends, please know that many Jews stand with you. We refuse to be silent in the wake of the Embassy move and Gaza killings. We hold the Israeli government responsible for the humanitarian catastrophe in Gaza. We embrace a vision of a shared Jerusalem as we honor your religious traditions.
Rabbi Laurie Zimmerman is rabbi with Congregation Shaarei Shamayim in Madison.