As the UN's day of solidarity with Palestinians nears, Gazans have restored a hesitant bustle
Miriam Berger, The Guardian, Saturday 25 November 2017

Fishermen off the coast of Gaza City, which is home to a 5,000-year-old port. (David Levene, The Guardian)
Today Medinat Ghazzah, or Gaza City, is running on empty – and yet still going. Gaza City, the Gaza Strip's principal urban centre, carries various scars of war. Since 2006, Gaza has endured one civil war between Palestinians, three wars between the ruling Hamas militant group and Israel, a decade of Hamas' repressive rule, and a crushing blockade by neighbouring Israel and Egypt – all of which have crippled the economy and turned the tiny territory into a site of humanitarian crisis.
Gaza City's dusty buildings and bumpy roads, many still damaged or half-rebuilt from the last war, are at times reminiscent of facades found in Egypt and the Palestinian West Bank. But it is the crushing monotony and suffocating limits of life that define the city for residents who have walked the same streets for a decade without a chance of getting out. Still, the city carries on, with coffee shops, traffic, clothes stores, restaurants and even a new upscale mall offering diversions for those who can afford them.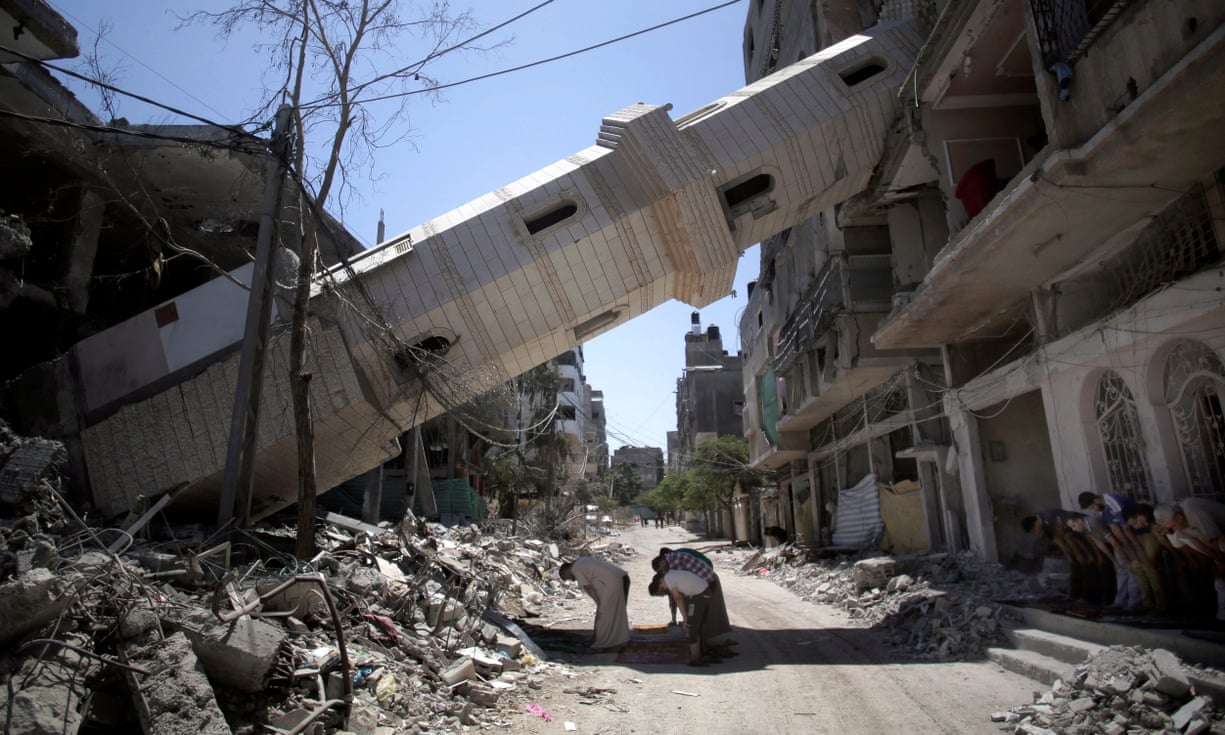 Palestinians attend Friday noon prayer beneath the fallen minaret during the 2014 war.
The city's framework, like the rest of Gaza, is innately tied up with politics. Gaza was once part of Britain's Mandate Palestine. Then came Egyptian occupation in 1948, followed by Israeli in 1967. Now, for the last decade, Hamas, which the European Union has designated as terrorist group, has ruled the tiny territory while Israel controls most borders.
Limited visitors
This month – on 29 November – brings the United Nations international day of solidarity with Palestinians. Gazans, however, don't see much of the international community these days. That's in part because Israel strictly limits entry to the Gaza Strip, with mainly journalists (Israelis and Palestinians excluded) and aid and development workers allowed through. Even then, UN bodies and NGOs working in Gaza constrain much of the movement of their foreign staff due to security protocols. Along Gaza City's highly polluted coast are two expensive hotels that are considered the "safe zone" where aid workers and many journalists stay.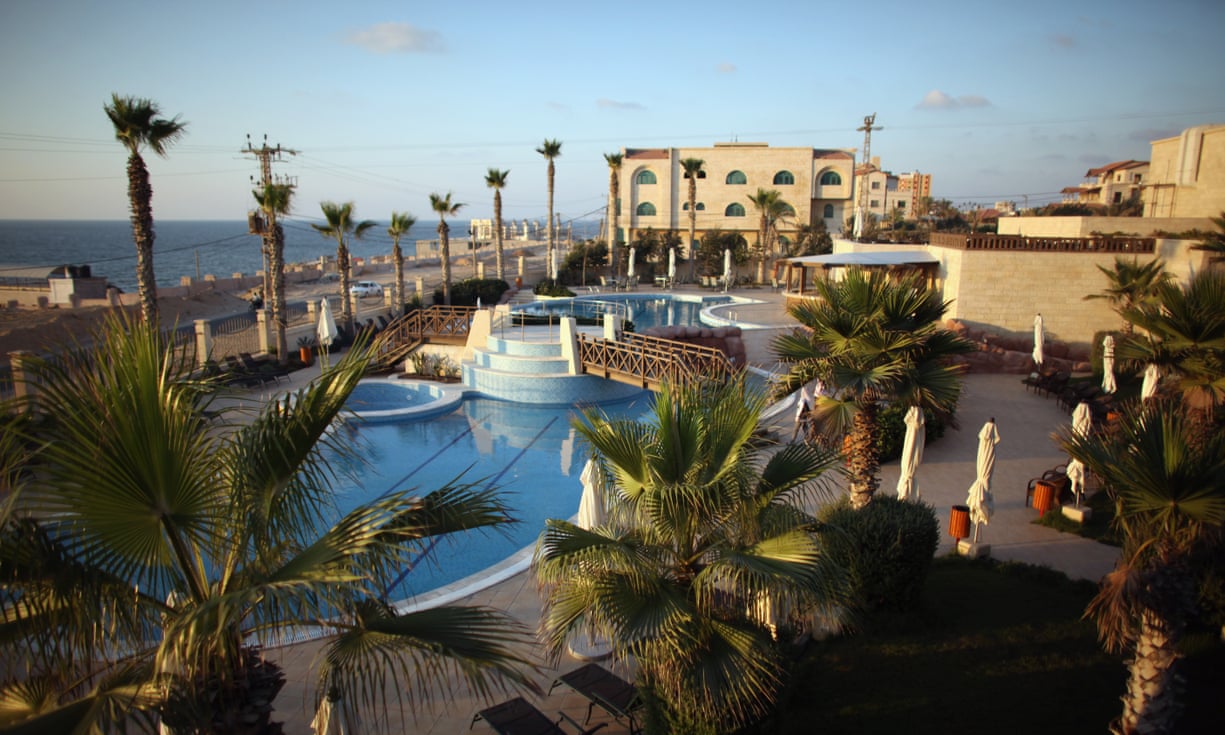 The five-star Arcmed al-Mashta Hotel, built in 2011
Facing an ineffective and corrupt government, the UN and NGOs have stepped in. Gazans are grateful – but know they can do better and mistrust the politics that dictates where funds are directed. Around much of Gaza are signs thanking Egypt, Qatar, Saudi Arabia, and United Arab Emirates for funding reconstruction projects. But the Arab countries have pledged far more for reconstruction than they've actually delivered, while many Gazans feel acutely abandoned by the Arab states and international community, and know new buildings still go first to those with Hamas connections.
Gaza City in numbers
40 – rank of Gaza city in 2014 list of most densely populated cities worldwide. At the time, the population of Gaza City and surrounding area was estimated at 750,000.
360 – square kilometers covered by the Gaza Strip, about the size of Detroit.
80 – percentage of families in Gaza who receive some sort of aid.
44 – percentage official unemployment rate in Gaza; for those aged 15-29, the rate rises to 60%.
3 – number of hours of electricity generated by Gaza's only working electricity plant at a severe low point this summer. For the last few years Gaza has averaged around at most eight hours a day of electricity.