World Health Organization warns hospitals could be plunged into darkness by end of February without fresh funding to keep emergency generators running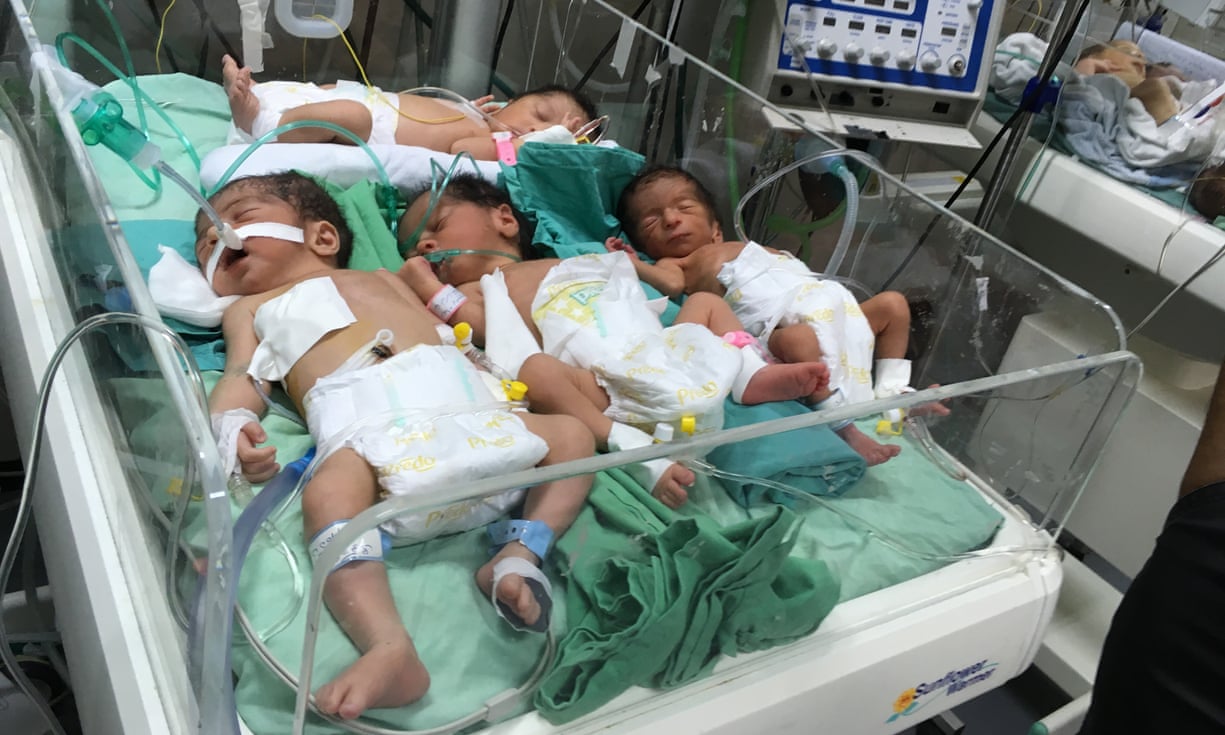 Babies born prematurely are crammed into an incubator at al-Shifa hospital in Gaza, where experts say 'dangerous overcrowding' has become commonplace. (Sarah Helm for the Observer)
Rebecca Ratcliffe, The Guardian, 3 Jan 2018
Hospitals in Gaza will face an almost total power blackout by the end of February unless funding is secured to keep emergency generators running, the World Health Organization has warned.
An ongoing electricity crisis in Gaza has left hospitals reliant on emergency generators for up to 20 hours a day, while medical staff have been forced to cut back on basic services such as equipment sterilisation and diagnostics. About 500,000 litres of fuel are required each month to sustain critical care in Gaza, but funding will only cover hospitals' needs until the end of February.
Dr Mahmoud Daher, head of the WHO's Gaza sub-office, said the health system is on "the edge of collapse". Without urgent fundraising, hospitals will face a disastrous situation, he said. "There are at least 200 babies and people in intensive care units. It would be a really fatal situation for them. There are dozens of people who are going to surgical operations that would be affected."
Fears over the humanitarian situation intensified following a series of tweets by Donald Trump on Tuesday, in which he threatened to cut funding for the Palestinian Authority unless it recommences peace talks. The US ambassador to the UN, Nikki Haley, earlier said the US would cut funds to UNRWA, the UN's agency for Palestinian refugees, unless the authority went back to the negotiating table.
Dr Andy Ferguson, director of programmes for Medical Aid for Palestinians (Map), an organisation that works with hospitals and other healthcare providers across Gaza and the West Bank, said electricity outages in Gaza, combined with medical shortages and severe restrictions on freedom of movement, were creating a medical emergency.
Difficulties with sterilising equipment have caused a rise in hospital infections, he added, while power fluctuations have damaged sensitive medical equipment.
"Worsening maternal malnutrition and increasing rates of premature and low-birthweight babies have led to instances of dangerous overcrowding in the neonatal intensive care unit in al-Shifa hosptial," said Ferguson.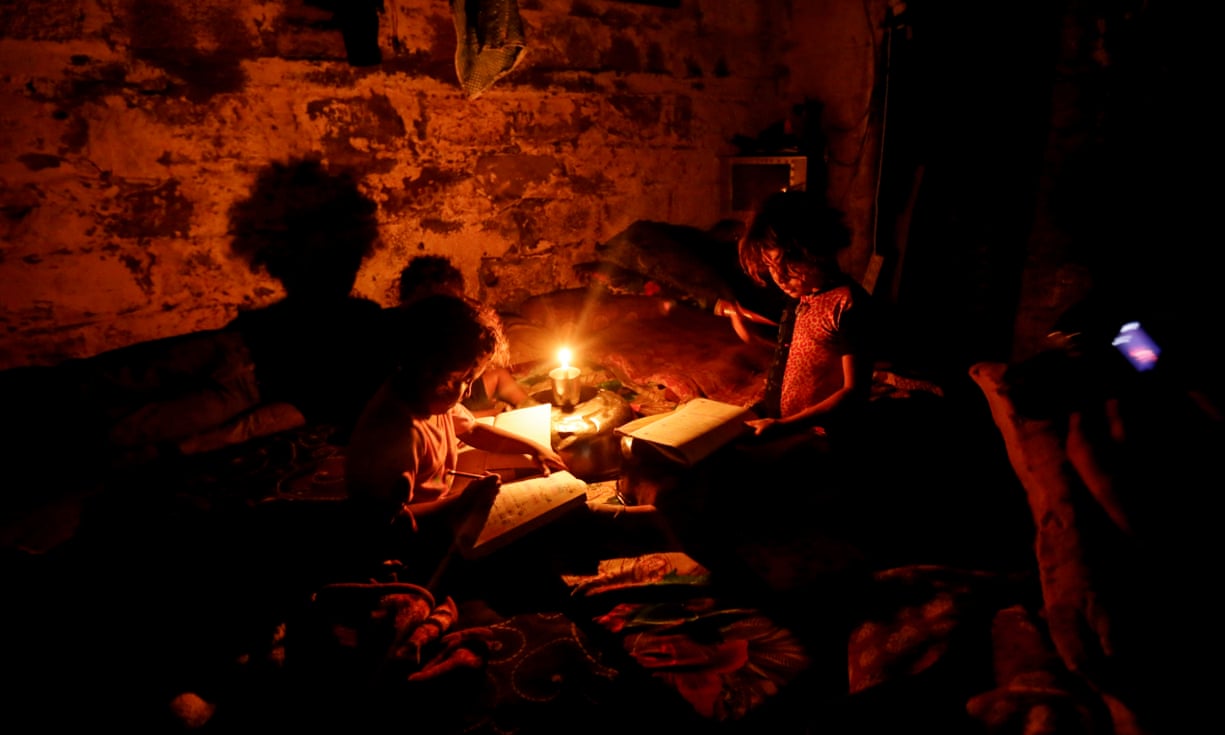 Palestinian children do their homework by candlelight during a power cut in Gaza City. (Mahmud Hams, AFP Getty Images)
As a result, explained Ferguson, incubators designed to accommodate one baby were often occupied by several. "Medical staff are having to look after as many as seven critically ill babies each at a time, compared to the UK standard of 1:1 or 1:2 care. Overcrowding of this type makes adequate monitoring and infection control impossible."
Generators are also in need maintenance, the WHO warned, but hospitals are unable to carry out repairs due to restrictions on moving goods into Gaza.
"We have been told by doctors in a neonatal unit that there were periods when staff in the units were forced to make manual ventilation to patients in intensive care because the generators didn't function," said Daher. "It's a matter of seconds sometimes."
The WHO's latest figures show hospitals are experiencing severe shortages of drugs and medical disposables. Of 516 medications on the essential drug list, 223 (43%) were at zero stock levels in November, which means central supplies will be totally depleted in less than a month. At the end of November, drugs used in the emergency departments and intensive care units were at 48% zero stock, while power shortages have made it harder for hospitals to collect and store large quantities of blood.
There are also "dramatic decreases" in the proportion of people securing permits to access healthcare outside Gaza, said Daher. In October, 45% of patients who applied to the Israeli authorities for such treatment were unsuccessful. Figures are expected to show that there were fewer exit permits granted in 2017 than in any year since the WHO began monitoring applications.
"Map knows of at least 30 patients who died in 2017 after being either prevented from exiting by Israel or unable to secure financial coverage for their referral from the Palestine Authority," said Ferguson.
The Israeli government has yet to respond to a request for comment.
The UN will launch its humanitarian response plan for the occupied Palestinian territory later this month, and is expected to call for $374m (£275m) to meet humanitarian needs in the Gaza Strip.