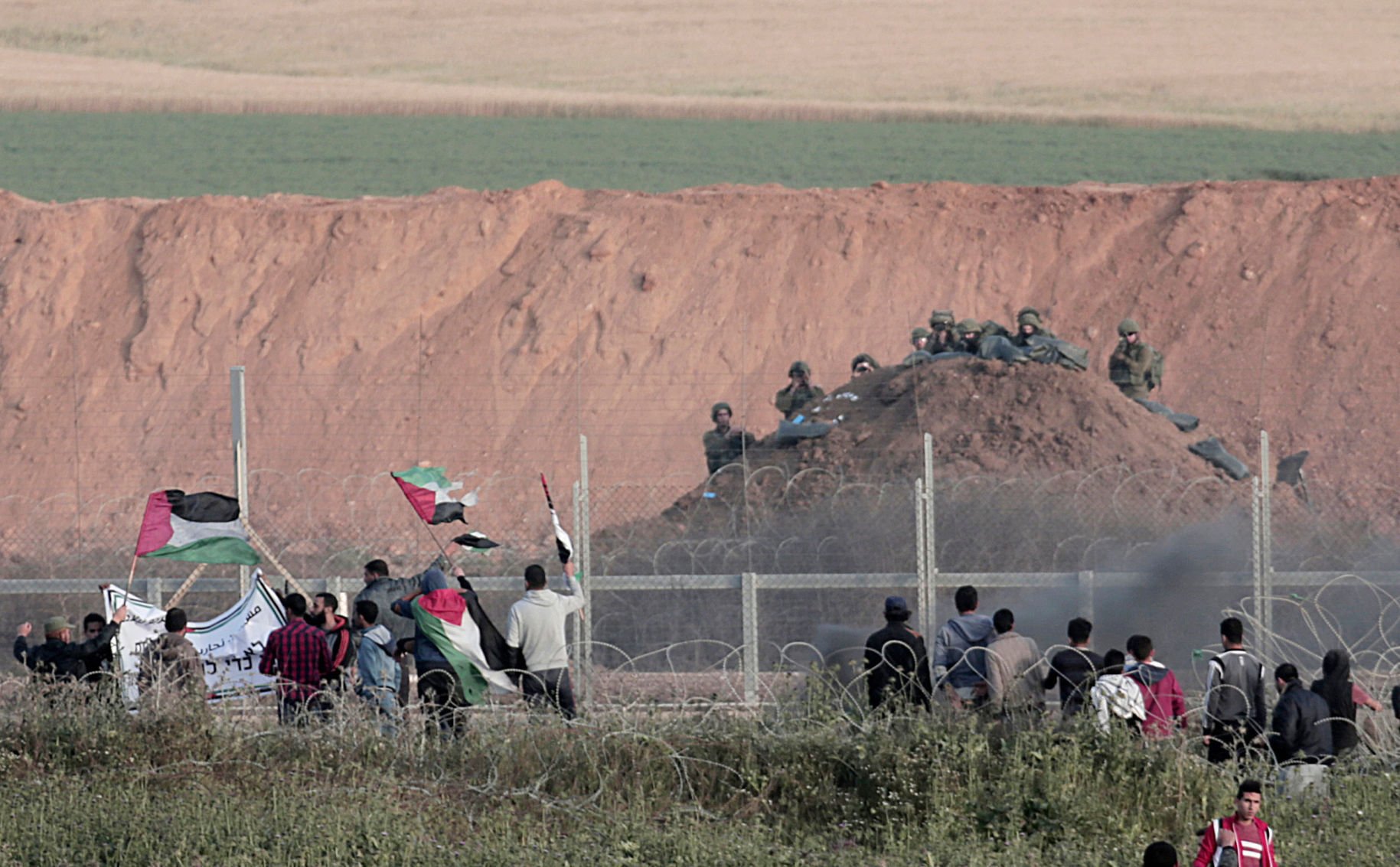 In this Wednesday, April 4, 2018, file photo, Palestinian protesters wave flags in front of Israeli soldiers on Gaza's border with Israel near Beit Lahiya. (ADEL HANA, ASSOCIATED PRESS)
Judith Laitman and Tsela Barr, Jewish Voice for Peace – Madison Chapter, May 3, 2018
This month, Jews around the world are celebrating the 70th anniversary of the founding of Israel.
These celebrations reflect the gratitude of Jews who view Israel as the symbol of freedom from centuries of persecution that culminated in the Holocaust.
We are Jews who will not be celebrating. The reason lies in a tragic irony: While Israel was intended as a safe haven for dispossessed Jews, hundreds of thousands of Palestinians were displaced to make room for the future state of Israel. In fact, Palestinians were forced out through a deliberate policy of expulsion and terrorism in order to create an exclusive homeland for Jews.
This Palestinian exodus is known as the Nakba, or the Catastrophe, to Palestinians. And as Israelis celebrate May 14 as Independence Day, Palestinians commemorate May 15 as Nakba Day.
In the period before and after Israel's official creation in 1948, an estimated 13,000 Palestinians were killed by Israeli forces or terrorist gangs. Five hundred and thirty-one Palestinian villages were destroyed and depopulated. During a period of a few months, according to Israeli historian Benny Morris, 34 massacres of Palestinians occurred. As a result, 731,000 Palestinians fled.
Sadly, things only deteriorated from there. In the 1948 war, Israel annexed more Palestinian land. And, although Palestine was allotted 45 percent of Israel-Palestine in 1947, a year later it held only 22 percent.
In 1967, following the Six-Day War, Israel began its occupation of the remaining Palestinian territory, including the West Bank, Gaza and East Jerusalem. That occupation continues to this day, and it is brutal.
In fact, since 1967, Israel has:
• Demolished nearly 50,000 Palestinian homes because they were built without the permission of Israel's occupying army.

• Destroyed 800,000 Palestinian olive trees (a symbol of life and peace to Palestinians).

• Built Jewish-only settlements, including roads not open to Palestinians, covering 42 percent of the West Bank.

• Confiscated 35 percent of the land in East Jerusalem for Israeli settlements.
Israel also maintains a complete blockade of Gaza, inflicting severe collective punishment on this densely populated area of 1.8 million people. Since 2008, it has conducted three devastating attacks on Gaza, allegedly in self-defense, causing the deaths of thousands of civilians and massive infrastructure damage.
Today more than 96 percent of Gaza's water is undrinkable, and many Gazans only have access to electricity for four hours a day. And Israel has consistently limited the ability of Gazans to rebuild.
Most recently, Gazans have organized a huge protest called the Great Return March. These protests began on March 30 and will continue until May 15, Nakba Day. Although the protests have been mainly peaceful, some demonstrators threw rocks, and some burned tires to make it harder for Israeli forces to shoot at them. Israel responded with deadly force. To date, Israeli snipers have killed dozens of unarmed protesters, including two journalists, and injured more than 5,000. According to Amnesty International, Israeli forces are using military bullets designed to do maximum and irreversible damage.
The Great Return March is about the right to live in dignity and the right of Palestinians to return to their land. Under the U.N.'s Universal Declaration of Human Rights, every person has this right.
But Israel has never accepted this human right as a basis for peace negotiations, whether by return or compensation. In the years after 1948, the Israeli government passed laws preventing Palestinians from returning to their homes or even claiming their property. Any peaceful future for both Palestinians and Israelis depends on recognizing this right.
Gazan-based writer and one of the organizers of the Great Return March, Ahmad Abu Rtemah, wrote in the Nation recently: "The Nakba is not just a memory, it is an ongoing reality. And while we can reconcile that we all must eventually die, in Gaza the tragedy is that we don't get to live."
On this 70th anniversary, we will not participate in celebrations that erase both the historic and modern-day injustices experienced by Palestinians. We choose instead to work toward justice and a final end to the Nakba.
Judith Laitman and Tsela Barr are members of Jewish Voice for Peace – Madison Chapter.