Update: G4S to divest completely from apartheid Israel
Palestinian BDS National Committee (BNC), June 1, 2023
In a major win for human rights activism against corporate complicity, the world's largest private security company Allied Universal, which owns G4S, has decided to sell all its remaining business in apartheid Israel. This follows years of an effective #StopG4S campaign waged by the BDS movement for Palestinian rights.
This victory comes after human rights campaigns caused G4S serious "reputational damage" and some lucrative investments and contracts. Along with the BDS movement, several other human rights campaigns have also targeted G4S over its long, violent record of human rights abuses against prisoners, migrants, and other communities worldwide, including the UK, South Africa and the US. 
The BDS campaign against G4S was launched by Palestinian prisoners' rights and human rights organizations in 2012 to support the major hunger strike waged then by Palestinian political prisoners. This pressure led to high profile divestment from G4S by the Church of Sweden, the United Methodist Church, the Bill and Melinda Gates Foundation, a Kuwaiti investment fund, UN agencies, trade unions, universities, restaurant chains, among others, compelling the company in 2016 to divest from Israel's prison system, military checkpoints and illegal settlements. 
Yet, the #StopG4S campaign kept up the pressure to get G4S to divest from its remaining stake in the consortium that operates Policity, Israel's police academy, given the well documented war crimes and grave human rights violations perpetrated by Israeli police over decades. Allied Universal, which acquired G4S in 2021, is now finally selling this share in Policity to the Israeli company G1 that is notorious for its complicity in human rights violations. The sale is pending approval by the Israeli authorities.
The final straw that compelled Allied Universal to end its complicity in apartheid Israel's human rights abuses against Indigenous Palestinians seems to be the strong position taken by the Caisse de dépôt et placement du Québec (CDPQ), which manages the funds of the Quebec Pension Plan and other public pension plans. Trade unions and BDS campaigners, led by BDS Quebec and American Friends Service Committee (AFSC), have been pressuring CDPQ since Allied Universal's acquisition of G4S, raising the issue in direct conversation with the fund and with members of parliament. 
CDPQ became the largest shareholder in Allied Universal in 2019, and supported the company in its bidding for the takeover of G4S, in direct violation of its commitment to ethical and socially responsible investment. When a Quebec lawmaker earlier this month criticized CDPQ's investment in Allied Universal in a parliamentary committee, saying that "cases of [Israeli] torture against Palestinian political prisoners, including children, are widely documented by human rights organizations," CDPQ's CEO replied: "I completely agree with you. This is not the kind of activity we endorse at all."
Given apartheid Israel's rising economic and financial troubles, especially the drying up of investments in high-tech, we may see an increasing number of multinationals divesting from it.
The BDS movement, with its intersectional partnerships worldwide, calls for intensifying pressure on other corporate criminals to make them respect their human rights obligations and stop profiting from oppression and injustice. Despite the enormous financial, legal and propaganda resources that multinationals have wielded against us, and despite the support they have received from Israel and its partners in crime, mainly the US, EU and UK, our strategic and collective pressure over the years has brought many of them to their knees, forcing them to divest from apartheid Israel. 
They try to sear into our consciousness the impossibility of prevailing over them, but we have prevailed. With the growing support from racial, economic, climate, social and gender justice movements worldwide, we surely can prevail in many more corporate accountability struggles in pursuit of freedom, justice and equality.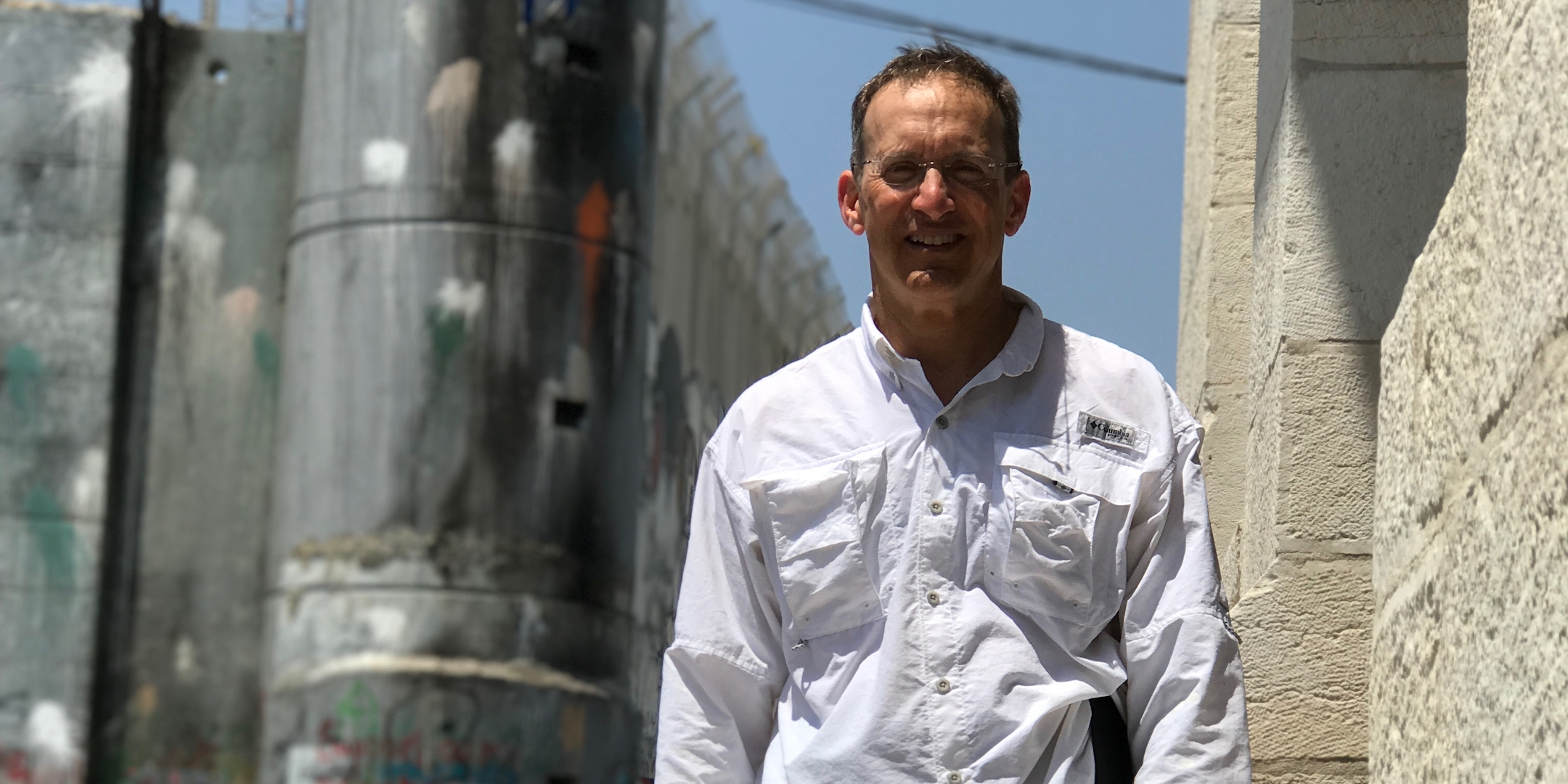 Dr. Steve Feldman, pictured on a trip to the West Bank. Feldman was denied payment from the state of Arkansas for refusing to sign a pledge promising not to boycott Israel. (Courtesy of Steve Feldman)
ANDREW LAPIN, JEWISH TELEGRAPHIC AGENCY, MAY 3, 2023
Dr. Steve Feldman, a dermatologist, delivered a Zoom lecture to University of Arkansas at Little Rock medical students in February, for which he was entitled to a $500 honorarium from the state. But Feldman said that the state is withholding payment because he refused to sign a pledge, required for public contractors under Arkansas law since 2017, to commit to not boycotting Israel.
"They have a law in place that makes contracts with Arkansas dependent on your agreement not to boycott Israel, which I think is wrong," Feldman, who is a professor at the Wake Forest University School of Medicine in Winston-Salem, North Carolina, told the Jewish Telegraphic Agency. "To me, growing up Jewish, the very strong lesson of the Holocaust that I learned is it's wrong to mistreat other people."
Arkansas is one of dozens of states that have passed laws aiming to combat the Boycott, Divestment and Sanctions movement targeting Israel. The laws either bar the state from investing in companies that boycott Israel or, as in Arkansas' case, mandate that state contractors promise not to boycott the country. Most of those laws have been struck down by courts, but Feldman's lecture took place the same month the U.S. Supreme Court declined to hear a challenge to Arkansas' law. His case is the latest example of how such laws are affecting what would otherwise be ordinary state business transactions.
Feldman has close relatives who live in Israel. But he said the pledge conflicted with his religious and moral views. In addition to his medical work, he is a pro-Palestinian activist who created the online-only Jewish Museum of the Palestinian Experience. The website says that the Jewish commitment to fighting injustice should lead Jews to stand up for Palestinian rights. Feldman said he does support boycotting Israel. 
"I think the only thing that will lead to Israel allowing Palestinian families to return to their homes, so that everybody can live together peacefully, will be some kind of boycott," he said.
While the Arkansas law, passed in 2017, applies only to contractors earning more than $1,000 from the state, Feldman said he was still refused his $500 payment. The justification, he said, was that being added to the state's vendor system would make him eligible for future assignments that could add up to more than $1,000.
Feldman told JTA he is exploring his legal options and wouldn't rule out a lawsuit against the state as a means of advocating for Palestinian rights and challenging last year's federal Eighth Circuit Court ruling that the law was constitutionally protected. "I would love to sue and have the Circuit Court either retract what they said, or go to the Supreme Court in order for people to see things that they didn't know," he said.
Arkansas Attorney General Tim Griffin, a Republican, has said the law combats discrimination on the basis of nationality. Following the Supreme Court's decision not to hear the case, he told the Arkansas Democrat-Gazette that he works to "ensure that taxpayers aren't required to pay for anti-Israel and anti-Israeli discrimination."
Feldman's story was first reported by the Arkansas Times, a publication that has itself become entangled in the state's anti-boycott law. The paper's publisher, Alan Leveritt, challenged the law in court after he was asked to sign the anti-boycott pledge so that the paper could run advertising from a state university. The suit, which is the one that reached the Supreme Court, argued that the law was a violation of the publication's First Amendment rights and attracted support from progressive Jewish groups, as well as opposition from some pro-Israel groups. Leveritt argued that he doesn't have strong feelings about Israel boycotts but that his paper does not take political positions in exchange for advertising. 
Since the inception of state-level laws prohibiting Israel boycotts, some state lawmakers have used them as a template for legislation barring other types of divestment campaigns, such as those targeting fossil fuels or the firearms industry. 
Feldman mused that he could have signed the pledge, taken the money and then engaged in an Israel boycott to see how the state would react, but concluded, "I can't lie on a form. That also goes against my Jewish moral character."