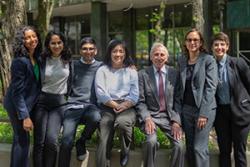 July 27, 2020, New York –  Students asked New York's Appellate Court on Friday to reject an effort by Fordham University to overturn a decision ordering the school to recognize the Students for Justice in Palestine (SJP) club. The students are represented by the Center for Constitutional Rights, Palestine Legal, and cooperating counsel Alan Levine. 
"It's ridiculous to us that our university is still trying to censor us now," said Veer Shetty, vice president of SJP at Fordham. "We've already been active for a year, and appealing the court's ruling feels especially cruel."
The original case stems from a fall 2015 effort by Fordham University students to start a Students for Justice in Palestine club on campus. Administrators dragged out the application process for a year – including multiple meetings, questioning students on their political views, and amendments to SJP's constitution.
In November 2016, Fordham's undergraduate student government approved SJP as a student club. One month later, Fordham University Dean of Students Keith Eldredge took the unprecedented step of vetoing the student government's approval based on SJP's "political goals" and the possibility it would lead to "polarization." 
The Center for Constitutional Rights, Palestine Legal, and Alan Levine sued Fordham on behalf of four students in April 2017, winning the case in August 2019 when a New York court annulled Fordham's decision, mandating that the university recognize SJP as an official club. 
Fordham appealed the ruling in January 2020. Oral argument is expected in the Court's September term.