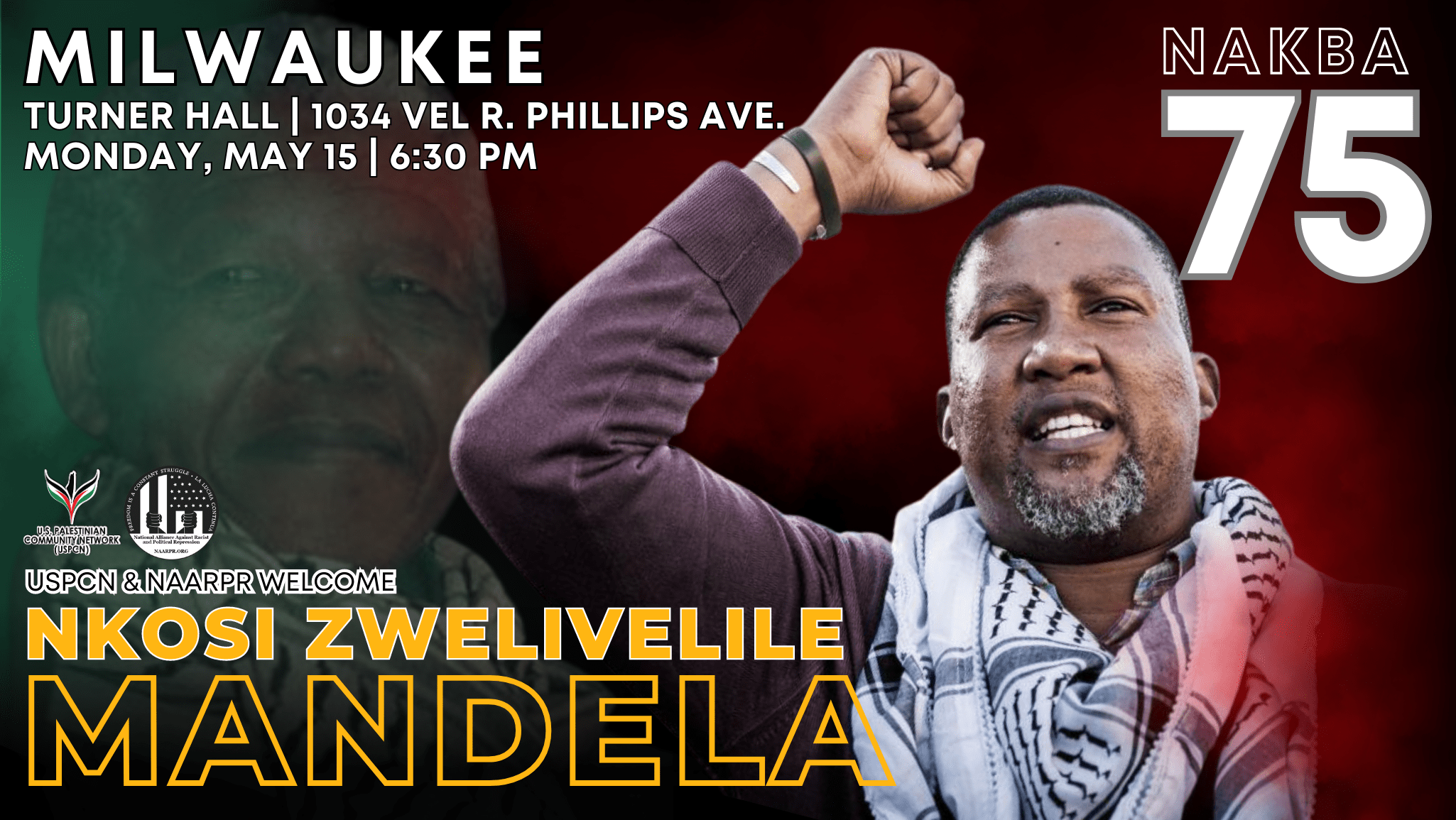 NEW: MRSCP is partnering with Building Unity on a "Care-avan" carpool to this event from Madison and Janesville; if you would like to offer a ride or are in need of a ride, please click here then scroll down and fill out the form at the bottom to RSVP and get updated information
U.S. Palestinian Community Network (USPCN) and the
National Alliance Against Racist and Political Repression (NAARPR)
Turner Hall
1034 Vel R. Phillips Ave
Milwaukee, WI
6:30 PM – 09:00 PM
2023 marks the 75th anniversary of the Nakba ("Catastrophe" in English), when over 750,000 Palestinians were banished from their homes upon the formation of the settler-colonial state of Israel. Today, there are close to five million Palestinian refugees who continue to demand their Right to Return to the homes and lands from which they were exiled.
To commemorate the Nakba, the U.S. Palestinian Community Network (USPCN) and the National Alliance Against Racist and Political Repression (NAARPR) have arranged a brief U.S. Nakba Day 75 tour, to take place from May 15th – May 20th, featuring Nkosi Zwelivelile Mandela, elected member of the South African National Assembly representing the African National Congress – and grandson of the late Nelson Mandela – as the tour's keynote speaker.
Mr. Mandela, also the tribal chief of the Mvezo Traditional Council, holds a degree and a post-graduate diploma in Political Science and International Studies from Rhodes University. Unabashed in his support for the Palestinian people, just like his grandfather, he speaks regularly about Palestinian liberation at conferences, rallies, and other events across the world.
Join us at Turner Hall in Milwaukee on the evening of Monday, May 15th, for this historic event!
Be sure to follow USPCN (@uspcn) on Facebook, Twitter, and Instagram and @uspcnmke for updates!
*Please note: We are not charging for admission, but instead asking if our communities would help us support this historic tour with a donation!*