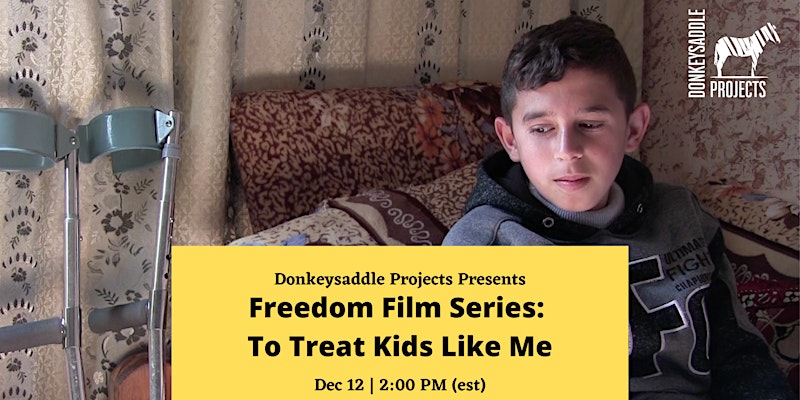 Screening & discussion
Sun, Dec 12, 2021, 1:00 PM CST
With severe medicine shortages and an overstretched health care system in Gaza, children in need of medical treatments can only find them outside the strip. Yet Israel's convoluted, arbitrary permit process leaves them waiting in pain, often missing life-saving care. To Treat Kids Like Me (produced by Donkeysaddle Projects and +972 Magazine) follows the family of Mohamed Saleh and several other children in the Gaza Strip as they navigate the often Kafkaesqe process of getting permission from the Israeli army to leave the besieged strip for medical treatments that are unavailable there.
The 5th offering in DSP's Freedom Film Series will be followed by a discussion with filmmaker Jen Marlowe and special guests:
Ghada Majadli: Director of the Physicians for Human Rights-Israel department for Palestinians in the Occupied Palestinian Territories (OPT); featured in To Treat Kids Like Me.
Mohamed Lafi: Public health professional working for the World Health Organization in the OPT, with a focus on access to health care for patients who need to seek care outside the OPT.
Fadi Abu Shammalah: Manager of Donkeysaddle's Palestine Grassroots Distribution Project; has been DSP's on-the-ground support for Mohamad Salah (who is featured in To Treat Kids Like Me)
Miranda Cleland: Communications Manager for Defense for Children International-Palestine (DCIP). DCIP documents cases like Mohamed's where Israeli forces kill or injure Palestinian children.
Tickets by donation. 50% of ticket proceeds go to Palestine Grassroots Distribution Project, including Mohamad Salah's medical care.