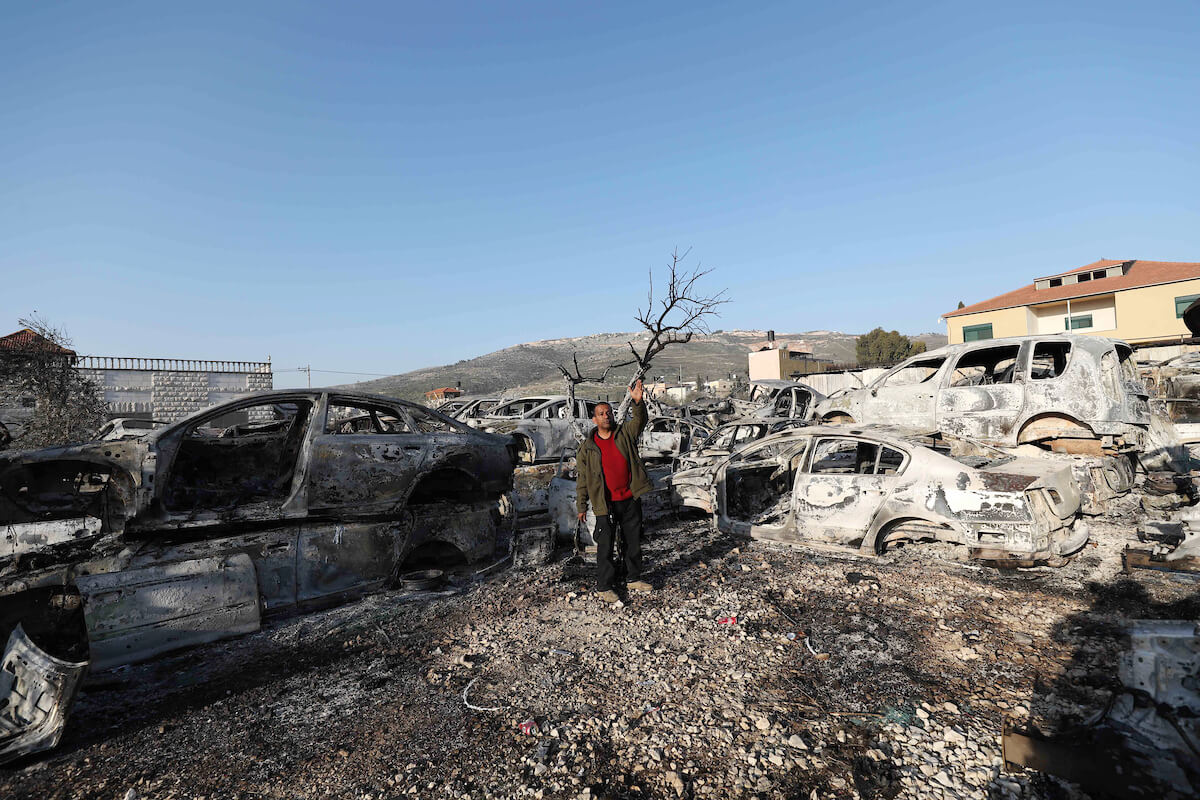 Palestinians inspect the destroyed cars at a scrapyard in the town of Huwara near Nablus in the West Bank on February 27, 2023 after they were torched overnight. Photo by Shadi Jarar'ah/ APA Images
Key Developments (February 20 – 27)
14 Palestinians killed by Israeli violence in the span of the week.
13 of the casualties were in the Nablus district, with 11 of them taking
place in one day.
11 Palestinians were killed in a massive Israeli army invasion on Nablus city on February 22. 10 were killed by Israeli army gunfire, while one person, an elderly man, died of tear gas inhalation. Among the dead were seven Palestinian resistance fighters, while four were civilian non-combatants, including three elderly men and a child.
One Palestinian, Mohammad Abu Sabbah, 30, from the Jenin refugee camp succumbed to wounds he sustained in an Israeli army raid two weeks prior.
On February 24 Israeli settlers attacked the village of Qusra in Nablus, injuring at least two Palestinians with live ammunition. (source: MOH)
Two Israeli settlers were killed by an unknown Palestinian gunman in the town of Huwwara, south of Nablus in the northern West Bank on February 26.
Israeli settlers launched a 'pogrom' on the night of February 26, attacking Palestinian homes and property in Huwwara, Burin, and across the Nablus area, burning homes, cars, vandalizing property, and assaulting Palestinians.
One Palestinian was killed during the settler violence in Nablus on the night of February 26. He was identified as Sameh Aqtash, 37, from the Nablus area village of Zaatara. Palestinian media reported that Aqtash was killed during a settler raid on his town, though it was unconfirmed if he was killed by Israeli army or settler gunfire.
In-Depth
The West Bank was under a two-pronged attack last week.
The first was carried out by the Israeli state's army in a massive military invasion of Nablus that killed 11 Palestinians and injured over 100. The second was carried out by its nominally civilian wing — gangs of colonial settlers that went on a rampage last night in response to a resistance attack that killed two Israeli settlers in Huwwara, just south of Nablus.
The raid on Nablus was one of the bloodiest in recent months, aiming to assassinate wanted resistance fighters from the Lions' Den, Muhammad Juneidi and Hussam Isleem. Israeli special forces killed them and their comrade, Walid Dakhil, a cousin of one of the co-founders of the group. Four other fighters from armed resistance groups around Nablus were also killed in the fighting, in addition to four bystanders in the city (three elderly men and a teenage boy).
Nablus was in mourning, and the Lions' Den put out a call asking the people to show their support at midnight, February 23:
"Do no despair and fall into sorrow, we need you all, as you have accustomed us…to take to the streets if you can, to come out in every major square, in every city in the West Bank, Jerusalem, the beloved [Gaza] Strip, and in every refugee camp in the homeland, to hear those who would pledge loyalty to the blood that has been spilled."
Everyone responded to the call of the Lions' Den. From Ramallah to Hebron, to Nablus and Jenin, to Bethlehem and its camps and Tulkarm and Jericho, people were out in the thousands at midnight, in a show of mass support unknown to any Palestinian political faction.
Neither Fatah nor any other faction has been able to muster this kind of spontaneous mass support since the First Intifada. Political legitimacy, it has become clear, is not to be found in summit halls and security deals, but rather sprouts from the barrel of a rifle when pointed at the colonizer.
In other words, the Lions' Den has captured the imagination of Palestinians in a way that the political "leadership" has failed to do for decades. What's more, it has long since stopped trying.
Yet it recognizes its increasingly tenuous hold over the West Bank cantons that it calls a state, pushing it to attend a meeting mediated by Jordan with top Israeli officials in Aqaba on Sunday, February 27. Billed as aiming "to bring an end to the bloodshed," according to Fatah, the Aqaba Summit was held with the express purpose of calming the brewing storm of Palestinian resistance.
And on the same day as the Summit, an unidentified Palestinian gunman carried out a resistance attack against a settler vehicle in the Palestinian town of Huwwara, south of Nablus. Two settlers were killed, and with them the stillborn Summit at Aqaba.
Palestinians saw the attack as retribution for the invasion of Nablus, much like Khairi Alqam's Neve Yaacov shooting, which was regarded as retribution for the massacre in Jenin several weeks ago.
According to reuters, one of the settlers killed in Huwwara was in the Israeli military, and both settlers were reportedly from the illegal Israeli settlement of Har Bracha, 8km away from the site where they were killed. Har Bracha is one of many notoriously violent Israeli settlements in the Nablus area, from which Israeli settlers routinely launch attacks on Palestinians.
And that is precisely what the settlers did following yesterday's shooting in Huwwara.
The settler riot has been widely described as a "pogrom," and with good reason. The rabid settler gangs rampaged through Huwwara and many other towns throughout the West Bank, completely burning down 35 Palestinian homes, damaging 40 others, and killing a Palestinian in Zaatara, 37-year-old Sameh Aqtash.
All the while, the Israeli army accompanied the settlers as they were out for blood, ensuring their safety and freedom to lynch and burn as they pleased. Israeli forces also imposed a closure on the Nablus area, as Wafa News Agency reported closures at the checkpoints of Huwara, Awarta, al-Muraba'a road, Za'tara, and entrances to Beita. On Monday, February 27, Wafa reported that an Israeli settler attempted to run over a group of journalists covering the Huwwara news.
Far-right Finance Minister Bezalel Smotrich, who is now in charge of the Civil Administration in the West Bank, reportedly liked a tweet from the Samaria Regional Council Deputy Chief that called for the village of Huwara to "be erased" (see tweet by Edo Konrad of 972), while his political bedfellow and Minister of National Security, Itamar Ben-Gvir, made a visit to the illegal settler outpost of Evyatar on Monday as it was being evicted, vowing to "crush our enemies" and declaring that the settlers are in a state of war that "is not going to end in one day."
In that, Ben-Gvir is correct. The Zionist forever war against the Palestinians is as old as Zionism itself, and so is Palestinian
resistance.
And as we write these words, reports stream in of the death of an Israeli settler in another operation in Jericho.
Important figures
At least 64 Palestinians have been killed in the occupied West Bank and East Jerusalem since the start of 2023
13 Palestinian children have been killed in 2023, according to DCIP.
Similar to 2022, the highest concentration of Palestinians killed this year are from the Jenin and Nablus governorates.
Mondoweiss Highlights
Nablus mourns following Israeli invasion that tore city and lives apart, by Mariam Barghouti