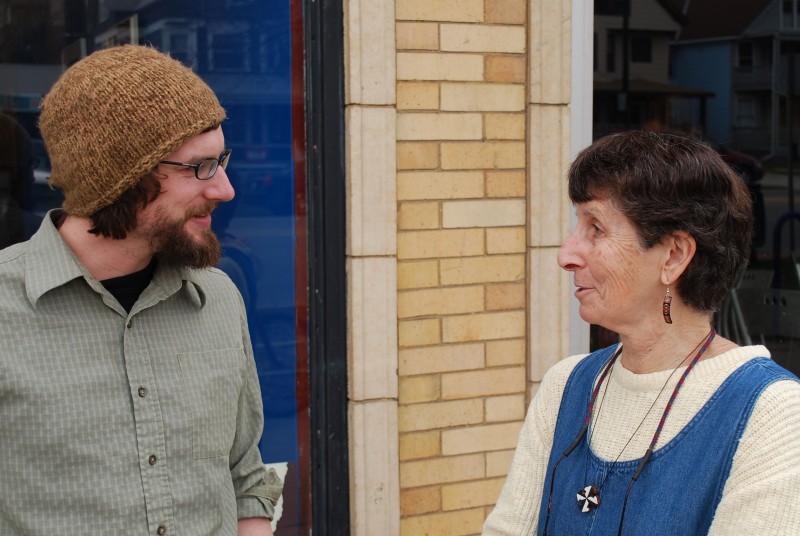 Josh Brollier and Sister Pat Chaffee. Photo courtesy of Phil Haslanger.
Phil Haslanger, Cap Times, Apr 1, 2010
Josh Brollier and Sister Pat Chaffee are in many ways a study in contrasts with each other and with the way most Americans live — and those contrasts make this unlikely pair thought-provoking.
Chaffee is a 72-year-old Dominican Catholic sister who lives on the edge of Lake Michigan in Racine. Brollier is a 27-year-old religiously unaffiliated peace activist who lives in the heart of Chicago.
They were in Madison recently to speak at Edgewood College and other places about their participation in January's Gaza Freedom March — a nonviolent direct action by 1,300 people from 43 countries that was planned to protest Israel's isolation of Gaza, which is controlled by the Hamas segment of the Palestinian leadership. The protest hit an unexpected barrier — the Egyptian government refused to let the protesters approach the crossing at Rafah, the southern point in Gaza that abuts Egypt. But the international protest nevertheless highlighted the terrible conditions that exist for the people of Gaza.
It was the latest instance where Brollier and Chaffee put themselves in the midst of conflict to advocate for justice without resorting to using violence.
Brollier grew up in Tennessee in a Southern Baptist family. He says that while there have been strong religious influences on his thinking, he now embraces a more eclectic world view. "I try to take whatever truth comes my way and try to incorporate it into my life," he said in a conversation over coffee.
Chaffee comes from more traditional Catholic roots as a nun living in a religious community, but also represents that activist strain of nun who noticed injustice in the world and feels called by her faith to act.
She noted that the motto of the Racine Dominican sisters is "committed to truth, compelled to justice," and reflects that "I can see what Jesus did. It was always for the people who were put upon by those in power."
She had been a teacher for most of her adult life, but in the mid-1980s, some of the other nuns in her community were getting involved in issues around the wars in Central America, and Chaffee wanted to see for herself. She spent four weeks in Nicaragua, which she called "a conversion experience" as she witnessed the huge disparities between wealth and poverty. She subsequently worked in El Salvador and Guatemala.
In 2006, she went to the West Bank, then last May to Gaza as part of a Code Pink delegation to report on conditions and deliver toys and supplies for building playgrounds.
Brollier began his journey toward nonviolent activism in college, when he was at the University of Memphis and moved into a community serving as tutors for refugees. He then spent three months in Zimbabwe in 2004, broadening his view of the world even more.
Now he lives in a community again: Voices for Creative Nonviolence in Chicago. The group lives simply enough to not earn enough individual income to pay taxes, since they object to paying for war.
"So much desperation is caused by the policies of governments," he said. "We need stronger action than just talking about it." But he emphasizes that the means one chooses to change things determines the ends you get, and since violence begets violence, he works to find different ways to achieve goals.
"If we can't see the humanity in our so-called enemies, there is not much of a crack to move forward," he noted. He understands the skepticism people have toward nonviolent responses to the hot spots of the world, but added, "I think the alternatives have never really been tried."
Brollier has been arrested a half-dozen times in anti-war and anti-torture protests, including one at Fort McCoy that led to a 14-day stay in the Dane County Jail. Chaffee has gone to some of the world's most conflicted places to bring back accounts of how injustices are affecting people's lives.
Their words and actions offer a nudge beyond the comforts of everyday life.
Phil Haslanger is pastor of Memorial United Church of Christ in Fitchburg.