The olive oil soap that connects Palestinian-Americans like me to home. For the diaspora community, this commodity has become a love letter, written in sun and air and earth.

The author's mother holding a bar of Saboun Nabulsi. (Photo courtesy of the author)
NATALIE JABBAR, SALON, JULY 8, 2023
In every small Middle Eastern store or international grocery we walk into at home in the San Francisco Bay Area or anywhere across the country, my mother and I search for Saboun Nabulsi. We weave through narrow aisles packed with cans of fava beans and jars of pickled eggplant, past the giant plastic tubs brimming with olives, the bags of pita bread spilling from the bottom shelves. If we are lucky, we find the most treasured import: the saboun (soap), wrapped in waxy white paper stamped with the fading red camel, blue barcode, the bright Arabic script that stretches across each side of the rough cube, always a tiny bit askew. We are careful shoppers, but for Saboun Nabulsi, we will pay almost any price.
In the West Bank city of Nablus, a man who learned from his father, who learned from his father, mixes virgin olive oil pressed from local olive trees with water and an alkalizing sodium lye compound. He stirs it with a wooden paddle in a massive stainless-steel vat. Days later he and his team pour the thick boiling liquid into a large wooden frame spanning the factory floor. The mixture sets, and the men step across soap to mark a grid of lines across the top. They bend at the waist, cutting along the lines with a long wooden stick fitted with a sharp blade. They squat on the surface with embossing hammers, swiftly stamping the top of each cube, like xylophone players performing in a concert. They stand on stools to stack the soap in circular hollow towers so the air can circulate around each bar. The soap hardens and cures for weeks until being packaged, sent away.
Since the 10th Century, zaitoun — olive — has been transformed into these creamy bricks of castile soap. For the diaspora community, this commodity becomes a love letter, written in sun and air and earth, enveloped in history and ritual and resilience, traveling to us across great distances.
In my shower in California, I scrub the soap against a rough white cotton washcloth and move the towel across every limb, every birthmark, every scar. I have never set foot in the Palestinian territories in my 36 years, but the land and its people — my people — anoint my skin daily. Like eating my mother's zaatar manoushe (flatbread) or knafeh Nabulsi (a cheese and phyllo dessert), this ritual physically connects my body with my roots. My mother has used Saboun Nabulsi since she was a child growing up in Damascus after her family fled Nablus in 1948. This bar of soap was their shampoo, their stain remover, their laundry detergent. She and her siblings would shred the soap into paper-thin shavings and place them into the small stainless-steel basin of their hand-wringer washing machine.
The suds are now her memories, seeping into my skin.
My mother has not returned to her ancestral home since 1967. I close my eyes and imagine her as a girl, 17 years old, sleeping on the bottom bunk at her boarding school in Ramallah waking to the thrum of engines. It is Monday, the beginning of final exams week, just days before her high school graduation. Outside, lines of yellow buses wait like convoys to take them all away. The Six-Day War has begun.
Inside a cotton pillowcase, she places her passport, pajamas, underwear, a change of clothes, slippers, a notepad. You don't take much when you think you will one day return, she will tell me decades later. She takes the bus that heads north toward her grandparent's house in Tulkarm, where her mother was staying to attend her graduation. They wait in the house, trying to decipher radio announcements over the static while their bodies rattle with each explosion cracking in the distance. After two days, soldiers arrive and herd them like livestock into maroon pick-up trucks. The trucks eventually stop in the middle of nowhere and dump them all on the side of the road. They walk for hours. They don't eat for days. Dead bodies start to appear in the margins of the fields. Everywhere, stones stained in sweat and blood. They sleep in the damp soil under olive trees, using the tree limbs as pillows.
I see those same trees in the iconic 2005 image of the Palestinian woman in a bright pink cardigan embracing an olive tree — an image now embossed in our minds like a family photo. Two soldiers look down at her as she wraps her arms around the tree limbs, her eyes closed, her mouth open in a wail. She looks like she is losing a loved one. She is. Since 1967, Time reported in 2019, more than 800,000 olive trees in the West Bank have been uprooted, damaged, cut. From August 2020 to August 2021, more than 9,300 trees were destroyed in the West Bank, and Palestinians are being denied access to the groves they have cultivated for generations, the groves that form the basis of their economy, their livelihood, their cultural memory. Around 90 percent of the Palestinian olive harvest is used to make olive oil, with the rest used for table olives, pickles and soap.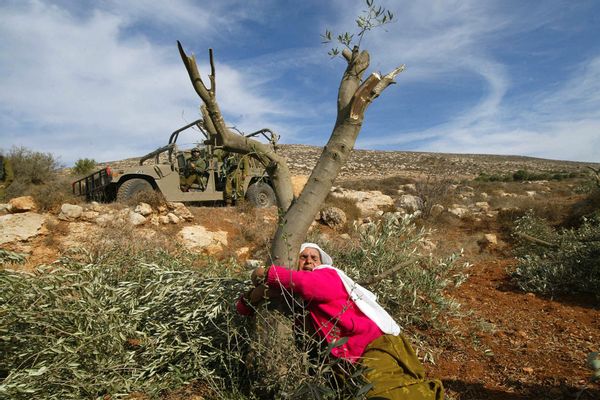 Palestinian Mahfoza Oude, 60, cries as she hugs one of her olive trees in the West Bank village of Salem, 27 November 2005. Mahfoza and other villagers lost dozens of their olive trees after they were chopped down by Israeli settlers from the nearby Elon Morei settlement. (JAAFAR ASHTIYEH/AFP via Getty Images)
"If the Olive Trees knew the hands that planted them," the late Palestinian national poet Mahmoud Darwish famously said, "their oil would become tears." I stand under hot water after scrolling through more devastation, after absorbing news of another massacre, another explosion, another picture of a weeping family wrapping the body of their child in a white cotton sheet and carrying them to be buried. I clean the tears on my face with the tears of my people as the soap becomes smaller every day.
My mother is 73 now. A wispy cloud of short white hair frames her angular face, her fair skin still smooth and tight except for the lines indenting the margins of her smile. If friends or strangers ask how her skin still looks so good "for her age," they inevitably end up getting a history lesson as she talks about Saboun Nabulsi and proudly explains she is bint al Nakba, a daughter of the catastrophe. When each bar of soap dissolves to a sliver, she collects each fragment, places them into the cut-off foot of a pair of old pantyhose, and ties it shut. She will lather with this pebbled lump until nothing remains.
In the late 19th century, almost 40 soap factories were in production in Nablus. After natural disasters, including a massive earthquake in the early 20th century, and multiple military incursions into the historic quarter, only two factories remain today.
The dream of traveling with my mother to her homeland feels more implausible with every passing year, not only because of her age, but because I'm afraid. What if we are detained on arrival due to the absurd difficulty of entering the region? What if we encounter more heartache than my mother can hold in her body? For now, I will continue using Saboun Nabulsi as this ancient tradition perseveres. Under the water, with the soap in hand, the only barrier between me and our Palestinian home is the miles that separate us — and my skin.