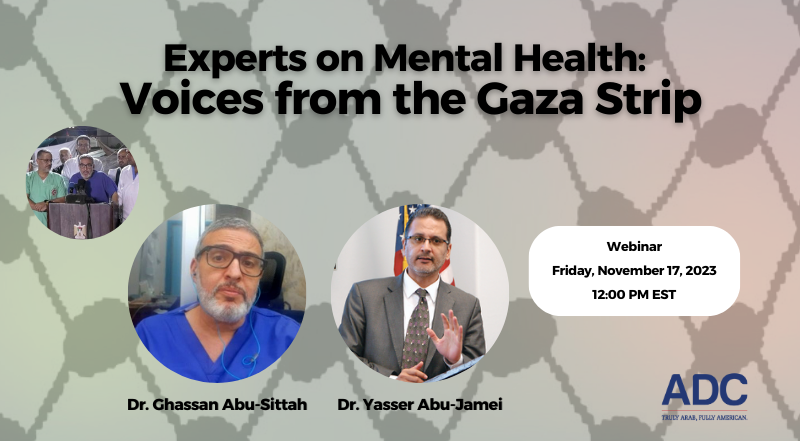 11 am CT
Washington, D.C. | adc.org | November 13, 2023 — The American Arab Anti-Discrimination Committee (ADC) invites you to an impactful webinar, Experts on Mental Health: Voices from Gaza, featuring distinguished speakers, Dr. Yasser Abu Jamei and Dr. Ghassan Abu-Sittah and moderated by Dr. Lara Sheehi.
Register here to gain unique insights into the psychological impact of the ongoing genocide in Gaza directly from those on the front lines.
About Dr. Ghassan Abu-Sittah
Professor Ghassan Abu-Sittah is a British-Palestinian Associate Professor of Surgery and a Plastic & Reconstructive Surgeon. His extensive medical education at the University of Glasgow in the U.K and postgraduate residency training in London have culminated in his reputation as one of the world's leading specialists in craniofacial surgery, facial aesthetics, cleft lip and palate surgery, and trauma-related injuries.
A passionate humanitarian, Professor Abu-Sittah has served as a war surgeon in conflict zones including Syria, Yemen, Iraq, South Lebanon, and the Gaza Strip. As the Clinical Lead for the Operational Trauma Initiative at the World Health Organization's EMRO Office, he actively contributes to global health initiatives. Additionally, he serves on the board of directors of INARA, a charity dedicated to providing reconstructive surgery to war-injured children in the Middle East, and the Board of Trustees of the UK-based Medical Aid for Palestinians.
About Dr. Yasser Abu-Jamei
Dr. Yasser Abu-Jamei MD, MSc, a psychiatrist, serves as the Director General of the Gaza Community Mental Health Programme. Born in Saudi Arabia in 1974, he has acquired degrees in the mental health field from universities in the UK, Germany, Lithuania, and Gaza. Residing in Gaza-Palestine since 2000, Dr. Abu-Jamei has played pivotal roles at the Gaza Community Mental Health Programme since 2004, ultimately becoming its Director General in January 2014.
His research focus on the impact of ongoing violence and the 17-year-long blockade of Gaza on the physical and psychological health of children and their caregivers, underscores the critical intersection of public health and human rights. A key member of the task force that developed the National Mental Health Strategy in Palestine, Dr. Abu-Jamei has received numerous honors, including the Said Foundation's recognition in 2015 for his contributions to developing the mental health sector in Gaza. In 2016, he was awarded the Alumnus of the Year by the University of Birmingham (UK), and in 2021, the Rebuilding Alliance presented him with the Community Resilience Award.