Center for Constitutional Rights, October 21, 2019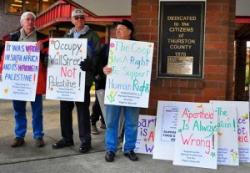 Join us in court tomorrow in Olympia, Washington, as Center for Constitutional Rights Deputy Legal Director Maria LaHood argues in our case Davis v. Cox defending former volunteer board members of the Olympia Food Co-op in their decision to boycott Israeli products in line with the co-op's mission and long history of encouraging social justice.
Courts dismissed the lawsuit against our clients in 2012, 2014, and 2018, yet the plaintiffs have continued to pursue the case in an attempt to chill free speech and punish support for Palestinian human rights. We will continue to argue that the lawsuit brought against our clients is illegal and should be dismissed.