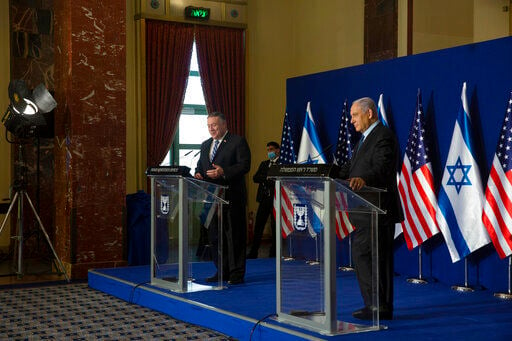 U.S. Secretary of State Mike Pompeo, left, and Israeli Prime Minister Benjamin Netanyahu make a joint statement after meeting in Jerusalem, Thursday, Nov. 19, 2020. (AP Photo/Maya Alleruzzo, Pool)
Tsela Barr and Jeff Spitzer-Resnick, The Cap Times, Dec 4, 2020
Secretary of State Mike Pompeo, in another lame-duck effort to tie the hands of the incoming administration and give a parting gift to the far right in Israel and to right-wing Christian Evangelicals at home, has just poured kerosene on the fire of the Israeli-Palestinian conflict.
The most senior U.S. official ever to publicly visit an Israeli settlement on occupied Palestinian land in the West Bank, Pompeo proclaimed that settlement-produced goods imported to the U.S. will no longer be labeled as they had previously been, "made in West Bank/Gaza." Instead, they can now be labeled "made in Israel," despite the fact that neither U.S. law, nor the United Nations, recognizes Israel's de facto annexation of large swaths of Palestinian territory.
Trump and Pompeo hope to drive one more nail in the coffin of long-standing official U.S. policy, which, while not sufficiently supportive of the aspirations of the Palestinians for legitimate self-governance on their own land, at least until now has held the settlement enterprise to be illegal, illegitimate, counterproductive to the cause of regional peace and stability, and even damaging to Israel's own interests.
But there is an even more dangerous part of Pompeo's pronouncements: that henceforth, the U.S. will officially label the international grassroots movement known as Boycott, Divestment and Sanctions (BDS) as anti-Semitic and will create what amounts to a blacklist of organizations that support it.
The BDS movement is an international effort by millions of people to try to pressure the Israeli government to respect the human, political and economic rights of Palestinians. It is inspired by a similar movement that targeted and helped overthrow apartheid rule in South Africa.
While, as American Jews, we have serious concerns about rising anti-Semitism, which is traditionally defined as hostility to, prejudice toward, or discrimination against Jews, we are united in opposition to labeling BDS (or other criticism of Israeli policies), as anti-Semitic and even worse, to using the power of governments at all levels to outlaw or punish the BDS movement.
Labelling BDS and other criticism of Israel as anti-Semitic is a cynical move to suppress speech and action critical of Israeli violations of human rights. This is plainly and simply wrong, and indeed dangerous. What happens when actual anti-Semitism does take place? Will it be taken seriously when politicians make up their own contemptuous definitions of genuine hatred of our people?
In 2018, we worked together to try to stop such an effort right here in Wisconsin, where both then-Gov. Walker and the majority of the Wisconsin Legislature — from both parties — succeeded in writing unconstitutional anti-BDS legislation into law.
All who believe in free speech and the right to press governments to end injustices must speak out against yet another authoritarian move from this lame-duck administration. We call upon the incoming Biden administration to firmly reject Trump and Pompeo's Israel/Palestine policy, including the dangerous BDS-as-anti-Semitism falsehood.
While Pompeo's last-ditch efforts may make finding a just solution for the decades old Israeli-Palestinian conflict more difficult for President-elect Biden, they don't make it any less necessary.
Tsela Barr is a member of the Jewish Voice for Peace-Madison Chapter. Jeff Spitzer-Resnick is past-president of Congregation Shaarei Shamayim.