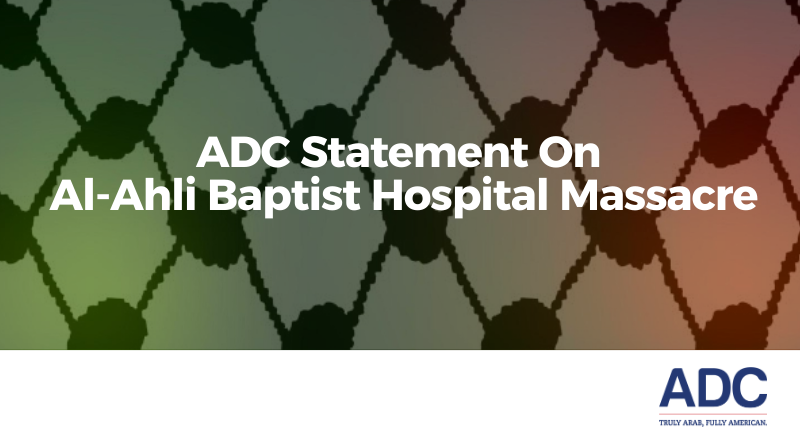 Washington, DC | www.adc.org | October 17, 2023 – The American-Arab Anti-Discrimination Committee (ADC) is outraged and horrified at Israel's targeted bombing of Al-Ahli Baptist Hospital in Gaza. Over 1,000 Palestinians have already been reported as killed, and hundreds more have been injured. Hospitals in Gaza have already struggled with lack of medicine, medical equipment and other resources since Israel started its indiscriminate bombardment of Gaza, a catastrophe further exacerbated by Israel cutting off food, water and electricity. Targeting hospitals is the lowest form of depravity and crimes against humanity. Israel attacked the sick and injured, newborn infants, and families seeking refuge.
The lack of accountability for Israel's crimes for over 75 years has empowered Israel not only to occupy, collectively punish and kill besieged people, but also to bomb hospitals with total impunity.
President Biden must call for an immediate ceasefire, stop funding and arming Israel and, once and for all, hold them accountable.
Support ADC | Become a member
1705 Desales St NW Suite 500, Washington, D.C. 20036
(202) 244-2990 | adc@adc.org
©2023 ADC. All rights reserved.