Sunday, May 21: WORT Show Her Turn with Cassandra Dixon
Sunday, May 21: Zoom Film & Talk Back: Two Kids a Day
Tuesday, May 23 – Thursday, May 25: Online: Palestine Digital Activism Forum
Tuesday, May 23: Webinar on Palestinian Children & Families Act
Thursday, May 25: Rev. Don Wagner discusses his book Glory to God in the Lowest: Journeys to an Unholy Land
Friday, May 26: Palestine Partners at The Bodega, Breese Stevens Field
Sunday, May 28: Green Olive & Zochrot present From Nakba to Return
UPCOMING EVENTS DETAILS
Sunday, May 21:
WORT Radio's Her Turn interviews Cassandra Dixon
11-11:30 am
Cassandra will be the guest on WORT's Her Turn, a magazine radio show by and about women. Cassandra will discuss her recent trip to Palestine including the situation on the ground and her assault by Israeli settlers.
Tune in at 89.9 FM or listen live online.
And here's WORT's earlier interview with Cassandra and Masafer Yatta activist Ali Awad.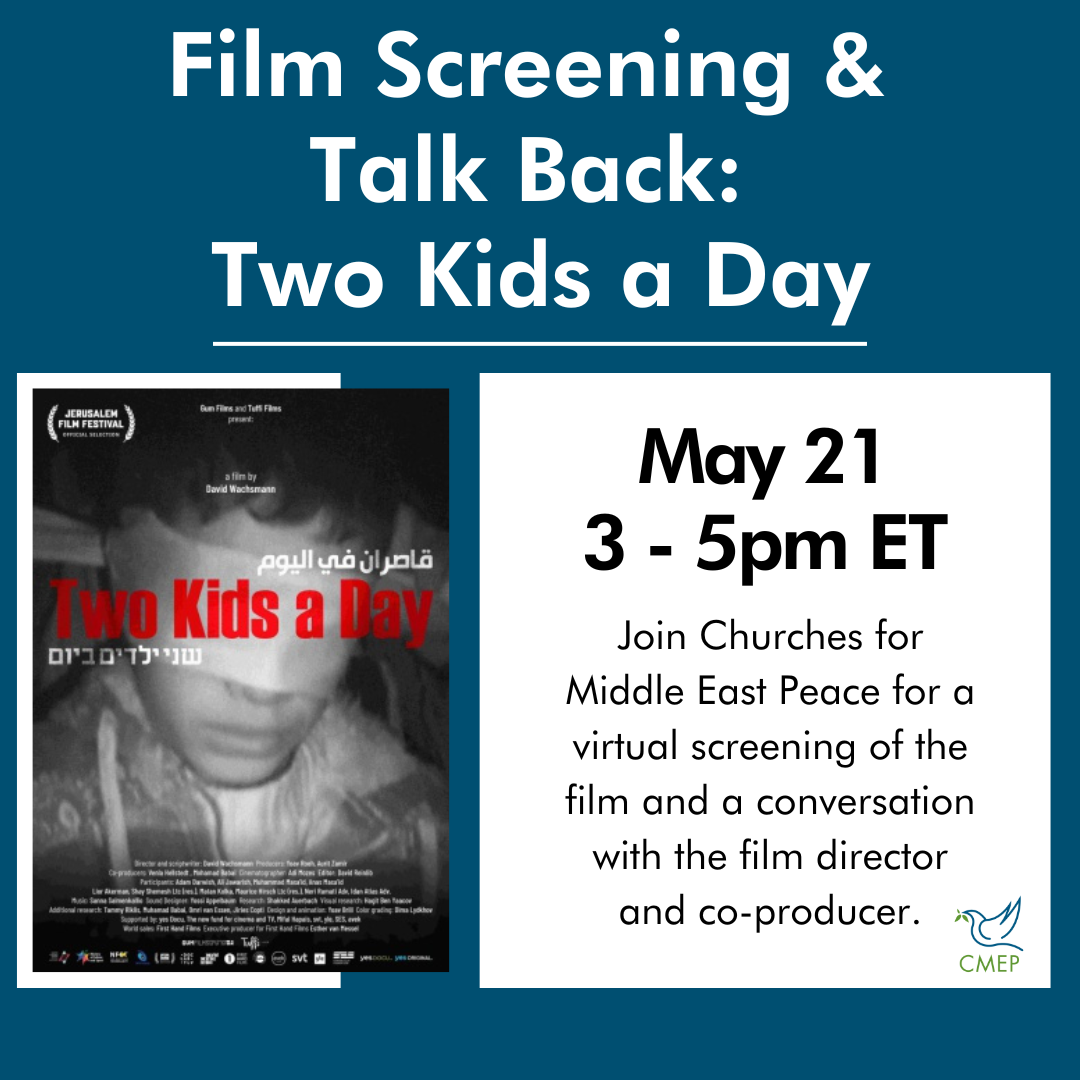 Sunday, May 21:
Film Screening & Talk Back: Two Kids a Day
2-4 pm CT
On average, two Palestinian kids are arrested every night by the Israeli army. They are interrogated, tried, and sent to prison. The film Two Kids a Day describes the use of minors' arrests to control and repress Palestinian society. Join Churches for Middle East Peace on Sunday May 21st at 12 pm Pacific/ 3 pm Eastern for a virtual screening of the film and a conversation with the film director and co-producer. If you are interested in hosting a satellite screening of this event at your church, contact Jennifer at jennifer@cmep.org.
Tuesday, May 23:
Zoom Webinar on Rep. McCollum's
Palestinian Children and Families Act, HR 3103
11:00 am Central
HR 3103 aims to prohibit Israel from using our taxes to violate Palestinian human rights. More information about the bill
Join this webinar sponsored by the No Way to Treat a Child campaign and Defense for Children International-Palestine to learn how you can help push this critical bill forward. More information and registration (If you can't attend but would like to get a recording of the event, please register and it will be sent to you afterwards.)
ALSO NOTE: Rep. Mark Pocan is an original co-sponsor of this act, so if you are a constituent, please consider thanking him.
Tues May 23 – Thurs May 25: Online:
Palestine Digital Activism Forum
NOTE: YOU MUST REGISTER FOR THIS IN ADVANCE.
A comprehensive three day online conference aiming (1) to develop Palestinian digital activism and create a space for exchange of experiences and expertise with local and international counterparts; (2) to increase awareness among members of the Palestinian public about digital rights issues and challenges; and (3) to increase Palestinian digital rights activists access to local and international power holders to facilitate changes in policies and practices.
Sponsored by 7amleh- Arab Center for Social Media Advancement
More information and registration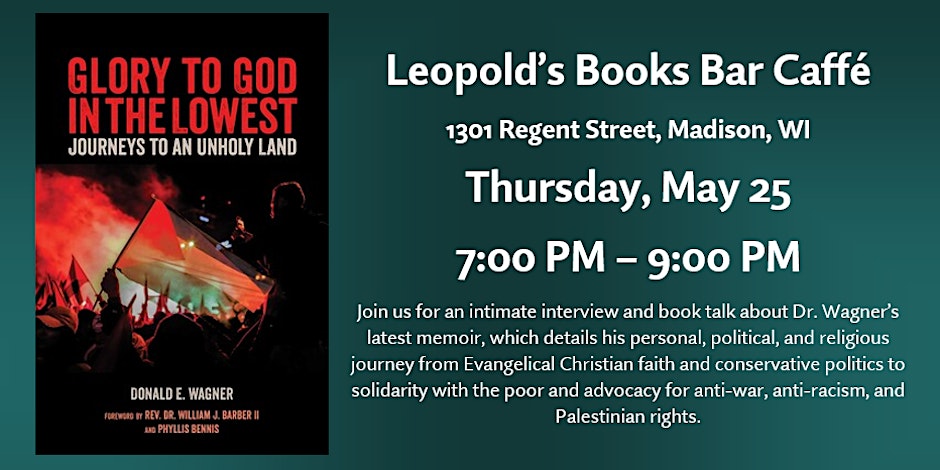 Thursday, May 25:
Book Talk and Signing
1301 Regent St, Madison
7 – 9 pm
A free event co-sponsored by MRSCP.
More info and reservation
Review of the book
Friday, May 26:
Palestine Partners
The Bodega, Breese Stevens Field
5-9 pm
Come and shop all the beautiful products from Women in Hebron marketed by Palestine Partners at Madison's Bodega market, located at Breese Stevens Field on East Washington Avenue.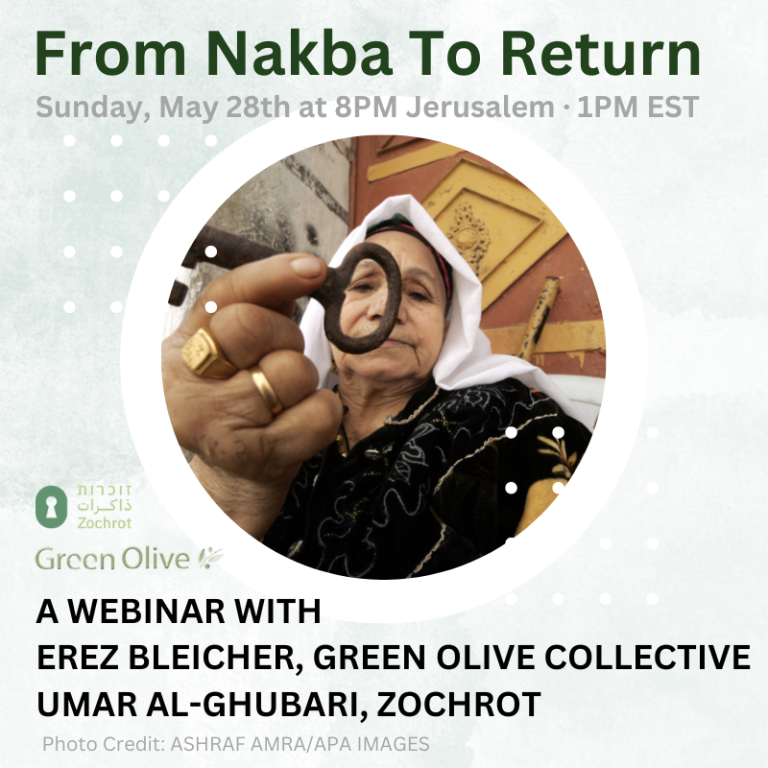 Sunday, May 28
From Nakba To Return webinar
12 Noon Central Time
Green Olive Collective and Zochrot present: From Nakba To Return, a webinar imagining how Palestinian return could look in practice.
As we mark the 75th anniversary of the Nakba, it is more important than ever to imagine the end of ongoing displacement and a reality beyond apartheid, partition, and occupation.
We will speak with Umar Al-Ghubari of Zochrot about how to focus on the past as a key to a future of collective freedom where the rights of Palestinian returnees are honored.