Tuesday, Feb. 21:
Don't Step on My Feet Again: A Poetic Exploration of Life in Gaza
11 am – 12 Noon CT
This is the second AFSC "Light in Gaza" webinar, where you will have the privilege of listening to Basman al-Dirawi in conversation with poet Tariq Luthun. This event will delve into the richness of poetry, culture, and life in Gaza, as the speakers shed light on the challenges posed by the Israeli blockade and occupation. Info and registration here.
Wednesday, Feb. 22:
Online Film Screening, Q&A of Al Jazeera Film on the Holy Land 5
6 pm CT film, 7:30 Q&A
You can join a special film screening about the Holy Land Foundation, the largest US Muslim charity that was persecuted in the post 9/11 anti-Muslim and anti-Palestinian hysteria. Produced by Al Jazeera, the film will be followed by a conversation and Q&A with Nida Abu Baker, daughter of Shukri Abu Baker, one of the Holy Land Foundation Five who is still in prison.
This Boston-based screening will also be online via zoom. More information and registration here.
Thursday, Feb. 23:
From Students for Justice in Palestine-UW Madison: We will be starting the book club with a poem a week from Mohammed El-Kurd's Rifqa to start off slow and we highly recommend you purchase the book itself. Otherwise, we will provide some copies of the poems for each week.
Don't forget to wear your keffiyehs to show solidarity, and send us pictures of you wearing them around campus! Additionally, to continue supporting our semester-long fundraiser with Palestine Children's Relief Fund and to hit our goal of $2,000, we will continue selling a few keffiyehs every Thursday.
If you would like to donate to PCRF, you can do so through: https://pcrf1.app.neoncrm.com/sjpuwmadison
Additionally, you can venmo/zelle/cashapp your donation and mention PCRF in the description or communicate your donation with us via email or Instagram.
In solidarity,
SJP at UW-Madison
Linktree | Instagram | Facebook
Tuesday, Feb. 28:
Healthcare in Gaza: Snapshots of Healing in Times of Destruction
11 am – 12 noon CT
Virtual Event on Zoom
From Churches for Middle East Peace: Gaza has been acquainted with unspeakable destruction for decades. Yet throughout its turbulent history, countless individuals have stepped in to offer healing. Doctors and nurses, medical technicians and first responders, international and local, have worked together to mend the wounds of those who suffer. In this seminar, we pose one question—what is it like to offer healing in times of destruction? To answer, we will hear from panelists who provide snapshots of their experiences historically, organizationally, and personally.
Wednesday, March 1:
Middle Eastern North African (MENA) Heritage Month Kickoff:
A Night at the Bazaar
6-9 pm, Pyle Center and Multicultural Student Center
Langdon Street, UW-Madison
Come and celebrate MENA identities through dance, fashion, poetry, art, food, and much more. This year's event includes a Palestinian "Tatreez" embroidery demonstration table with display items from MRSCP (Sorry, no sales). Info here.

Every Other Thursday Continuing March 2:
New Series from Jewish Voice for Peace : Power Hours for Palestine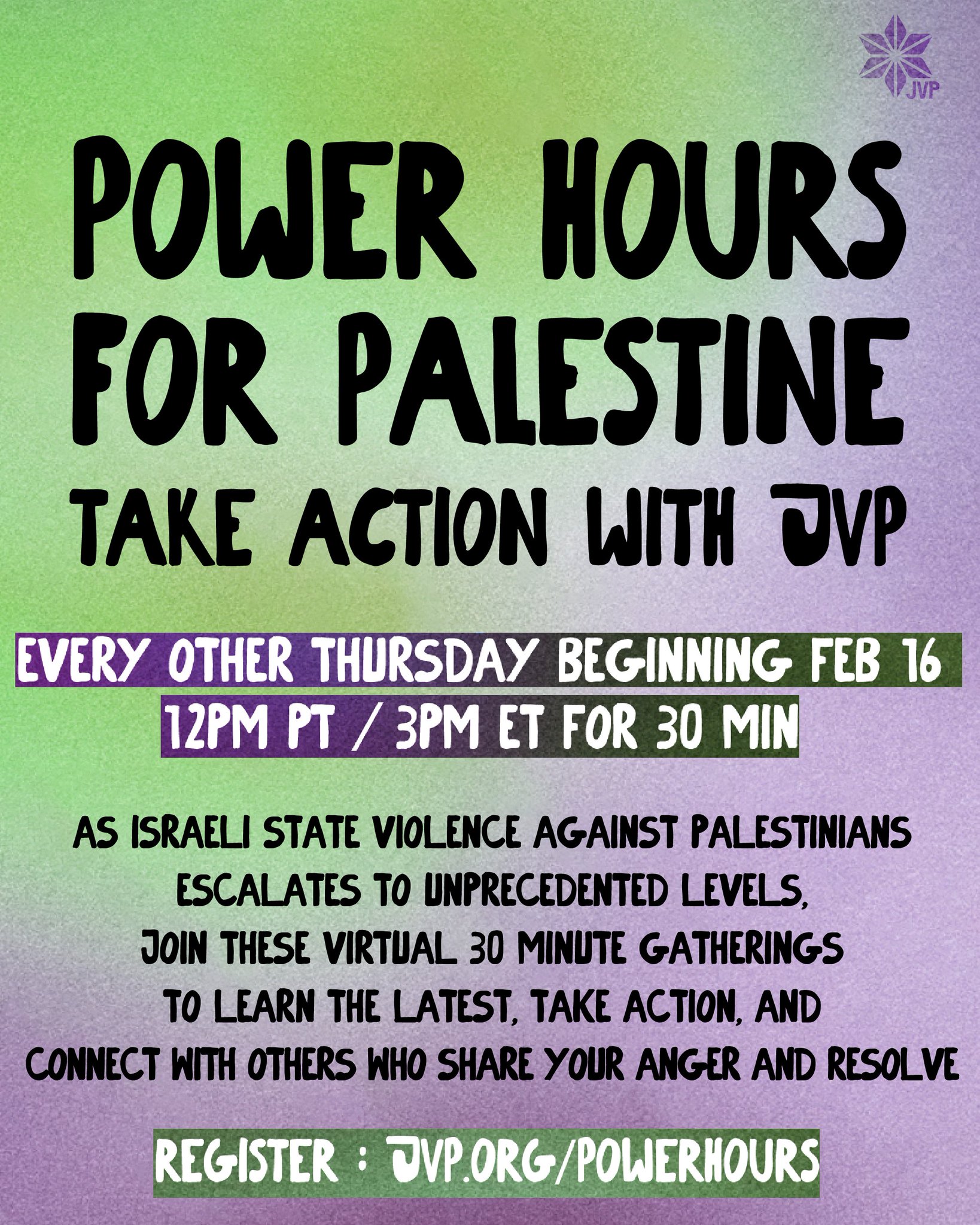 The new Israeli government is escalating state violence against Palestinians to staggering levels, and continuing to enshrine racist, apartheid laws. You might be feeling many emotions: anger, despair, numbness, disconnection from others who share our values, and overwhelm at the constant state of crisis.
Here's our commitment: If you can carve out a half hour every other week to get online with JVP, together we will connect with like-minded community, get educated, and take action.
Sign up now for a new series, Power Hours for Palestine: Take Action for 30 min with JVP at 12-12:30pm PT / 3-3:30pm ET and continuing every other Thursday.
In just 30 min, we will:
• Learn the latest from Palestine and why it's significant
• Take a few key actions together
• Connect with others who share our anger and resolve
The Israeli government and state-backed settlers continue to commit violence against Palestinians day and night. Join us in this urgent moment for virtual 30-min gatherings — a one-stop site to get educated, get organized, and build power in political community.