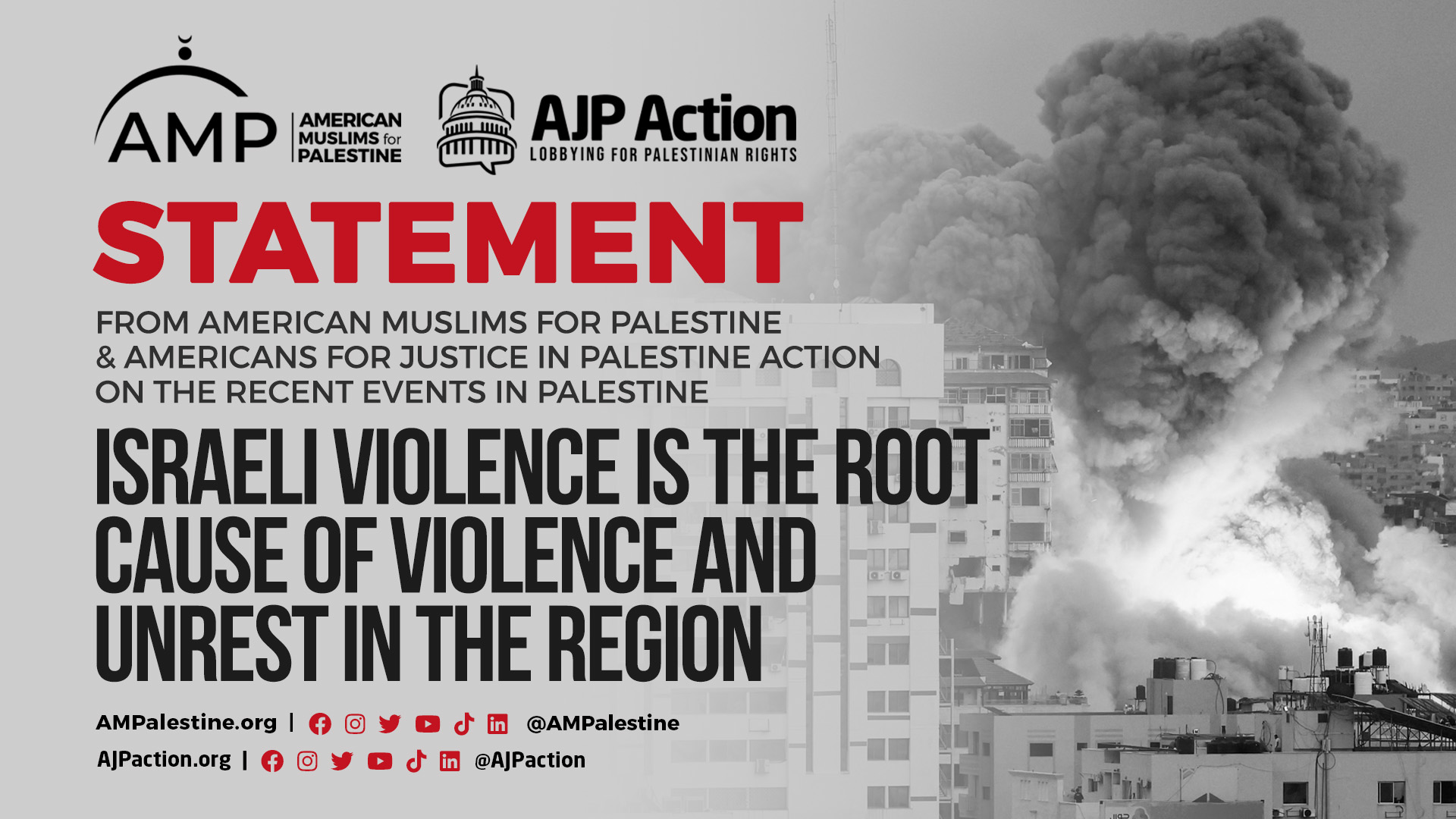 Israeli Violence is the Root Cause of Violence and Unrest in the Region
Washington, DC (Oct 7, 2023) – American Muslims for Palestine (AMP) and Americans for Justice in Palestine Action (AJP Action) are gravely concerned about the unfolding crisis in Gaza, precipitated by increased Israeli aggression against the Palestinian people. After what has been called the most violent and deadly year in the West Bank, with more than 250 Palestinians killed, frequent attacks on the Al-Aqsa Mosque compound, and Palestinian women being violated by Israeli soldiers in the streets, the situation has reached a fever pitch that warrants global attention.
The decades of calls from Palestinians and the international community to investigate Israel's war crimes and crimes against humanity have gone unheeded, giving Israel carte blanche approval to maintain and intensify its oppressive regime. This has allowed Israel to escalate its settler colonization of Palestinian land with unprecedented violence, resulting in a 16-year siege on 2.1 million Palestinians in Gaza, described as the world's "largest open-air prison." Despite international condemnations and pledges to investigate Israel for crimes against humanity and war crimes, Israel has never been held accountable for its actions. The situation in the West Bank has also reached unprecedented levels of violence, making 2023 the bloodiest year for Palestinians in two decades.
The Biden Administration's statements, focusing exclusively on Israel's right to defend itself, indicate a disconnect between rhetoric and reality. While acknowledging the extremism of the current Israeli government, the U.S. continues to provide unequivocal support, including financial, diplomatic, and military aid, thereby becoming complicit in the ongoing oppression of Palestinians. Peace talks involving Arab neighbors like Saudi Arabia serve as a mere distraction, sidelining the core issue of justice and liberation for Palestinians. Biden's assertion of the need to "advance equal measures of security, freedom and prosperity" for Israelis and Palestinians is once again meaningless.
Continue:



Rather than pushing for normalization between the Israeli apartheid regime and dictatorships in the region, AMP and AJP Action call upon the Biden Administration to facilitate an immediate ceasefire and address the root cause of violence, that is, Israel's Apartheid regime, and specifically in Gaza, Israel's brutal siege and blockade. Furthermore, no additional aid should be granted to Israel. For far too long, the U.S. has been a steadfast ally of Israel, providing substantial military and financial assistance to Israel despite mounting evidence of human rights abuses and violations of international law committed in the occupied territories. While ignoring the plight of Palestinians, this unwavering support undercuts the moral ground that the U.S. claims to hold in promoting "democracy" and "human rights" worldwide. The U.S. is implicated and responsible for the continued escalations in this case.

For almost four decades, Israel has been the leading beneficiary of U.S. security assistance through the Foreign Military Financing Program, or FMF. The U.S. gives Israel 3.8 billion in military aid annually to ensure its "Qualitative Military Edge" in the region. Yet, the unfolding events in Gaza prove nothing will guarantee security and stability other than restoring Palestinian rights. Unless the Biden Administration can truthfully address the root cause of what has unfolded in the last 24 hours, Israel will continue to feel emboldened to carry on its oppressive regime.

AMP and AJP Action reaffirm their commitment to a just solution that guarantees all of the inalienable rights of Palestinians. The path to such a solution must involve tangible actions, not the continuation of empty promises. Palestinians deserve the right to live and live with dignity, freedom, and justice.

Actions to take

Our collective efforts are necessary for effective change. Our voices need to be heard and the plight of Palestinians amplified. Join our Palestine Advocacy Days on October 23rd-24th in Washington, DC, and advocate on the Hill for justice for Palestine. Please visit our website to learn more about the event and secure your spot ASAP!

We encourage everyone to host their own demonstrations locally. AMP Chapters and ally organizations are leading protests and demonstrations across the nation. Here's a current list of confirmed rallies so far:

Sunday 10/8/23:

1 p.m. 500 W. Madison St. Chicago, IL
1 p.m. Broadway and 42nd St NYC, NY
1 p.m. the White House Washington, D.C.

American Muslims for Palestine (AMP)

Americans for Justice in Palestine Action (AJP Action)