Tamara Nassar, THE ELECTRONIC INTIFADA, 13 October 2023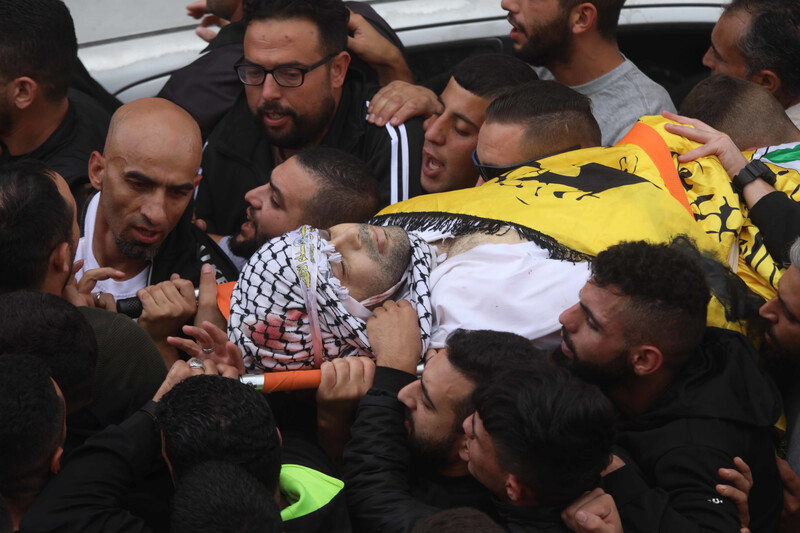 With all eyes on Israel's carpet bombing of the Gaza Strip since 7 October, Israeli settlers have been on a deadly spree in the occupied West Bank with the help and protection of the Israeli army.
Israeli settlers and soldiers have killed at least 35 Palestinians in the occupied West Bank, including East Jerusalem, since Saturday, according to the Palestinian Authority's health ministry.
At least five of those were killed by settlers, the UN monitoring group OCHA reported, and at least seven were children.
Israeli forces have injured hundreds of Palestinians in the West Bank, many of them children.
Soldiers have been firing huge quantities of rubber-coated steel bullets and tear gas canisters at Palestinians.
"Over 35 percent of all injuries were shot with live ammunition," OCHA reported. Some Palestinians have been physically assaulted, the group said.
The Israeli authorities are also imposing severe movement restrictions on Palestinians in the West Bank.
Continue:



Israel has shuttered several checkpoints and blocked entrances to towns and villages for the fifth consecutive day.

Israel also closed all checkpoints segregating the Hebron H2 area, which comprises 20 percent of the city and is under full Israeli military control, from the rest of the city, effectively segregating and impeding the movement of 7,000 Palestinians in the area.

"In most major routes in the West Bank, the military allows travel only for Israeli settlers," Israeli human rights group Yesh Din, which monitors settler violence in the occupied West Bank, stated.Palestinian access to the al-Aqsa mosque compound in Jerusalem has also been restricted for the fifth day in a row.

Israeli settlers have been on a deadly rampage in the West Bank with the help and protection of Israeli soldiers.

Israeli settlers are shooting at Palestinians, damaging their property and trees in villages, on roads and in agricultural lands, Yesh Din said.

"There is evidence that soldiers are allowing the violence to continue, sometimes joining in," the human rights group said."Settlers are utilizing the fact that public attention is focused elsewhere to continue to remove Palestinians from their land and take it over, and add fuel to the fire of violence," B'Tselem – another Israeli human rights group – said on Wednesday.

Thirty five Palestinian families – more than 200 people in all – began leaving their homes in the Wadi al-Siq and al-Muarajat Bedouin communities, "following systematic harassment and attacks by Israeli settlers, raising concern of a forcible transfer," OCHA said.Israeli occupation forces said two Israeli officers were wounded in an alleged shooting attack by a Palestinian outside the occupied Old City of Jerusalem on Thursday. Israeli forces shot and killed the Palestinian, who was identified as Khalid al-Muhtasib.

A picture of the makeshift Carlo submachine gun he allegedly used was shared by Israeli police:

Israeli occupation forces fired tear gas canisters near al-Muhtasib's house following his killing, local media reported.On Thursday, Israeli forces killed Randa Abdallah Ajaj, a 37-year-old woman from the town of Deir Jarir near Ramallah. Her picture was circulated by local media:

The same day, Israeli occupation forces killed teenager Muhtadi Majid Salem in the village of Jayyous near the northern city of Qalqilya, the Palestinian Authority health ministry said.