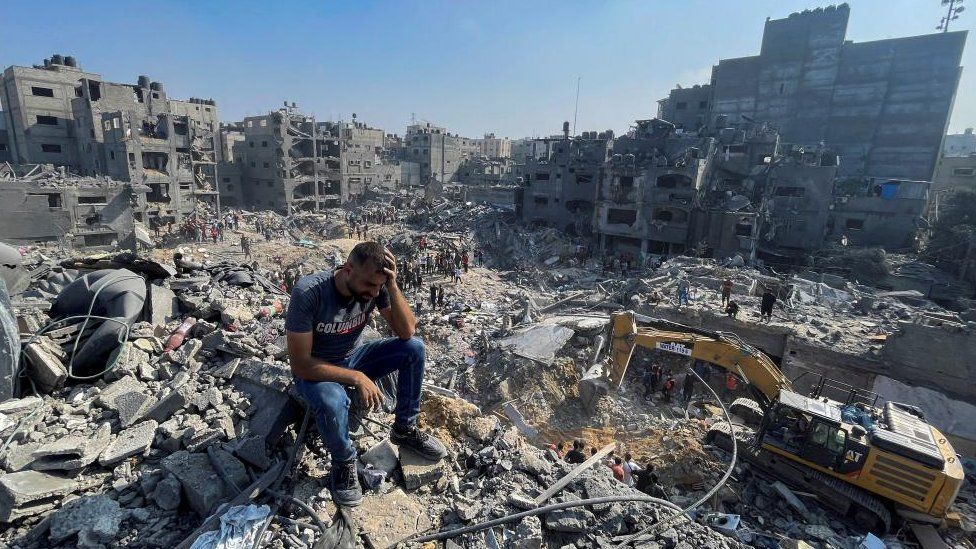 One of the first things to understand about the reportage, analysis and commentary that has poured out since the Hamas attacks of 7 October is that no-one has the full story. Not only is it, as ever, hard to penetrate the fog of war to work out what is happening on the battlefield. The new shape of the conflict between Israelis and Palestinians has not yet emerged.
Events are still moving fast. Fears that the war could spread are very real. New realities in the Middle East are out there somewhere, but their shape and the way that they will work depend on the way this war goes for the rest of the year, and probably beyond.
Here are a few things that we know, and a few that we do not. The list is not exhaustive. Some people mocked Donald Rumsfeld, US defence secretary at the time of the invasion of Iraq in 2003, when he talked of "unknown unknowns". But in this part of the world as much as any other, they exist – and when they emerge, they can make a big difference.
One certainty is that Israelis support the military campaign to break the power in Gaza of Hamas and its junior partner, Islamic Jihad. Their anger is driven by the shock of the Hamas attacks, the killing of more than 1,400 people and the fact that around 240 hostages are still being held in Gaza.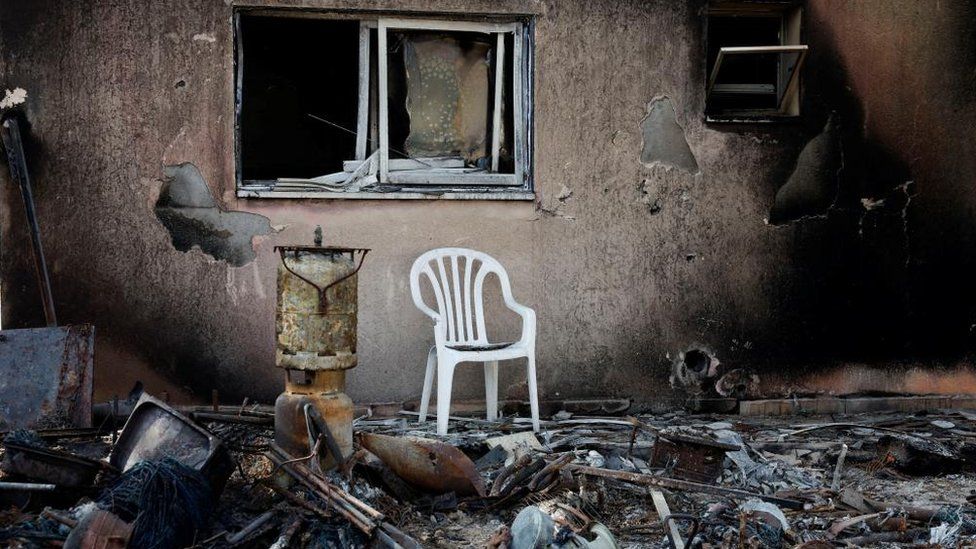 More



I met Noam Tibon, a retired general in the Israeli army, to hear about how he drove down with his wife to Nahal Oz, a kibbutz on the border with Gaza, after Hamas attacked on 7 October. His mission, which was successful, was to rescue his son, his daughter in law and their two young daughters who were in their safe room, hearing Hamas gunmen roaming around outside.

Tibon may be retired but he is a very fit-looking 62-year-old. He ended up armed with an assault rifle and a helmet he had taken from a dead Israeli soldier, leading a group of soldiers he had assembled in the chaos of that day, clearing the kibbutz and saving the lives of his family and many others.

The general was an old-school, straight-talking Israeli officer.

"Gaza is going to suffer… no nation will agree that your neighbour will slaughter babies, women or people. Just like you (Britons) crushed your enemy during World War Two. This is what we need to do in Gaza. No mercy."

What, I asked, about innocent Palestinian civilians who are getting killed?

"Unfortunately, it's happening. We live in a tough neighbourhood, and we need to survive… we have to be tough. We have no choice."

A lot of Israelis are echoing his sentiment that Palestinian civilian deaths are unfortunate, but they are being killed because of the actions of Hamas.

It is also clear that Israel's assault on Hamas is causing terrible bloodshed. The latest figure for Palestinian deaths from Gaza's health ministry, run by Hamas, has exceeded 9,000 – of whom around 65% are children and women.

It is not clear how many of the men who have been killed were civilians or fighting for Hamas or Islamic Jihad. US President Joe Biden and the Israelis do not trust the ministry figures. But in past conflicts, Palestinian casualty statistics have been considered accurate by international organisations.

One grim milestone is fast approaching. The United Nations (UN) says around 9,700 civilians have been killed in Ukraine since the full-scale Russian invasion 21 months ago.

Some of the Palestinian dead would have been part of Hamas. But even if that proportion is as high as 10%, which is unlikely, it means that Israel is on course to have killed as many Palestinian civilians in just over a month as Russia has killed in Ukraine since February 2022. (The UN says its data for Ukraine is incomplete and the true number of civilians killed is likely higher, while in Gaza the number of dead is also likely to be higher as many Palestinians are believed to be buried under rubble).

The UN has suggested Israeli strikes on Gaza could constitute war crimes.

GETTY IMAGES

The UN human rights office has said that so many civilians have been killed and wounded in Israeli air strikes that it has serious concerns that the attacks are disproportionate and could be war crimes.

From the first days after the Hamas attacks, President Biden has supported Israel's decision to use military force to remove Hamas from power. But he has also added the qualification that it needed to be done "the right way". He meant that Israel should observe the laws of war that protect civilians.

The US Secretary of State Antony Blinken has arrived in Tel Aviv. Before he took off, he said: "When I see a Palestinian child – a boy, a girl – pulled from the rubble of a collapsed building, that hits me in the gut as much as seeing a child from Israel or anywhere else."

I have reported on all of Israel's wars in the last 30 years. I do not remember a US administration stating so publicly that Israel needs to observe the laws of war. Blinken's visit suggests that he believes Israel is not following Biden's advice.

Something else we know for certain is that Israeli Prime Minister Benjamin Netanyahu is under great pressure.

Unlike Israel's security and military chiefs, he has not accepted any personal responsibility for the catastrophic series of failures that left Israeli border communities virtually undefended on 7 October.

Last Sunday, 29 October, he caused uproar when he sent out a tweet blaming the intelligence agencies. Mr Netanyahu deleted the message and apologised.

The Israeli PM has taken the blame from some quarters for the events of 7 October.

REUTERS

Three Israelis, a former peace negotiator, the ex-head of the Shin Bet (Israel's internal intelligence agency) and a tech entrepreneur, wrote an article in the journal Foreign Affairs saying that Mr Netanyahu should not have any part of the war and whatever follows. The Israeli PM has loyal supporters, but he has lost the confidence of prominent figures in Israel's military and security establishment.

Noam Tibon, the retired general who fought his way into kibbutz Nahal Oz to rescue his family, compares Mr Netanyahu to Neville Chamberlain, the British prime minister who was forced to resign in 1940, and replaced by Winston Churchill.

Tibon told me: "This is the biggest failure in the history of the state of Israel. It was a military failure. It was an intelligence failure. And it was the failure of the government… the one really in charge – and all the blame is on him – is the prime minister, Benjamin Netanyahu… He is in charge of the biggest failure in the history of Israel."

It is also clear that the old status quo has been smashed. It was unpleasant and dangerous, but it seemed to have a certain grimly-familiar stability. Since the end of the last Palestinian uprising around 2005 a pattern has emerged that Mr Netanyahu believed could be sustained indefinitely. That was a dangerous illusion, for all concerned – Palestinians as well as Israelis.

The argument went that the Palestinians were no longer a threat to Israel. Instead, they were a problem to be managed. The tools available include sticks, carrots and the ancient tactic of "divide and rule".

Mr Netanyahu, who has been prime minister for most of the time since 2009 – after an earlier spell between 1996 and 1999 – has argued consistently that Israel does not have a partner for peace.

Potentially, it did. The Palestinian Authority (PA), which is the main rival to Hamas, is a deeply flawed organisation, and many who support it believe its aged President Mahmoud Abbas needs to step aside. But it accepted the idea of establishing a Palestinian state alongside Israel back in the 1990s.

Mr Netanyahu has tried to drive a wedge between Hamas and the Palestinian Authority, led by Mahmoud Abbas (pictured right, with US Secretary of State Antony Blinken).

REUTERS

"Divide and rule" for Mr Netanyahu meant allowing Hamas to build its power in Gaza at the expense of the PA.

While Israel's longest-serving prime minister is always careful about what he says in public, his actions over many years show that he does not want to allow the Palestinians to have an independent state. That would involve giving up land in the West Bank, including East Jerusalem, which the Israeli right wing believes belongs to the Jews.

From time to time, Mr Netanyahu's pronouncements would leak. In 2019, a number of Israeli sources say that he told a group of his Likud members of parliament that if they opposed a Palestinian state they should support schemes to pump money – mostly provided by Qatar – into Gaza. He told them that deepening the division between Hamas in Gaza and the PA in the West Bank would make it impossible to establish a state.

It is also clear that Israel, backed by the Americans, will not tolerate a deal that allows Hamas to stay in power. That guarantees a lot more bloodshed. It also raises big questions about what or who replaces them, which so far have not been answered.

The conflict between Arabs and Jews for control of the land between the river Jordan and the Mediterranean Sea has lasted for more than 100 years. One lesson of its long and bloody history is that there will never be a military solution.

In the 1990s, the Oslo peace process was established to try to end the conflict by establishing a Palestinian state with a capital in East Jerusalem alongside Israel. The last attempt to revive it, after years of on-off negotiations, happened during the Obama administration. It failed a decade ago, and since then the conflict has been allowed to fester.

More than 20 Israeli soldiers have been killed since Israel began a ground operation in Gaza.

REUTERS

As President Biden and many others have said, the only possible chance for avoiding more wars is to establish a Palestinian state alongside Israel. That will not be possible with the current leaders on either side. Extremists, both Israeli and Palestinian, would do all they could to scupper the idea, as they have done since the 1990s. Some of them believe they are following the will of God, which makes it impossible to persuade them to accept a secular compromise.

But if this war does not deliver enough of a shock to break deeply-held prejudices and to make the idea of two states viable, nothing will. And without a mutually-acceptable way of ending the conflict, more generations of Palestinians and Israelis will be sentenced to more wars.