Sandra Whitehead, Wisconsin Muslim Journal, Nov 7, 2023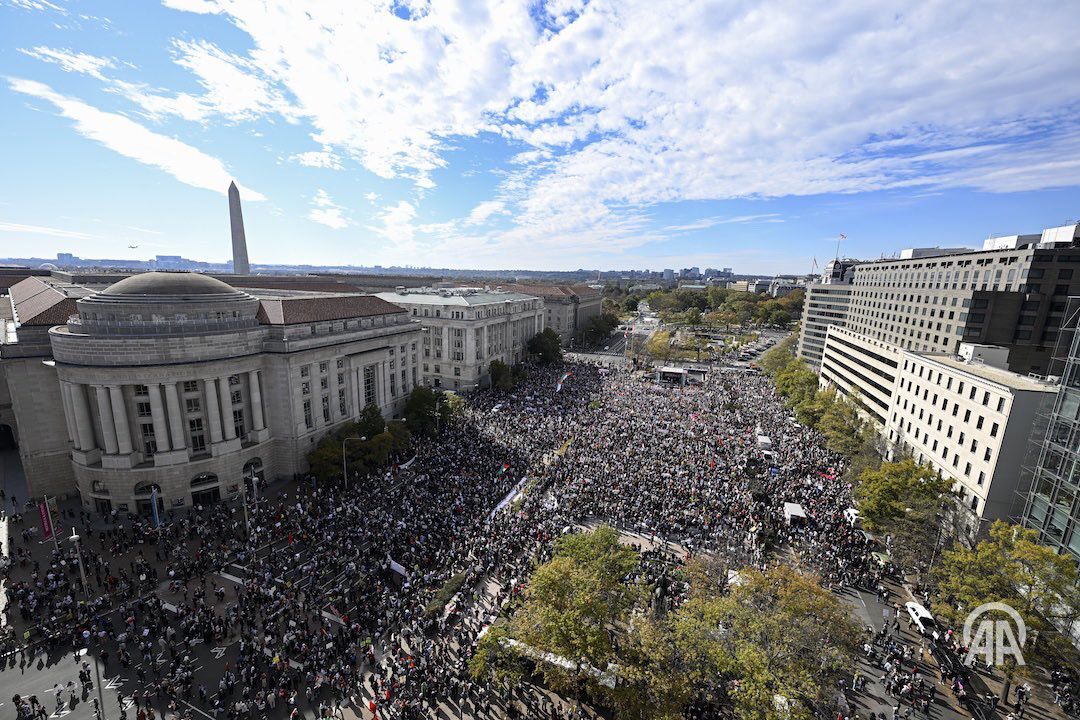 Aerial drone photo of the protesters in Washington, D.C. on Nov 4.
"We uplifted the demands of the Gazan people and the Gazan resistance," said an exhilarated and exhausted Haitham Salawdeh of Wauwatosa Sunday. He and his wife Rebecca Salawdeh had just returned home from a 36-hour trip to protest at the U.S. Capitol.
"We want to get our prisoners of war out of Israeli prisons. We want to open the borders. (Israel has implemented a blockade of Gaza for 15 years.) But first, we have to stop the assault," he told the Wisconsin Muslim Journal.
In a month of bombing, the Israeli military has killed more than 10,000 civilians in Gaza, including almost 5,000 children, in what Israeli Defense Force commander Yaron Finkelman said today is a war "to dismantle Hamas and rescue the hostages," The Jerusalem Post reported. In high level resignations in the United Nations and U.S. State Department,Israeli's massive military bombardment was called a "genocide" and U.S. complicity immoral.
Saturday's march on the Capitol was one of many in major cities around the world on "a Day of Protests" against Israel's military campaign. It was organized by the U.S. Palestinian Community Network, National Students for Justice in Palestine and other Palestinian-led organizations, said a press release from USPCN. Participants included allies from organizations like Jewish Voice for Peace and Black Lives Matter, and a newly formed group, the Wisconsin Coalition for Justice in Palestine, a broad coalition of organizations in the state that work for peace and justice.
More



Dozens of people from Wisconsin went to Washington, D.C., by bus, car and plane to participate in the protest that aimed to draw the attention of U.S. lawmakers. Four Wisconsin protestors spoke with WMJ about why they went, their experience and their hopes for the future of the Palestinians.

From Wauwatosa to Washington, D.C., via Chicago

Photo by Yaseen Najeeb

Haitham and Rebecca Salawdeh of Wauwatosa boarded one of two buses in Chicago Friday evening that carried more than 100 members of the Chicago and Milwaukee chapters of the U.S. Palestinian Community Network to Washington, D.C. Haitham is the USPCN national treasurer. The couple estimate they saw 15-20 people they knew from Wisconsin.

USPCN called the mass rally to "stop U.S. government support for apartheid Israel's murderous rampage and genocidal war against the Palestinian people in the West Bank, Jerusalem, and especially Gaza," a press release from the USPCN Chicago office stated. USPCN members from Milwaukee and Chicago were joined at the protest by the organization's members from Detroit/Dearborn, Cleveland, Akron, Youngstown, Houston and Washington, D.C., the press release said.

"This is going to be the largest mass mobilization for Palestinian rights in the U.S. since the Israeli invasion of Jenin refugee camp, Ramallah, and other West Bank cities and villages in 2002," said Nazek Sankari of USPCN-Chicago, one of the bus captains, before they departed.

"We've got the majority of the people in the U.S. and the world on our side, and that's why we are going to DC, to show the power of the people," added Rania Salem, a USPCN-Chicago member who also traveled to the Capitol. "Israel must be forced to stop its genocide and end the siege on Gaza, and the U.S. must end aid to Israel now."

Haitham, 57, and Rebecca, 55, both longtime members of USPCN, said they enjoyed the camaraderie on the bus, reconnecting with friends from Chicago and Wisconsin. "You talk to people, laugh together, cry together, you chant and sing," Haitham said. "There was a lot of good conversation. Spirits were very high."

After traveling overnight, they helped other protesters set up banners and signs at 8 a.m. in Freedom Plaza, at 14thStreet and Pennsylvania Avenue. Throughout the morning the crowd grew.

Haitham had participated in national protests at the Capitol in 2002 to protest the Israeli invasion of the Jenin refugee camp, Ramallah and other West Bank cities and villages, two Awda (an Arabic word meaning "return") protests calling for the Palestinians right of return in D.C. and New York in the early 2000s and an anti-Iraq War protest in New York in 2003.

Photo by Yaseen Najeeb

"I've been going to demonstrations for many years and this protest Saturday was the largest I have ever seen," he said. Newspapers from The New York Times to the Washington Post say there were tens of thousands of protestors there. But the Salawdehs believe those estimates are too low. "I think there were probably 300,000 people there," Haitham said.

"I've just never seen that many people in one place," Rebecca added.

Freedom Plaza is on a direct line between the White House and the U.S. Capitol. The Salawdehs joined those who marched to the White House. Some from the group stayed in Freedom Plaza and watched the massive procession move down the wide boulevard.

"It struck me that about 2/3 of the crowd were 30 and under," Rebecca said. "It was overwhelmingly young. This gives me a lot of hope for the future. I might not see a free Palestine in my lifetime but hopefully my kids will.

"Besides the overwhelming number of dedicated younger activists was the support of Black and brown communities who said, 'We're with you in this fight.' One of the speakers said, "When we were down, the Palestinians reached out to us. It showed the strength of coalition building. There were speakers from indigenous organizations, Asian and Pan-African communities, Black leaders—it was really pretty amazing!"

"One of the biggest encouragements to me was seeing a huge demonstration of hundreds of thousands with very similar demands," Haitham said. "Another thing that is worth mentioning was the deep distrust myself and some others felt towards the political elite and the Democratic machine. There is no way I would vote for a Democrat who is not calling for a ceasefire or who is dehumanizing the Palestinians. They make us look bloodthirsty rather than people who have been fighting for their freedom for 75 years. "Everyone cheered loudly when people shouted, 'Our vote no more.'"

"I can't abide the Republican part with every ounce of my being," Rebecca said, "but there is no way I can fathom voting for 'Genocide Joe' or even Tammy Baldwin. I actually canceled my recurring donation."

"There's no way these guys are getting our money or our votes," Haitham added. "In fact, I will actively do what I can to campaign against them. Tell your readers Genocide Joe is coming to Chicago on Nov. 9 and people will be there protesting, just like they protested when he came to the Twin Cities last week. We want to keep the pressure on these people. We can't just raise the flag and go home."

"I've been thinking about what else I can do, including writing to my representatives in Congress, knowing they will ignore it. But I think it needs to be on record that they are hearing from people," Rebecca said. "I had a conversation with one of the women on the bus about how it can be scary to talk about Palestine with others who may respond with ignorant or even racist comments. But the more I see these images of what people (in Gaza) are going through, I have decided it is ok if I'm a little uncomfortable in conversations. I know I have avoided them in the past but I have a lot of privilege to be able to have these conversations without worrying about a job or other repercussions. If I lose a friend, maybe it wasn't a friend I needed."

From Franklin to Washington, D.C.

Photo by Khaled Abukhamireh

Khaled Abukhamireh, 52, of Franklin is a member of the Wisconsin Coalition for Justice in Palestine, the Islamic Society of Milwaukee and other organizations concerned about peace and justice. He, his brother Munem Abukhamireh and sister Sahera Abukhamireh decided to book a flight Saturday morning from Chicago to Washington, D.C.

They drove from Franklin at 3:30 a.m. to fly out of Chicago O'Hare at 7 a.m. About two hours later, they landed at Reagan International Airport and headed to Freedom Plaza. Khaled had been to a protest at the Capitol in 2002, during the second Intifada, a Palestinian uprising that began in 2000 after Israeli leader Ariel Sharon made a provocative visit to Al Aqsa in Jerusalem.

"This one seemed a lot bigger," Abukamireh said. "There was a sense of urgency. People are asking for quick action. We need a stop to the genocide."

He recalled a young mother protesting with a tiny baby in a pouch. "She thought this was urgent enough to bring her baby. She had a duty," he said. "Seeing this kind of passion makes me want to do more."

"The West Bank is extremely dangerous now," Abukamireh said. "The situation is that the Palestinian people there are completely disarmed and the (Israeli) settlers are very armed and they are backed by the army. It is very concerning."

Photo by Khaled Abukhamireh

Abukhamireh came from Janin in the West Bank to the U.S. about 30 years ago. In 1993, after the first Intifidaended, I had just finished high school. The colleges in the West Bank were closed and there were no opportunities for me. My mother still lives there. I also have a brother and his family and a sister and her family there."

Abukhamireh had planned to be in the West Bank now, helping his 84-year-old mother. "Most of my family is outside the country and we take turns helping our mother."

A software architect, he had taken a family medical leave from work and had a flight for Oct. 30 but he learned from the airlines that his flight to Tel Aviv was canceled. His mother had scheduled some medical procedures but those were also canceled. It was the first time he was to fly to Tel Aviv; Israel had not allowed Palestinians until this year, even those with U.S. citizenship, to fly to Tel Aviv.

The protest in Washington, D.C., was "extremely important because of its timing because of the elections," he said. "A lot of Americans at large, not just the Palestinian community, are very concerned. If this genocide continues, there will be no vote for Biden. That's the message I got from a lot of people."

Today is like 1948, he added, except instead of hearing about genocide, massacres and ethnic cleansing, "we are seeing it on live television with more powerful bombs," he said. "That's why everybody at the protest felt the sense of urgency. That's Number One—to stop it immediately. There is no time."

The protest has inspired Abukhamireh to be more active not only for the Palestinians but for all those fighting other just causes, he said. The crowd who came out for the Palestinians was very diverse and it was appreciated, he said. We need to be there for each other.

New York to Washington, D.C.

Photo by Yaseen Najeeb

"As fate would have it, I had already planned a trip to visit some friends in New York last month," said Yaseen Najeeb, 25, a member of the Wisconsin Coalition for Justice in Palestine. Najeeb and his friends rented a car and drove the five hours to Washington, D.C., from Brooklyn. "One of my favorite moments was being in standstill traffic at the Delaware toll booth, hearing Palestinian songs blasting on people's car radios, and people waving their keffiyehs and Palestinians scarves outside their windows."

Asked why he left his vacation to go to the protests, Najeeb said, "I want to first acknowledge I am privileged and able to attend protests. I'm fortunate to not have any dependents who rely on me should I lose my job for advocating for Palestine (which is, unfortunately, a reality for many), and it was financially feasible for me to attend.

"Simply put, I have a moral obligation to stand up and speak out — especially as so many Palestinian voices are being silenced. For 75 years, the Palestinians have been crying out the injustices Israel waged against them and the world would not listen.

"Now, Israel has entered their final stage of the military settler-colonial project: genocide. As Americans, we must staunchly condemn these atrocities for the sheer fact that we are funding this genocide."

Once at Freedom Plaza, Najeeb "couldn't see the end or start of the protest from where I was marching," he said. He saw "parents marching with their babies in strollers, elders, veterans, Queer individuals, Sikh people, Christians, Jews, indigenous communities, Black communities, the Latinx community and countless young people … chanting, 'The people united will never be defeated.'"

Najeeb said he hopes "besides showing our brothers and sisters in Palestine we see them, we hear them and we will fight for them, we hope this puts pressure on the government to call for a ceasefire and an end to the genocide.

"And this is just the beginning. Our job is done when Palestine is free."