Hundreds of thousands of protesters have taken to the streets in the last few weeks to rally against the Israeli government's plans for so-called judicial reform.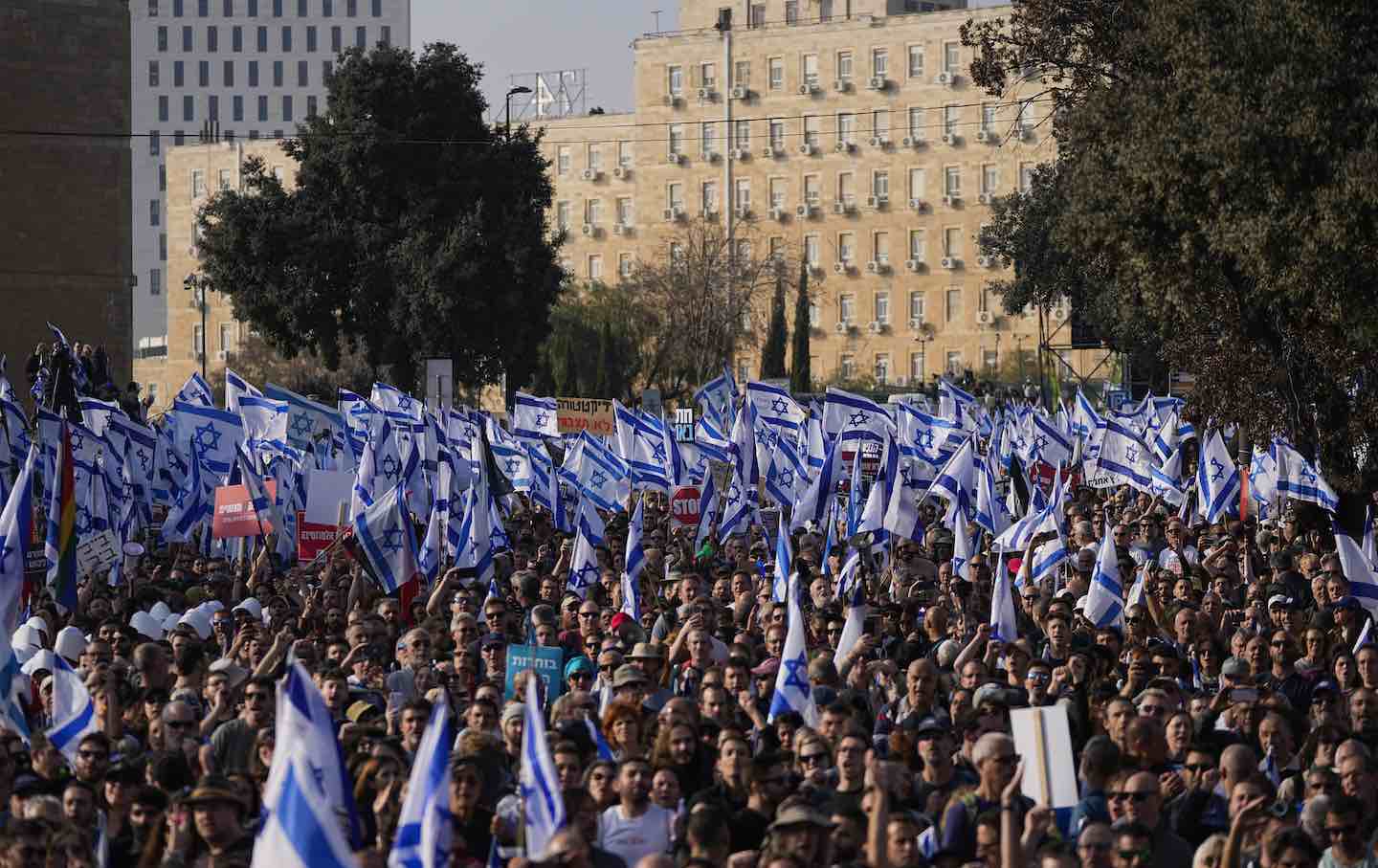 In Jerusalem on February 20, 2023, Israelis protest outside Israel's parliament against plans by Prime Minister Benjamin Netanyahu's new government to overhaul the judicial system. (Ohad Zwigenberg / AP Photo)
Meron Rapoport and Oren Ziv, The Nation, FEBRUARY 24, 2023
EDITOR'S NOTE: This article was produced in collaboration with +972 Magazine and Local Call, two media outlets run by Palestinian and Israeli journalists.
It is almost inconceivable for Palestinians to describe Israel as a "democracy." That is also the case for many Israeli human rights activists. Seventy-five years of ethnic cleansing, military rule, Jewish-only settlements on Palestinian-owned land, an established system of discrimination that amounts to apartheid have all rendered, in their eyes, the terms "Israel" and "democracy" incompatible. The latest Israeli raid in Nablus, in which 11 Palestinians were killed by Israeli soldiers is just another flagrant example.
Yet, in the last few weeks, Israeli society has been torn apart by the question of democracy. Hundreds of thousands of protesters, the vast majority of them Jews, have filled the streets of Tel Aviv, Jerusalem, Haifa, Be'er Sheva, and other cities and towns in "defense of democracy," calling for mass civil disobedience and even "rebellion" should the new far-right government implement its plans for so-called judicial reform. The term "civil war" (or in the Hebrew version, "a war of brothers") has become a mainstay in the collective political vocabulary, alongside explicit warnings of potential bloodshed in the clash between the government and Jewish citizens.
The historic protests are growing not only in size but also in influence, as large sections of the Israeli elites—entrepreneurs, bankers, lawyers, intellectuals, security personnel, diplomats, former Supreme Court justices, and state prosecutors—have joined. Most remarkable among the protesters is Israel's high-tech and cyber industries, responsible not only for some 20 percent of state revenues from taxes and 40 percent of its exports, but also for Israel's internal and external image as a "start-up nation." As of today, dozens of high-tech companies, in addition to hedge funds, have announced that they will withdraw their investments and bank accounts from Israel, if they haven't already done so. Hundreds of renowned economists, including the sitting and past heads of the Bank of Israel, have warned of the implications the reform will have on Israel's standing in the global economy, as have international banks and credit rating agencies.
Put together, these represent the most considerable threats to Israel's economy in decades.
The government is also meeting fierce opposition from the heart of the civil service: In an extremely rare political statement, the chief justice of the Supreme Court of Israel, Esther Hayut, called the reform "a plan to crush the judicial system" and threatened she would quit if it were to pass. She is joined by legal advisers to the government and the Knesset, as well as high-ranking officers in the army and the police, who are concerned with the government's plans.
WHY REFORM NOW?
The reform that Prime Minister Benjamin Netanyahu is advancing was largely masterminded by two relatively lesser known Israeli politicians: Justice Minister Yariv Levin and Simcha Rotman, a member of Bezalel Smotrich's extreme-right Religious Zionist Party and chairman of the Knesset Constitution, Law, and Justice Committee. Both Smotrich and Rothman are lawyers who have led a years-long campaign against Israel's judicial system, and particularly against its high court, claiming that it "took over" as part of a "deep state" run by the elites that continues to impose its liberal ideas on a mainly conservative Israeli public, and denies power to this public's legitimate representatives in the Knesset and government.
Their reform is supposed to "heal" Israel's democracy by returning power to the executive and legislative branches. Its first stage consists of four main elements: granting the ruling coalition total control over the appointment of new judges, making it almost impossible for the high court to invalidate new laws that infringe on human rights, allowing the Knesset to overrule such decisions in the rare cases that they are made, abolishing the courts' ability to review decisions made by national or local authorities on the basis of their "plausibility," and allowing ministers to ignore the guidance of their legal advisers. In Israel's unicameral system of government—in which the Knesset is de facto controlled by the governing coalition, where there is no Constitution, and where the courts are currently the only check on the executive branch—such reforms would give the government near-unfettered powers. The next steps were not detailed yet, but they expect to further weaken the judicial system vis-à-vis the executive branch.
Yet knowing how enfeebled Israeli democracy is in the first place, and how the very same high court failed to defend the rights of Palestinians and other underprivileged groups over the years, one must wonder why Netanyahu chose his sixth term in office to push through these dramatic reforms.
The first and most obvious answer lies with his own legal predicament. Netanyahu is on trial on four charges of bribery, fraud, and breach of trust. If convicted, he is likely to serve years behind bars. He therefore has every reason to seek to control the legal system, appoint judges that may deal with any future appeals, or appoint a new general attorney who will magically make his trial disappear. Pure and simple revenge against the legal system that put him on trial is also a motive.
The same personal motivations go for Aryeh Deri, leader of the Haredi Shas party and one of Netanyahu's senior coalition partners, whose past convictions for bribery and tax evasion led the high court in January to disqualify him from serving as a minister. Deri has even more immediate reasons to weaken the court and overrule its decisions.
Deri is also a representative of a large community that has regarded the court as one of its principal enemies for decades, especially since it invalidated laws that run contrary to one of Israel's Basic Laws (which act as quasi-constitutional). For example, the court quashed exempting yeshiva students from military service, one of the most sensitive core issues pertaining to Israel's Haredi population. Other rulings by the courts, especially those concerning LGTBQ rights or allowing commercial activities on Jewish holidays, were criticized by Haredi parties.
The settler movement and its political supporters on the far (and not so far) right also have a long history of animosity toward the the judicial system. In 1979, the court ruled that land expropriations from Palestinians under the auspices of "security reasons" could no longer be used to build new Jewish settlements in the West Bank, as had been the case until that point. In 2020, the high court invalidated a law allowing the state to expropriate private Palestinian land upon which thousands of illegal settler homes had already been built.
With the rise of far-right extremists, it was clear that one of their goals would be to get rid of legal obstacles that prevent, or at the very least slow down, the implementation of an even deeper, and more long-lasting, apartheid system in the West Bank.
Smotrich, now finance minister, is the author of Israel's Decisive Plan, in which he offered the Palestinians three options: accept Jewish supremacy, immigrate, or "be dealt with by the security forces with a strong hand." Ben Gvir, who is playing a crucial role in Netanyahu's new government as national security minister, was a member of the racist Kahane movement and an admirer of Baruch Goldstein, a settler who murdered Palestinian worshipers in Hebron in 1994. They both regard the presence of representatives of Palestinian citizens of Israel in the Knesset as "a mistake" that requires mending.
Thus, it is no wonder that the various elements of the new government perceive the results of the last elections, which gave them a comfortable 64-seat majority, as a once-in-a-lifetime opportunity to change the balance in Israeli society. Beyond making the Israeli occupation of the West Bank irreversible, the government has a whole barrage of illiberal goals it hopes to advance, which it is saving for the day after the courts are defanged: increasing the reach of the Chief Rabbinate; deporting African asylum seekers; shutting down the country's public broadcaster and changing the landscape of Israeli media; reshaping the education system; and curtailing labor unions. Still, perhaps the most dangerous and far-reaching of them all is the plan to outlaw most of the Palestinian parties in Knesset. Such a move would essentially rob more than 20 percent of citizens of the right to vote, and would ensure the far right's eternal rule.
MASSIVE OPPOSITION
What the government did not seem to anticipate was the reaction not only from the "usual suspects" among Palestinian citizens of Israel or the radical Jewish left but also from large sections of the centrist Jewish public, the business community, and foreign leaders such as French President Emanuel Macron and US Secretary of State Anthony Blinken. Even segments of the right, including many who voted for this government just three months ago, oppose the reform. According to various polls, between 40 and 50 percent of right-wing voters believe the government is going "too far" with its planned reforms, and the percentage among the general population is much higher.
The first demonstration of the current wave of protests was organized by the left-wing Standing Together movement in Tel Aviv at the beginning of January 2023, just days after Levin announced his reform. More than 20,000 people attended, a sizable crowd in Israeli terms. Yet, since then, the protests have continued to grow and spread with no end in sight. Crowds of 150,000 protesters, almost 2 percent of Israel's total population, have become a common sight every Saturday evening, not only in Tel Aviv but also in other cities and towns, including in the West Bank settlement of Efrat. Never in its history has Israel seen so many protesters taking to the streets so often in such a short span of time.
If the first demonstration had a strong left-wing flavor, with slogans against the occupation and Palestinian speakers, those that followed have taken a very mainstream, Zionist turn. Today, the demonstrations are flooded with a sea of Israeli flags, and with hardly any Palestinian speakers. The word "occupation" is never uttered, apart from a small group of leftists. Instead, the buzzword is "democracy." According to the protest organizers, Israel is a democracy, the high court is the guardian of human rights and liberal values, and the proposed judicial overhaul will destroy all of these sacred institutions. All they are asking for, then, is to keep things as they are.
In late January, Moshe Ya'alon, a former defense minister and ex-chief of staff of the Israeli army who said in the past that he limits his travels for fear of being detained for war crime probes, told protesters, "We did not fight against enemies from outside to give the country over to criminals." Ya'alon, who has become one of the main figures of the protest movement, warned that Netanyahu is turning Israel into a "dictatorship" and promised that "the way we stopped Syria and Egypt from destroying Israel, we will stop Netanyahu from doing the same."
Other ex-generals, who faced similar accusations of war crimes, such as former prime minister Ehud Barak, were also very vocal in their opposition, calling for "civil disobedience." Reservist soldiers in elite units have formed their own protest group. A cohort of veteran soldiers from the 1973 war even stole an old tank from a memorial site and started driving it toward Jerusalem, before they were stopped by police. Meanwhile, Arab speakers are few and far between, and just this last Saturday, a feminist Palestinian activist who was invited to speak at a protest in Haifa canceled her participation at the last minute, after organizers censored parts of her speech that connected the judicial overhaul to the occupation.
While the protest goes far beyond ex-soldiers and former generals, these developments reveal how mainstream and even conservative the demonstrations are. They are, above all, a show of force by the Jewish Israeli middle and upper classes. Some protesters were active in the so-called Balfour protests in 2020, which demanded that Netanyahu resign over his indictments, and eventually played a role in the downfall of his previous government. Most, however, are "newcomers" to political activism. They chant slogans such as "democracy or rebellion," and "no to dictatorship," yet the protests themselves are usually extremely calm, and police allow the demonstrators to block main roads, before they disperse peacefully of their own volition.
It is clear that Netanyahu's government is under pressure. Even President Joe Biden remarked on the developments with a clear warning to Israel: "The genius of American democracy and Israeli democracy is that they are both built on strong institutions, on checks and balances, on an independent judiciary."
Before Netanyahu stands a difficult choice: If he bows and gives up on important elements in the reform, his government may quickly disintegrate, as Smotrich, Ben Gvir, and even Likud members such as Levin are committed to push it through without the slightest change. If he marches on, he may risk an unprecedented crisis, as it is quite probable that the high court will strike down parts or even the entirety of the judicial reform. The government is very likely to reject such a ruling, which will push Israel into a constitutional limbo and lead to its being nearly a failed state.
What hovers above this crisis is, of course, the shadow of the Israeli-Palestinian conflict, which is almost entirely absent from any discussions of democracy or dictatorship in the Israeli public. A small yet persistent group of a few hundreds protesters have formed the "Anti Occupation Bloc," some of them bringing Palestinian flags and signs to the demonstrations demanding "democracy between the river and the sea."
At first, these demonstrators were attacked by protesters who claimed that "this is not the right time" to talk about the occupation and Palestinian rights. However, as the protests grew, so did the legitimacy of the anti-occupation bloc. The fact that this antidemocratic reform is led by extreme right-wing settlers such as Smotrich and Ben Gvir helps the anti-occupation protesters draw a line between whatever resemblance of democracy there is inside Israel and lack of democracy over the Green Line.
This wave of demonstrations serves as a collective lesson in active democracy. Should they succeed in preventing these antidemocratic moves, it could lead to a new way of thinking about the nature of Israeli democracy, on the need to safeguard minority rights from the "tyranny of the majority," and on the dangers of the racist and undemocratic views that the right-wing has been pushing for years. This could be a beginning of a new era in Israeli politics: more liberal, less xenophobic, and maybe, just maybe, more keen on understanding that the failures of Israeli democracy cannot be mended without an end to the military rule over millions of Palestinians. But if they don't succeed, the right-wing government will have a free hand to suppress the liberal elements, which still persist within the Jewish Israeli society, and to push for radical steps against Palestinians on both sides of the Green Line, from disqualifying Palestinian parties from running for parliament to massive land expropriation in the West Bank or even a new Nakba. The stakes cannot be higher.
Meron Rapoport is an editor at Local Call and a founder of the Land for All movement.
Oren Ziv is a staff reporter and photographer of Local Call and +972 Magazine, and a cofounder of the Activestills Collective. Since 2005, he has been documenting social and political issues in Israel/Palestine.