Please take this action aimed at the State Department. It is outrageous (and against US law) that someone who openly advocates for the genocidal "erasing" of an entire Palestinian town is allowed to freely visit the U.S. and spread his venomous hatred.

We are informed that the main restraint of Israeli ethnic cleansing in Massafer Yatta and other areas is the opposition of the U.S. State Department. They need to know that there's a large constituency for Palestine.
The State Department must follow its condemnation of settler attacks on Hawara with action
One of the highest Israeli officials who endorsed the recent settler attacks in the town of Hawara and has publicly stated Israel should "erase" the town is planning to visit the US next week, while the affected town is still grappling with the aftermath of the brutal assault.
Sign our petition to call on the U.S. government to cancel Israeli Minister Bezalel Smotrich's visa and deny him entry into the United States. The Biden Administration should make it clear that criminals advocating for genocide are not welcome in our country.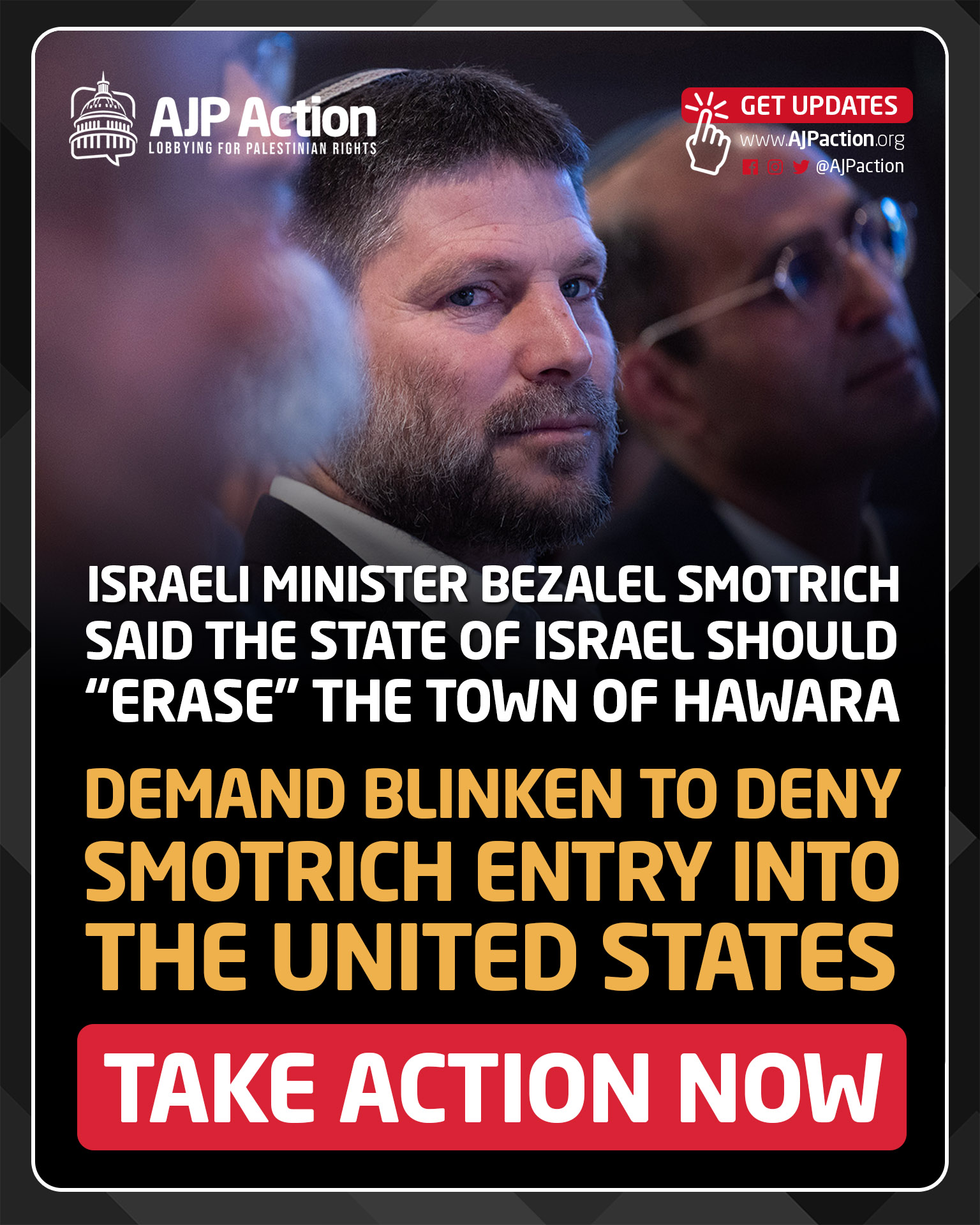 On February 26, 2023, armed Israeli settlers attacked the Palestinian villages of Hawara, Burin, Zaatara, and Asira al-Qibliya in a pre-planned raid. Now, Israeli media reports that the army knew of the intention of the settlers to attack Hawara and did nothing to stop them. Dozens of Israeli settlers rampaged through Palestinian towns on Sunday night, torching cars and homes, injuring more than 100 Palestinian civilians, and killing Sameh Aqtash in his home. Earlier that day calls to descend on the villages were shared on social media networks. Prior to the attacks, Bezalel Smotrich "liked" a tweet posted by settler leader Davidi Ben Zion, who said the town of Huwara should be "erased." Given a chance to explain himself the next day, Smotrich doubled down, saying: "I think that the town of Hawara needs to be erased. The State of Israel needs to do it, and not, heaven forbid, private citizens."
After the attacks, U.S. State Department Spokesperson Ned Price condemned the statements, saying "I want to be very clear about this. These comments were irresponsible. They were repugnant. They were disgusting." Condemnation is good, but words are not good enough and condemnation is only valid when followed by real, substantive action.
Sign our petition now urging the Biden Administration to deny Smotrich's visa to the United States! AJP Action will hand deliver the petition to U.S. officials at the Department of State next week.
According to US law, the State Department can, and should, deny visas to any individuals who incite violence against civilians. Not only that, some human rights organizations believe that Smotrich has possibly committed the act of incitement to genocide, which also would prevent him from acquiring a U.S. visa under US law. If the US truly condemns such behavior, denying him entry should be a given.
Sign our petition today and spread it far and wide. Let's say it loud and clear: genocidal racist Israeli leaders are not welcome here, and the United States must take the necessary steps to end its long-standing enablement and abetting of Israel's apartheid against the Palestinian people.
Sign Our Petition Here
In solidarity,
Ayah Ziyadeh
Advocacy Director, AJP Action