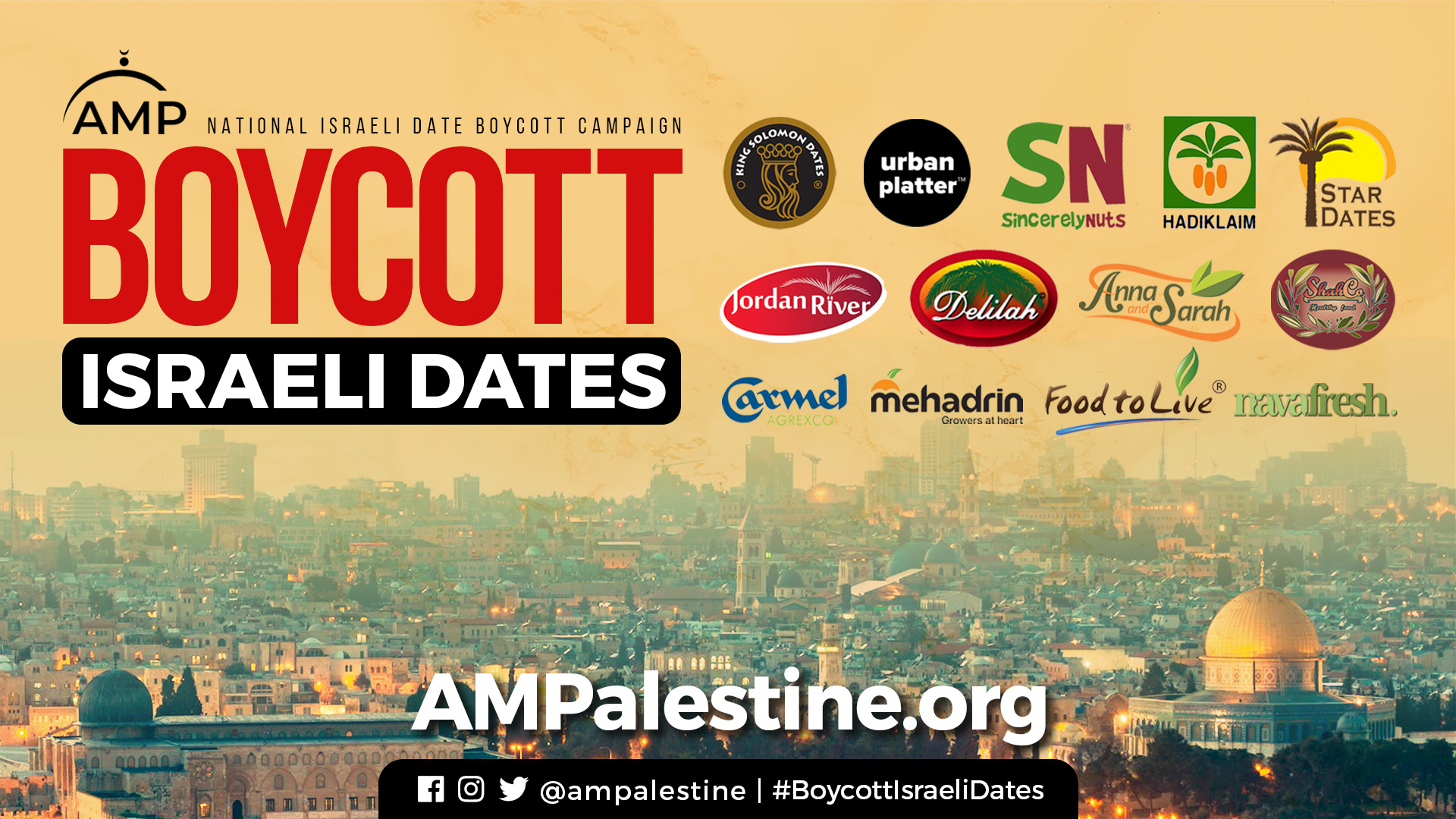 Since the launch of our 2023 date boycott campaign two weeks ago, tens of thousands have viewed our materials, and a record number of Americans have signed our online pledge. The campaign has been endorsed by prominent leaders and activists, including Dr. Omar Suleiman, Linda Sarsour, Miko Peled, Huwaida Arraf, Suhaib Webb, and more!
This is only building on eleven years of tireless mobilization since AMP issued the first date boycott call in 2012. Since then, chapters across the US have mobilized tirelessly on the ground, engaging hundreds of store owners, distributing thousands of campaign flyers, and promoting the campaign at numerous universities, mosques, and community organizations. Our campaign has spread like wildfire, achieving national coverage in Al-Jazeera, AJ+, MuslimMatters, and Palestine Chronicle, amongst other news outlets.
The impact of our boycott on Israeli date sales has been monumental! U.S. imports of Israeli dates have dropped to 16.5% for the market year 2020/2021 compared to 25% in 2015. Watch and share our new video here:
The campaign is working! Will you help us continue to amplify the boycott call?
Here's what you can do:
Sign our pledge to boycott Israeli dates in support of justice for the Palestinian people.
Share our new campaign video on (Facebook, Twitter, & Instagram) using the hashtags #BoycottIsraeliDates and #ChecktheLabel.

Find alternative date companies that you can buy from! Palestinian dates are often labeled "Grown in Palestine," and there are a plethora of Algerian, Tunisian, Emirati, and Californian varieties to choose from.


Sincerely,

Taher Herzallah
Director of Outreach & Grassroots Organizing

American Muslims for Palestine (AMP) is a grassroots nonprofit organization dedicated to engaging & educating Americans on Palestinian rights and the Israeli occupation. AMP is a premier national organization in the Palestine solidarity movement.