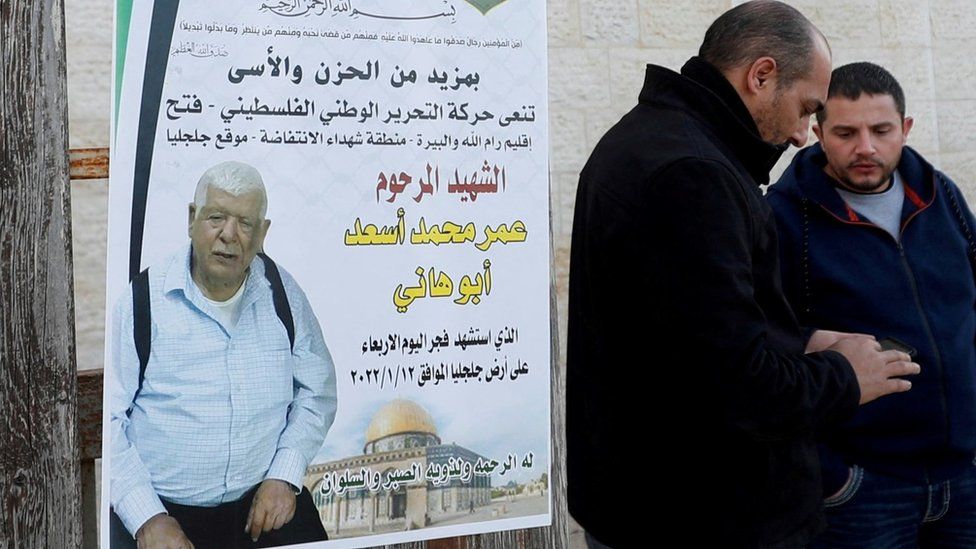 Men stand next to a poster announcing the death of Omar Asad in the village of Jiljilya
BBC News Services, January 13, 2022
Omar Asad's relatives say he was out in his village of Jiljilya until late and was returning home when he was detained using rough treatment.
According to Palestinian health officials, he died of a heart attack.
The US says he was an American citizen and has asked Israel for clarification.
The Israeli military say a man was detained in the area after resisting a check, and that he was later released.
Locals say Omar Asad was one of several villagers stopped by Israeli soldiers after they entered Jiljilya, near Ramallah, in the early hours of Wednesday.
Palestinian news agency Wafa cited the head of the village council, Fouad Moutee, as saying that the 80-year-old had been driving home after visiting relatives when soldiers stopped his car, blindfolded him, bound him and led him away to a building under construction.
Mr Asad was found dead in the building after the soldiers withdrew, Mr Moutee added. A plastic zip-tie was reportedly still around one of his wrists.
A local doctor, Islam Abu Zaher, told Reuters news agency he had tried to resuscitate Mr Asad but found no pulse. He said there were no obvious signs of injury and that the cause of death was unclear.
"It is possible that he suffered a heart attack or some form of panic," he added, noting that Mr Asad had previously undergone heart surgery. "We would need to perform an autopsy."
The Israeli military said in a statement that its troops had carried out an operation overnight in the Jiljilya area to "thwart terrorist activity".
"An initial inquiry by the commanders at the scene indicated that during the inspection process a Palestinian was apprehended after resisting a check, and he was released later that night," it added.
Spokesman Lt Col Amnon Shefler said an investigation would be carried out by military police in "a thorough and professional manner, acting in line with our values and protocols".
Palestinian Authority Prime Minister Mohammed Shtayyeh condemned what he called a "crime".
US State Department spokesman Ned Price said Washington had contacted the Israeli government and wanted "a thorough investigation into the circumstances of this incident".
The Israeli military carries out operations in the West Bank on a nightly basis, arresting Palestinians it suspects of involvement in terrorist attacks.
Tensions have been rising between Israelis and Palestinians.
On Tuesday, an Israeli soldier was injured in a suspected car-ramming attack by a Palestinian man outside the Jewish settlement of Neveh Tzuf, north of Ramallah, and there were clashes between Israeli troops and Palestinian students at Birzeit University.