President Hosni Mubarak caught between Arab solidarity and pragmatic approach to Israel, his country's neighbours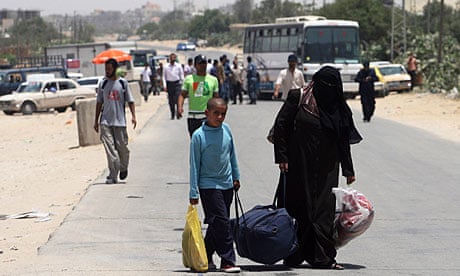 Palestinians carry their luggage to the Rafah border crossing between Egypt and Gaza. Photograph: Eyad Baba/AP

Jack Shenker, The Guardian, 2 June 2010
Rafah — From the donkey carts trundling down near empty roads in the afternoon heat, you would never have guessed this patch of land lay at the centre of a diplomatic storm. Nor did the row of bored looking customs officers sipping tea in the shade give any indication that their work commands global attention. But the Rafah border crossing between Egypt and Gaza has long been a place where rhetoric and reality rarely meet eye to eye.
Less than 24 hours after Egypt's president, Hosni Mubarak, effectively promised to break Israel's siege of Gaza by opening the Rafah crossing indefinitely, today's developments were no exception.
The trickle of Gazans who crossed into Egypt spoke volumes about the predicament Mubarak finds himself in after Israel's deadly assault on the Free Gaza flotilla.
Caught between the need to appease growing public anger at Israel's actions and the necessity of maintaining his close relationship with the Jewish state on the other – a friendship which opens the door to more than $2bn of American aid annually, money on which many analysts believe Mubarak's unpopular regime depends upon for survival – the Egyptian government has found itself incapable of living up to its own hype.
"No one is optimistic that this will lead to any kind of permanent solution," said a UN official making his way from Egypt to Gaza. "The border has been opened for political purposes alone. Such an opening is critical for humanitarian reasons, but it won't last."
At times the activity at the crossing was so slow it was difficult to discern whether the border had really opened. Several aid trucks made it into Gaza during the morning including some carrying power generators from the Egyptian Red Crescent, and hundreds of Gazans who had been staying in Egypt returned home. But there was hardly any traffic, human or cargo, in the other direction.
Officials said no more than three busloads of passengers had crossed into Egypt by early evening, leaving an estimated 3,000 Gazans waiting on the other side. Some blamed bureaucratic delays on the Gazan side, where Hamas officials were reportedly trying to implement a system of prioritising who should be allowed to cross first. Others said Egyptian intransigence was at fault.
Most of those who reached Egypt were in need of medical attention, but a few had more cheerful reasons for the trip. One couple were en route to their daughter's wedding in Dubai and were overjoyed at having navigated their way through the maze of officials and security checks. "There are many buses backed up on the other side filled with people who want to come through," said the father of the bride. "We were lucky to make it."
But the lucky ones were few and far between. Mostly the arrivals hall remained desolate, in contrast to the departures lounge which was periodically flooded with Gazans returning from Egypt.
Theoretically, the Rafah terminal open two days a week to allow Gaza residents on the Egyptian side of the border to cross back over, but the buzz around today's events fuelled an increase in the numbers of those travelling. Many had taken the opportunity to stock up on supplies in preparation for their return to a space where items such as coriander and A4 paper are blockaded by the Israelis.
Ramzi, a grocer from Jabalia, was clutching two new bicycles as he made his way through the crowds. "I was over in Egypt visiting my father who's in hospital there, and I thought I'd pick up some presents," he grinned sheepishly. Trolleys laden with mattresses, flat-screen TVs, air conditioners and refrigerators all made their way towards buses waiting to ferry passengers across no man's land to Palestinian territory. "Any product you can dream of, you'll find it here," said one Egyptian customs officer, gesturing towards a queue of Gazans.
Not everyone could join the import bandwagon. Seham Muhammad Hamdani, a mother of two from Gaza who lives in the Egypt, had rushed to the border in the hope of seeing her son and daughter for the first time in 13 years; they live on the other side of the crossing. Due to apparent irregularities in her paperwork, she has been unable to travel to her homeland for more than a decade, while her children are not allowed to leave it. But the Egyptian guards once again turned her away today . "It's the end of hope," she said. "It's up to Mubarak now to resolve our plight."