Calls for a Fair Resolution from the Wisconsin State Assembly
Janan Najeeb, Wisconsin Muslim Journal, Oct 17, 2023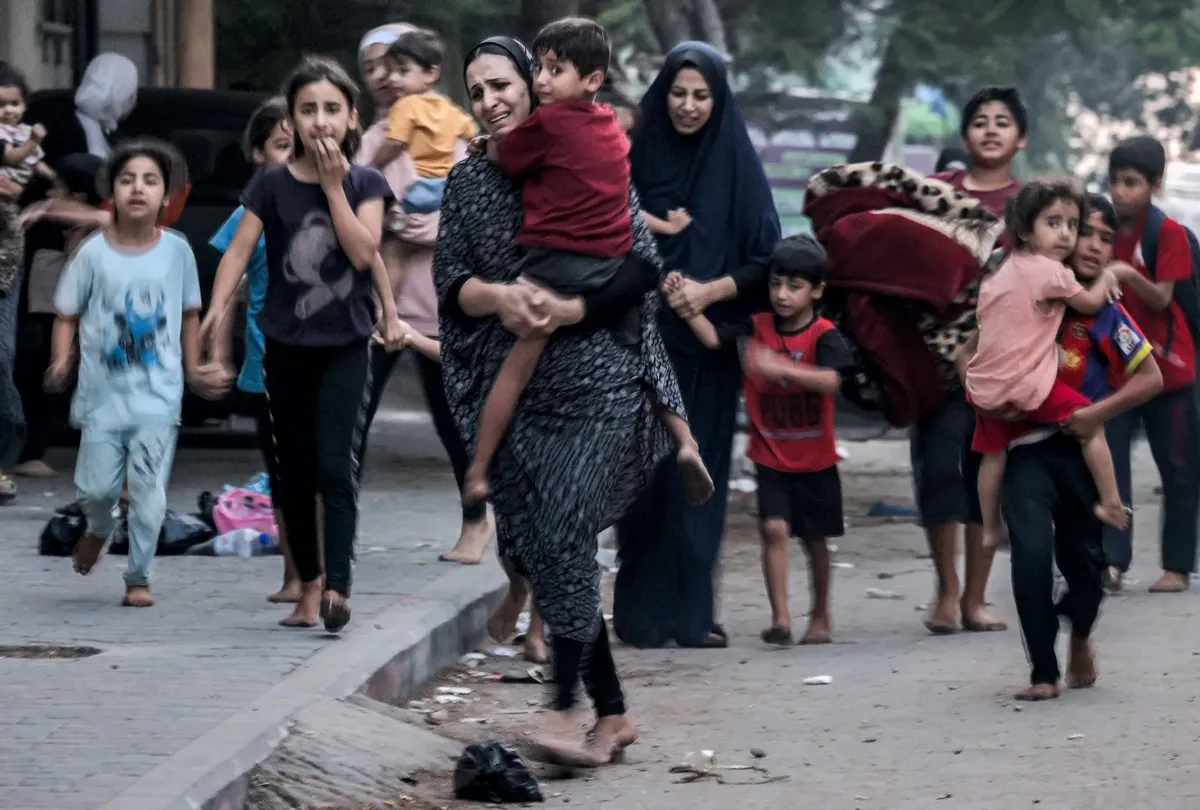 Palestinian women with their children fleeing from their homes following Israeli air strikes rush along a street in Gaza City on October 11, 2023. (MOHAMMED ABED/AFP via Getty Images)
Join the Wisconsin Coalition for Justice in Palestine now. Add your name or your organization to the list by contacting Janan Najeeb: jnajeeb@mmwconline.org
A broad coalition of Wisconsin organizations that work for peace and justice formed on October 8th to respond to the false and one-sided narratives regarding Israel's war on Gaza and the continued oppression of the indigenous Palestinian population.
The coalition's member organizations include Milwaukee Muslim Women's Coalition, Jewish Voice for Peace–Milwaukee, Wisconsin Muslim Civic Alliance, Islamic Society of Milwaukee, Racine Coalition for Peace and Justice, Milwaukee Anti-war Committee, American Muslims for Palestine, University of Wisconsin-Milwaukee's Students for Democratic Society, Adalah Justice Group, Syrian American Medical Society-Milwaukee, Peace Action Wisconsin, Students for Justice in Palestine at UWM, Marquette University and UW-Madison, Arab and Muslim Women's Research and Resource Institute, Muslim American Society, Party for Socialism and Liberation, Friends of Palestine WI, Milwaukee Islamic Dawa Center, Al-Quran Foundation, Catholics for Peace and Justice, Freedom Road Socialist Organization, Black Youth Project 100,We Are Many – United Against Hate, MKE4Palestine, United States Palestinian Community Network (USPCN), Sunseekers Milwaukee, Madison-Rafah City Project, and Palestine Partners.
Continue:



In a joint statement, they said, "We are deeply saddened by the loss of Israeli and Palestinian lives, and condemn unequivocally the decades of provocation including the years by one of the most extreme supremacist Israeli governments in history.

"We are also alarmed by the one-sided narrative in mainstream U.S. media and from President Biden's administration that posits Israel as a victim and ignores the tremendous suffering of the Palestinians in Gaza under decades of brutal Israeli occupation."

This new Wisconsin coalition is calling for a correction of false narratives and an end to U.S support of Israeli apartheid and the subjugation of Palestinians. It is demanding a ceasefire, humanitarian aid and safety for civilians, thousands who are injured, and an end to the forced dehydration and starvation of the civilian population of Gaza.

This coalition is extremely distressed that so many of the elected representatives that have worked with our organizations for years failed to give thought and consideration to the indigenous 2.2 million Palestinian civilians, Muslim and Christian who are facing imminent genocide in Gaza. We note these representatives have often stood against false and one-sided narratives targeting Black Americans, Latinos, the LGBTQ people, and other marginalized and oppressed people. When did it become acceptable for these representatives and the Wisconsin Assembly as a whole to support one of the most racist and supremacist governments in the world?

As is seen more often in authoritarian countries, when representatives Ryan Clancy, Darrin Madison, and Lakeshia Myers took a more nuanced position, acknowledging the indigenous Palestinian children and civilians who are suffering, state elector Ann Jacobs threw around the word "antisemitism" and asked for Clancy to be ousted.

A coalition of 27 organizations, with more joining each day, representing thousands of voters, we stand unequivocally behind the right of our democratically elected representatives to vote their conscience without intimidation and bullying. We commend Representatives Clancy, Madison and Myers for their principled and moral stand and we call upon our elected leaders to demand that food, water, electricity, medicine and safety be available to innocent civilians in Gaza, of whom half are children.

– Official press release on Oct. 16, 2023 , Wisconsin-Based Coalition for Justice in Palestine calls for an end to intimidation and bullying of democratically elected officials calling for a fair resolution from the Wisconsin State Assembly written by Janan Najeeb, founder and president of Milwaukee Muslim Women's Coalition.