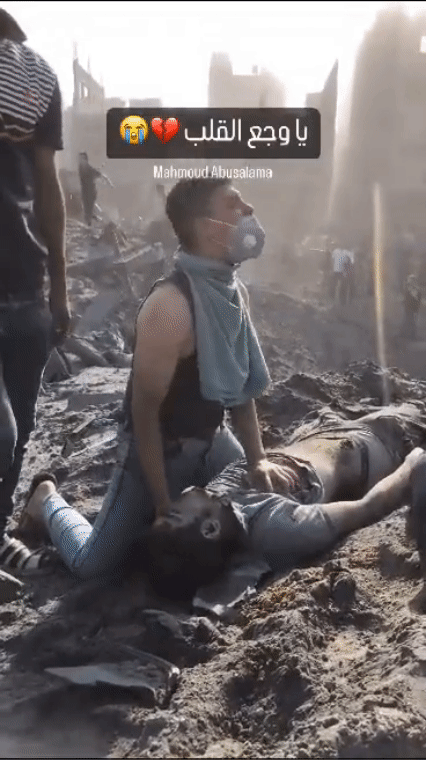 A young Palestinian cries, "Oh God!" over the body of a martyr from his family, murdered
during the Israeli bombing and massacre of Jabaliya refugee camp. October 31, 2023.
Some basic facts
Dear friends,
I'm writing to you again on the twenty-fifth day of Israel's war on the people of Gaza since October 7th, also the beginning of the al Aqsa Flood. The Ministry of Health has reported that Israeli aerial bombardments have killed some 8,525 Palestinians. A staggering 3,542 are children. As Israel has targeted homes, bakeries, stores, hospitals, schools, and shelters, thousands of Palestinians remain buried under the rubble. The Director of the New York Office of the High Commissioner for Human Rights published a letter today declaring this a genocide and lamenting the inability of the UN to respond adequately. Palestinians have been stressing for weeks for the international community — particularly the United States — to stop being complicit in a genocide.
Today, during the Israeli ground invasion of Gaza, Israeli air forces leveled entire neighborhoods in northern Gaza, killing families and destroying everything in sight to make way for Israeli tanks. With six US-made bombs, Israeli forces destroyed an entire neighborhood in Jabaliya refugee camp, killing at least 400 people—refugees already displaced from their homes in Palestine by the same state—and injuring many others. Minutes later, they destroyed a residential building, killing dozens more. The survivors are now packed into hospitals with insufficient fuel, a severe lack of medical resources, no fresh water, no more food, and no access to the aid waiting for them on the other side of Rafah crossing.
More



Israel and the US continue to produce propaganda to maintain this genocidal attack on Palestinians, destroying communications infrastructure(which Palestinians themselves restoredthrough courage and ingenuity), casting doubt on the trusted and well-documented abilities of the Ministry of Health in Gaza to record martyrs and injuries (which prompted a complete reportwith names, ages, and ID numbers of Palestinian martyrs), and comparing anti-genocide protesters in the US "neo-Nazis" (which they decidedly are not). Israeli representatives, led by Gilad Erdan, even arrived to address the UN Security Council wearing a yellow star reminiscent of the symbols forced on Jewish people during the Holocaust, in a complete desecration and inversion of history.

Palestinians in Gaza have made a call for those of us in solidarity to add more aggressive and tangible acts of resistance to the roster, in addition to protests and public statements. Palestinians in Gaza need a ceasefire and an end to the siege on Gaza. They cannot continue living through this horror.

It's time to leverage our financial support and material resources. While several progressive politicians in the US and Canada have come out in support of a ceasefire, many more have not, including well-known faces such as Bernie Sanders and Elizabeth Warren. Please take a moment to support this letter campaign, pledging not to make a financial contribution to your local representatives or their political party until they support a ceasefire and end the 17-year siege on Gaza. It is no longer enough to tell our representatives what we want from them. We need accountability. We must leverage our financial resources to ensure they are acting responsibly and according to the will of the people. All people of conscience want a ceasefire.

Please also take a moment to read this article, written by myself and another local activist, Kate Khair, on how others can be in solidarity with Palestinians now and in the future.

As always, thank you for your support. I hope my next email comes with better news.

Until return and liberation,
Lara


Lara Kilani
Good Shepherd Collective
Communications