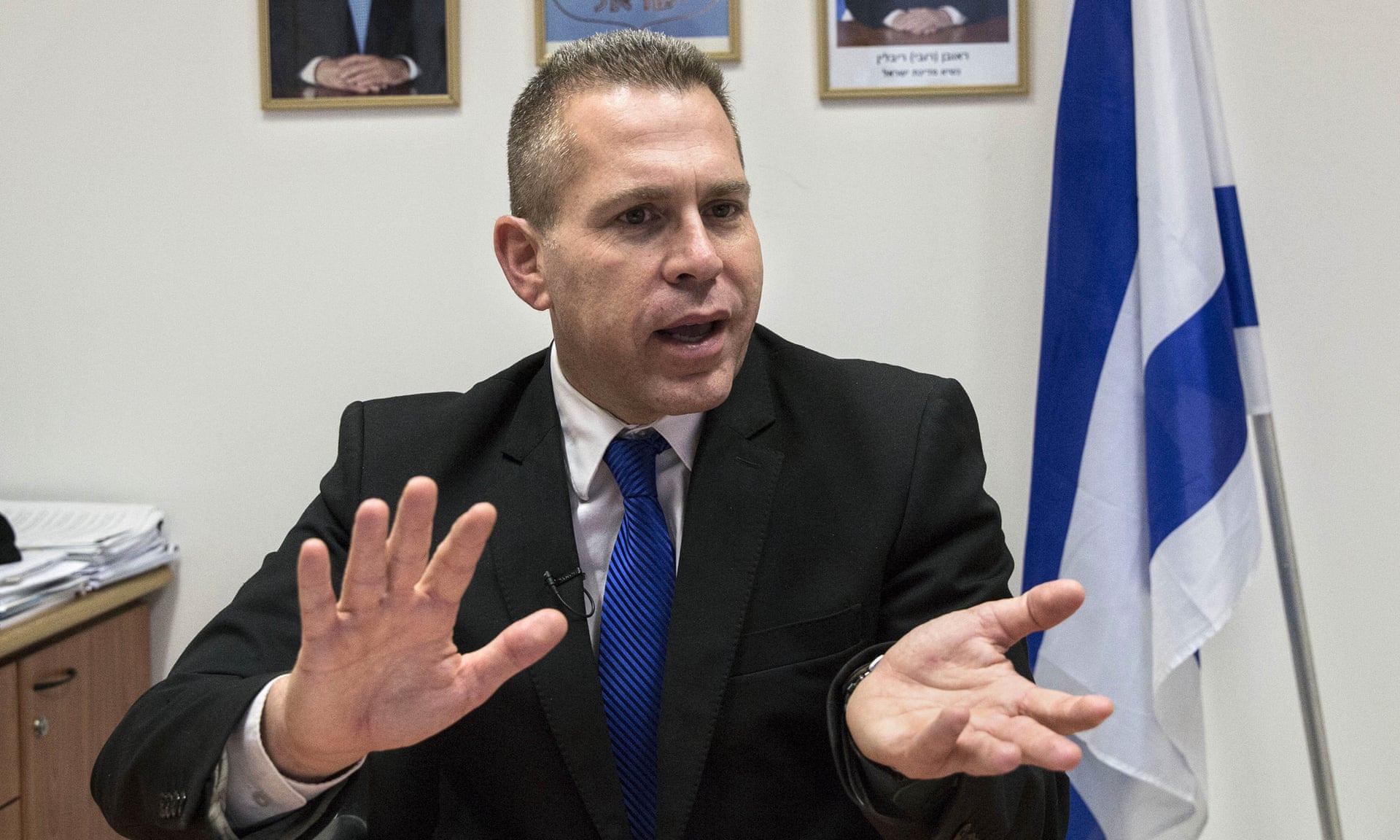 Israel's public security minister, Gilad Erdan, said everything possible must be done to weaken the boycott movement. (Tsafrir Abayov/AP)
Peter Beaumont, The Guardian, 8 August 2016
Israel is intensifying its campaign against foreign pro-Palestinian activists, announcing that it will establish a taskforce to identify and deport or deny entry to individuals who support the Boycott, Divestment and Sanctions (BDS) movement targeting the Israeli occupation.
The country's interior minister, Aryeh Deri, and the public security minister, Gilad Erdan, announced the move on Sunday.
The taskforce will attempt to locate hundreds of activists already in Israel and deny entry to others trying get in.
Israel has a long history of denying entry to those it says are damaging to its interests, but the latest proposal marks a new escalation against the BDS movement and activists.
According to reports in the Israeli media a number of as yet unnamed groups active in Palestine have already been listed.
Since Israeli naval forces intercepted the Mavi Marmara protest flotilla in 2010, killing nine people, the so-called delegitimisation department of the Israeli military intelligence research division has routinely monitored the activities of groups abroad (£).
Since an attempted "Flytilla" – an attempted mass arrival by air that followed the Mavi Marmara incident – Israel has increased its efforts to prevent entry by activists, using a range of tactics.
Foreign campaigners with the International Solidarity Movement (ISM) and other groups have long been a prominent feature of the protest landscape in Palestine, attending demonstrations, visiting flashpoint locations and working on volunteer projects.
Many, including ISM volunteers, come on tourist visas but stay for prolonged periods.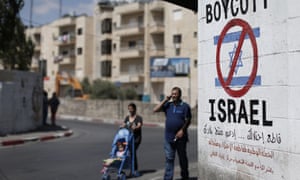 Palestinians walk past a sign painted on a wall in Bethlehem last year calling for a boycott of Israeli products. (Thomas Coex/AFP/Getty Images)
A key focus in recent years has been BDS – a Palestinian-led international movement that seeks to introduce sanctions against Israel – which Israeli politicians often accuse of being antisemitic and of "delegitimising" Israel.
A joint statement by the two ministers accused activists of going to Palestine to "agitate the local residents against the security forces and disrupt their activity".
"The battle of the boycott organisations against Israel begins with the people who come to sabotage inside Israel," Deri said. "It is our duty to do everything possible to weaken the boycott."
Erdan said: "Boycott activists must not be allowed to enter Israel."
The latest moves reflect the deep sense of confusion and panic within Israel's government over BDS, a movement it routinely dismisses as a failure while also denouncing it as a powerful threat and devoting significant financial and diplomatic resources to countering it.
The latest Israeli moves were condemned by Abdulrahman Abunahel, a BDS spokesman. "Deporting BDS activists in order to silence them and undermine their principled support for Palestinian human rights is not only anti-democratic; it is yet another incident of Israel shooting itself in the foot," he said.
"If anything, we expect such acts of heightened repression to boost support for boycotting Israel back in these activists' home countries.
"This latest weapon in the intensifying Israeli legal, espionage and propaganda war against the BDS movement for Palestinian rights is a strong indicator of how desperate and irrational Israel's regime of occupation, settler-colonialism and apartheid has become in its futile attempts to hinder the impressive growth of the BDS movement around the world."
This article was amended on 9 August 2016 to remove a reference to Tel Aviv which was mistakenly introduced during the editing process.