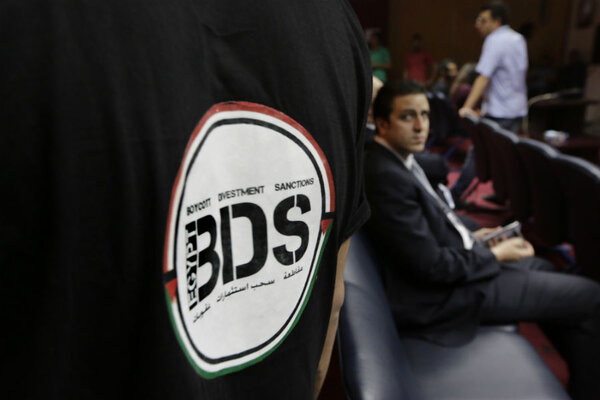 An Egyptian wears a T-shirt with the Boycott, Divestment, and Sanctions (BDS) logo in 2015. The state of New Jersey is expected to pass legislation Monday, which would boycott companies that support BDS.(Amr Nabil/AP)
Aidan Quigley, June 27, 2016
The New Jersey state legislature is expected to pass legislation on Monday that will prevent the state from investing in companies that participate in the "boycott, divestment, and sanctions" movement against Israel, joining a growing number of states that already have similar regulations in place.
Supporters say the bill will strengthen the state's relationship with Israel, while opponents of the bill say it – and similar legislation in other states – is unconstitutional and amounts to a restriction on free speech and the right to "peaceful political activity."
The Boycott, Divestment, and Sanctions (BDS) movement was established by Palestinian civil society in 2005 and encourages a boycott of Israeli companies, divestments from organizations that support Israel and encouraging sanctions against Israel. The movement has seen support in Europe and in the United States, especially on college campuses, as The Christian Science Monitor reported last year.
State lawmakers who are pushing for the bill say it will send a strong message to those who oppose Israel.