Sarah Irving, The Electronic Intifada, 7 July 2016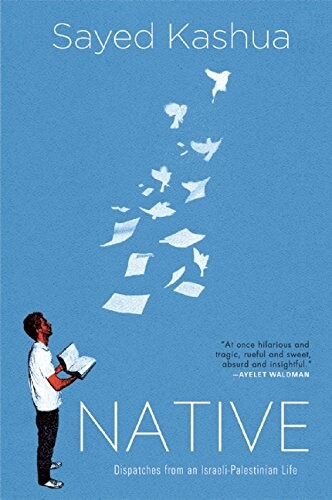 Native: Dispatches from a Palestinian-Israeli Life by Sayed Kashua, Grove Press (2016)
When novelist and columnist Sayed Kashua announced in 2014 that he and his family would be leaving Jerusalem for the US, the announcement was a minor blip in a summer of death and turmoil in Palestine.
Amid the carnage of more than 2,000 dead wrought by the Israeli bombardment of Gaza and vicious attacks against Palestinians in the West Bank, including Jerusalem, the despair of a writer — a Palestinian citizen of Israel who famously writes in Hebrew — might seem a drop in the ocean.
But after almost a decade of columns written by Kashua for the liberal-left Israeli newspaper Haaretz, his departure symbolized the death of an experiment in optimism.
As Kashua himself admits, he was berated by both anti-Zionist Palestinians and Zionist Jews for writing in Hebrew — the "language of the oppressor" to some, to others a pristine tongue reserved only for Jews. He has been seen as insufficiently political and as making light of the occupation.
Kashua's argument is that his columns and other writings — among them novels, films and a successful TV show, Arab Labor — were a place to "apologize, cry out, be afraid, implore, hate and love — but above all to look for hope."
His latest book is a selection from eight years of his Haaretz columns, from 2006 to 2014. In Kashua's characteristic self-deprecating, sarcastic and closely observational style, the columns are a brilliantly written, dry and devastating record of life for one family who, in the end, would just like to be "normal."
Tide of discrimination
As Palestinian citizens of Israel, "normal" means marginalized, discriminated against and harassed. As one of Kashua's early columns notes: "It's considered an achievement to find a boring village … You pay an extra NIS 200 a month [in rent] for that."
Although he is sometimes compared to Anton Shammas, another Palestinian writer renowned for his artistry in Hebrew, Kashua's style is radically different. There is no elegant, understated introspection here. Instead, Kashua adopts a brash, laddish persona, referencing cars, domestic laziness, alcohol and attempts to chat up women in bars.
Unashamedly and unfashionably aspirational in his approach to parenting Palestinian children in Israeli society, Kashua sends his daughter to piano lessons, not because he wants her to be a musician — "God forbid" — but because the successful middle class Jewish people around him complain about being made to take music classes during their youths.
Reading between the lines, it is clear that these aspirations are a desperate attempt to swim against the tide of discrimination. Kashua narrates years of small incidents with the dark, dry humor common to many Palestinians for whom it is a way to remain sane.
There are no tirades or political statements, merely acute observations.
During a car journey, Kashua tells his young daughter she should be proud to speak Arabic. After they are pulled over by a security guard at a mall entrance to whose greeting she replies a cheerful "Alhamdulillah!" Kashua revises his advice.
"It's fine to speak Arabic everywhere, anytime you want, but not at the entrance to a mall, okay, sweetie?" he entreats her.
And driving to Ben Gurion airport outside Tel Aviv, Kashua lists his preparations — including a new haircut, but stopping short of hanging a Star of David air freshener from the rearview mirror — in the hope that he won't be accosted. His Arab accent, regardless, means more security checks.
"Finest colonial tradition"
Against this background, Kashua also delivers a scathing portrait of the tokenism of Jewish Israeli media professionals who want to be seen as tolerant towards a Palestinian writer.
The producer of a radio program about books insists that a sports journalist should present the show about books on sports, or a psychologist when discussing psychology books. For a program on "Arab" writing, however, the anchorman is instead selected entirely on the basis of being a Palestinian citizen of Israel — who, Kashua swears, "hasn't read a book since first grade." But it is impossible to convince the producer that "Arab is not a profession."
Jewish Israeli readers are, Kashua claims, looking for books that give "an anthropological experience, a rare look into the mind of an Arab … every time I am invited to an Israeli literary event I find myself sharing the stage with two belly dancers, an unemployed Arab mechanic, and a darbuka player."
As he notes, though, this underlying racism, in which the minority writer is always the representative of an alien culture, rather than an artist in their own right, is not unique to Israelis.
Sitting alongside novelist Paul Auster on a Dutch arts show, he looks forward to being asked questions about literature similar to those posed to his American counterpart.
Instead, he receives "only anthropological stuff derived from the finest colonial tradition." Leaving the studio, he realizes that despite his fantasies about liberal Dutch culture, the sanitation workers cleaning the streets of beer and urine after a national celebration are black or "look like me."
Taken singly, Kashua's columns are a blend of dry humor, cynical and/or heartfelt observation and needle-sharp comment.
Read together, however, the longer trajectory of this collection has a clear downward arc.
Kashua's ability to extract bitter laughs from his subjects slowly dries up as he is worn down by daily racism, and as his fears for his children's future come to the surface. In front of audiences he can no longer talk about optimism and hope, but instead finds himself crying.
The inevitable conclusion is a damning indictment of Israeli society. This is a man who, despite a keen awareness of his family's losses in the Nakba — the forced expulsion of Palestinians from their homeland in 1948 — and the problems of modern society, is willing to hear the other's story and try to build a common bond.
Yet for mainstream Israel, his Arabness, his Palestinian identity, are still too much of a threat. The short-term hunger for power and domination wins out, rejecting even those who go to extreme lengths to offer conciliation.
"I lied to my children when I taught them everyone is equal," Kashua despairs. "I lied when I said that there are no differences between Muslims, Jews and Christians. I cheated them when I surrounded them with protective hothouses of mixed kindergartens and pleasant neighborhoods."
Native is a dark, witty portrayal of life for Palestinian citizens of Israel, well worth reading and enjoying as insightful and stylishly written social commentary. Sadly, it also highlights with brutal clarity why, without radical changes in Israeli society, there will be no peace in historic Palestine.
Sarah Irving is author of a biography of Leila Khaled and of the Bradt Guide to Palestine and co-editor of A Bird is not a Stone.
"Kashua simply narrates, column after column, the impossibility of living as an Arab in the Jewish state." — Haaretz