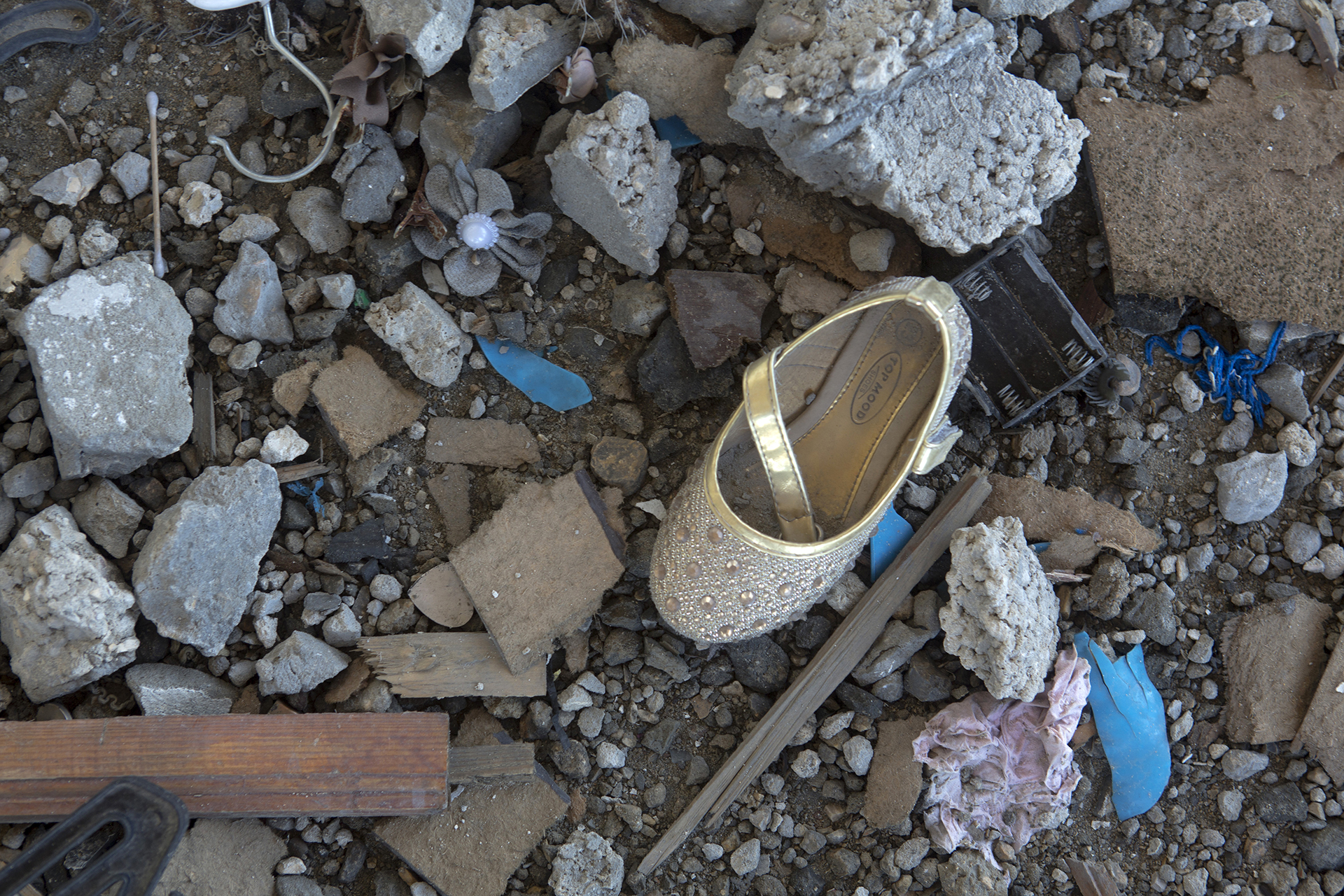 Rubble of the Maadi house
During the 2014 Israeli assault on the Gaza Strip, 142 Palestinian families lost three or more members. Some of the families were wiped out entirely.

The #ObliteratedFamilies project tells the stories of some of these families, their loved ones who were killed and those left behind.
Behind every erased Gazan family is an Israeli pilot. Behind every orphaned child who has lost his brothers and sisters in the bombing is an Israeli commander who gave the order and a soldier who pulled the trigger. Behind every demolished house are the Israeli physicist and hi-tech specialist who calculated the optimal angles for maximal impact. And there is the army spokesperson (backed by legal experts) who always evaded the journalist's question: how proportional is it to shell an entire building with all its inhabitants? What – in your laws – justifies killing 23 family members, babies, children and the elderly among them, in one fell swoop of a missile?
There is one very present absentee in the "stories" below: Israeli society. Whether those members of society directly responsible, from government ministers and general military staff down through the ranks, or those who are indirectly responsible in their support and refusal to know. Have the direct accomplices – most of whom preserve their armed anonymity – ever shown any interest in knowing who was targeted by their sophisticated smart bombs? Or how many unarmed civilians they killed, their names, how many girls and boys, how many members of a single family, how many entire families have been erased? Disastrously, the safe guess is that physical distance and the fact that both soldiers and commanders did not have to soil their hands with blood nor see the mangled bodies with their own eyes helped them greatly to bury any information, knowledge, and thought.
Before and between the major onslaughts of 2008-9, 2012 and 2014 "smaller-scale" Israeli assaults were carried out, and they too wiped out lives, or erased the toil of many years and added traumas onto past disasters. Another link in such a long chain of injustices that one's head is dizzy with disbelief, or the need to forget. At times, Gazans themselves help one forget: with their humor, their warmth, the continuity of life and vitality their creativity which breaks through all barriers and limitations of the siege and the pain, their silences – for they are sick of telling, or because what's the point. But more than ever, more than any previous large-scale or smaller-scale assault, after 2014, the quenched eyes of Gazans have recounted how that was the most horrific of attacks.