Palestinian Administrative Detainees Declare Boycott of Israeli Military Courts
Addameer Prisoner Support and Human Rights Association, January 20, 2022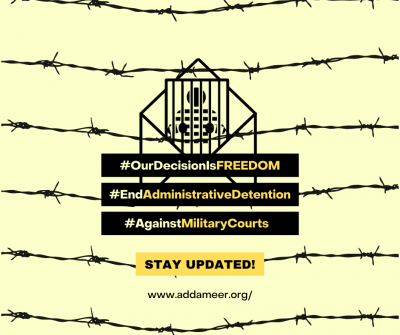 Palestinian Administrative Detainees Letter [English].pdf
In 2021, the Israeli occupation and apartheid regime deployed extraordinary violence against the Palestinian people, a key feature of which has been the expansion of the mass arbitrary arrests and detention of Palestinian men, women, and children. Under this carceral framework, Israeli occupation authorities have particularly increased their reliance on administrative detention, a procedure in which detainees are held without charge or trial based on "secret information" for an indefinite time. By the end of 2021, the Israeli military commander in the West Bank region issued 1595 administrative detention orders, including the renewal of previous orders and issuing new ones.
The Israeli occupation has increasingly employed administrative detention as an arbitrary, coercive, and punitive measure of torture against hundreds of Palestinian detainees. Such expansion comes amid and in parallel with the Israeli occupation and apartheid regime's systematic harassment campaign against Palestinian civil society, most recently with the criminalization of six leading Palestinian civil society organizations (CSOs) in October 2021. Throughout, the Israeli military judicial system plays an integral role in facilitating the expansion of administrative detention, and more broadly, in sustaining and feeding the establishment of a comprehensive Israeli apartheid apparatus over the occupied territories.
Israeli occupation authorities increasingly rely on administrative detention to muzzle Palestinian human rights defenders, student and political activists, and target children. Often, administrative detention is leveraged to punish Palestinians undertaking outstanding hunger strikes in protest of their administrative detention, including Hisham Abu Hawash, or to harass further and coerce released Palestinian political prisoners, as is the most recent case with lawyer Bashir Khairi. In 2021, six Palestinian children, three Palestinian women, and eight Palestinian Legislative Council members were held under administrative detention.
On 20 December 2021, Palestinian administrative detainees, 500 in total, announced their collective and comprehensive boycott of Israeli military courts, to begin 1 January 2022, under the campaign 'Our Decision is Freedom… No to Administrative Detention.'[1] This comes in light of the developments mentioned above, which represent a dangerous approach by the Israeli occupation to repress all facets of Palestinian life and struggle for liberty. The boycott includes Israeli military courts at all levels, including courts of first instance, appellate courts, and the Israeli civil High Court. Accordingly, Palestinian administrative detainees will refuse to participate in court procedures and hearings; their legal counsel will no longer attend or participate in the court procedures on their behalf.
In line with the Palestinian administrative detainees' boycott of Israeli military courts, Addameer echoes the call for solidarity and to demand that local and international human rights institutions and State parties call on the Israeli occupation and apartheid regime to end its policy of administrative detention and release all administrative detainees currently held in Israeli occupation prisons.
The illegality of Israeli military courts goes beyond serious violations of the right to a fair trial—the basis of their establishment and jurisdiction itself is a grave breach of international standards and principles. The Israeli military judicial system is also inherently bound up with the use of ill-treatment and torture against Palestinians, especially during the interrogation process.
Seeking to better the fair trial standards in Israeli military courts is redundant; all efforts should be made to end the trial of Palestinian civilians in Israeli military courts and abolish the Israeli occupation itself. The international community must end its continuous silence and hold the Israeli occupation accountable for the various grave breaches of international human rights and humanitarian law. Such actions are imperative to maintain international peace and justice for the sake of the Palestinian people, including Palestinian political prisoners, the quest for liberty, justice, and dignity.
---
[1]
The letter and call to action written by Palestinian administrative detainees in Israeli occupation prisons is attached above.
Free hunger strikers now!
Urgent – Photo of Hisham Abu Hawash at 133 days of hunger strike as of December 27th 2021.
Hisham Abu Hawash is the last prisoner on hunger strike of the group that began in the summer of 2021.  On December 26th he was transferred to an Israeli hospital after a severe deterioration in his health. He has severe mineral deficiencies and is no longer able to talk or move unassisted. 
PLEASE SIGN & SHARE this petition to help free all hunger strikers & other administrative detainees, all imprisoned without charged or trial. 
Palestinian prisoners stage hunger strikes in protest of their administrative detention – imprisonment without charges or a trial. Prisoners staging hunger strikes are at risk of serious long-term health affects, as well as sudden death due to dehydration and lack of essential nutrients. Why would they risk their health this way? The answer is clear – according to B'tselem in Israel, "the detainees have no real opportunity to mount a reasonable defense against the allegations" and have little recourse other that striking to gain their freedom under a policy the gives impunity to the Israeli occupation to imprison them indefinitely."
In Israeli occupation military prisons there are a total of 540+ Palestinians who are being held under the pretense of administrative detention. There are many who have been held for years without ever having the opportunity to prove their innocence or view the supposed evidence being used to justify their imprisonment. 
These prisoners often:
are denied access to their lawyers
are denied access to regular family visits
are placed in solitary confinement as punishment for hunger striking
We want to bring them all home!! 
WHAT IS ADMINISTRATIVE DETENTION? HOW IS IT USED BY ISRAEL?
Administrative detention is imprisonment without formal charge or trail, and in the case of how it is used by the Israeli occupation, often of a length of one to six months that is indefinitely renewable. Individuals imprisoned under Administrative Detention by the occupation, almost exclusively Palestinians, can spend years in prison without ever being formally charged, knowing why they were arrested, or ever seeing the supposed evidence being used to justify their imprisonment. Individual are arrested on the orders of the regional military commander and detained under the pretense of security based on supposed secret intelligence which neither the detainee nor their lawyers are allowed to review, verify, or refute to prove their innocence. (B'selem.org, Addameer.org)
According to B'tselem, "Israel also exploits this measure to detain Palestinians for their political opinions and for engaging in non-violent political activity."
It is clear that Israel's use of administrative detention does not align with International Humanitarian Law and is more often than not used to target and silence Palestinian activists, protestors or anyone who shows any dissent for the occupation, which is a gross misuse of such an extreme power. We must send a clear message to the Israeli Government that the use of this policy is unjust and not supported by the international community.
PETITION GOALS AND DEMANDS
By signing this petition, you are part of a worldwide movement to free all hunger strikers, release all administrative detainees and end the mis-use of administrative detention by the Israeli occupation.
We, the undersigned:
Demand the immediate release of all Palestinian administrative detainees on hunger strike to avoid serious long-term health complications for detainees or loss of life: Kayed Fasfous, Miqdad Qawasmeh, Alaa Al Raj, Hisham Abu Hawash, Shadi Abu Aker and Ayyad Hraimi
Demand the subsequent immediate release of all Palestinians administrative detainees held in occupation prisons, or at the very latest the date of their case review 
Demand that Israel ceases the use of administrative detention to arbitrarily imprison Palestinians within the oPt (West Bank) and East Jerusalem
Demand that any future arrest of Palestinians (in the oPT or within Israel) follow the protocols of International Humanitarian Law that guarantee individuals know why they are being arrested and are granted proper judicial process (formal charges and trails) where individuals are able to examine the evidence presented against them and prove their innocence
PLEASE SIGN & SHARE the Petition