Wisconsin Muslim Journal | Oct 24, 2023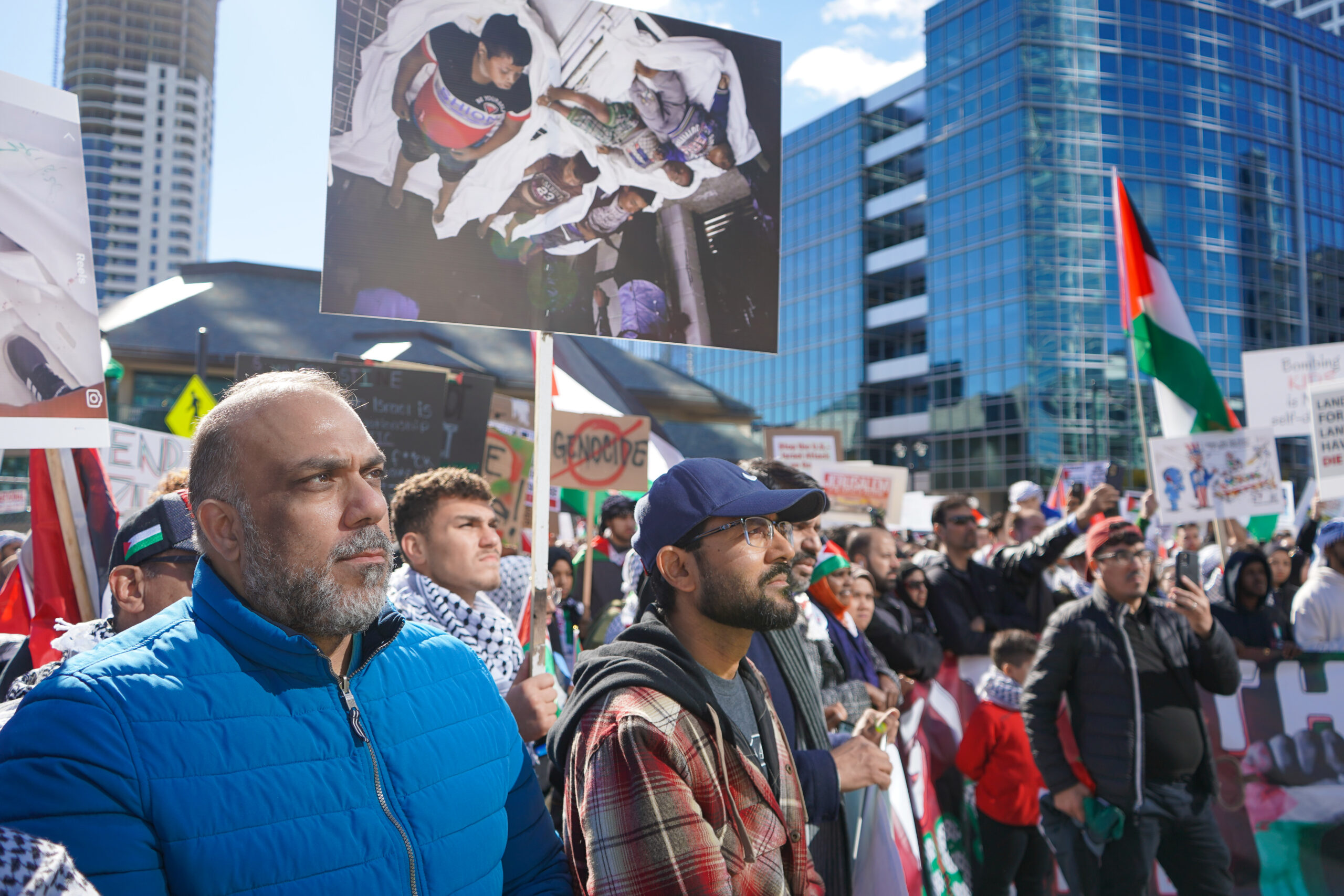 Photos by Kamal Shkoukani
Thousands marched in solidarity for Palestinian freedom in downtown Milwaukee, demanding an end to the genocide in Gaza.
The newly formed Wisconsin Coalition for Justice in Palestine (WCJP) marched in protest on Sunday Oct 22 demanding peace and justice regarding Israel's war on Gaza and continued oppression of the indigenous Palestinian population.
Joining them in solidarity were over three thousand people who marched from Red Arrow Park to "The Calling" sculpture on Wisconsin Ave. The speakers who addressed the diverse crowd represented many of the 32 organizations of WCJP calling for Palestinian freedom and the end to genocide in Gaza.
The Wisconsin Coalition's member organizations include Milwaukee Muslim Women's Coalition, Jewish Voice for Peace–Milwaukee, Wisconsin Muslim Civic Alliance, Islamic Society of Milwaukee, Racine Coalition for Peace and Justice, Milwaukee Anti-war Committee, American Muslims for Palestine, University of Wisconsin-Milwaukee's Students for Democratic Society, Adalah Justice Group, Syrian American Medical Society-Milwaukee, Peace Action Wisconsin, Students for Justice in Palestine at UWM, Marquette University and UW-Madison; Arab and Muslim Women's Research and Resource Institute, Muslim American Society, Friends of Palestine WI, Milwaukee Islamic Dawah Center, Al-Quran Foundation, Black Youth Project 100 – Milwaukee Chapter, Catholic for Peace and Justice, Party for Socialism and Liberation, We Are Many – United Against Hate, Freedom Road Socialist Organization, MKE4 Palestine, United Faiths Palestinian Community Network, Sun-Seeker MKE Collective, Milwaukee Veterans For Peace Chapter 102, Wisconsin Bail Out The People Movement, Voces de la Frontera, Madison Area Democratic Socialists of America among many others who are adding their names to the list everyday.
More



Because we are aware of hate crimes and incidents happening in our city, the Milwaukee Muslim Women's Coalition is compiling a report of incidents for anyone facing racism, xenophobia, intimidation or efforts to prevent freedom of speech, Islamophobic hate-related actions or bullying. Please use or share the incident report here.