As Americans Muslims for Palestine commemorates Land Day on March 30th, we concurrently remember the brave and resilient people of Gaza's Great March of Return, and their defiance amidst the infamous Israeli Operation Defensive Shield.
This Land Day, AMP joined several groups in a global coalition for Palestine, signing a joint statement calling for sanctions on apartheid Israel. Read the statement here.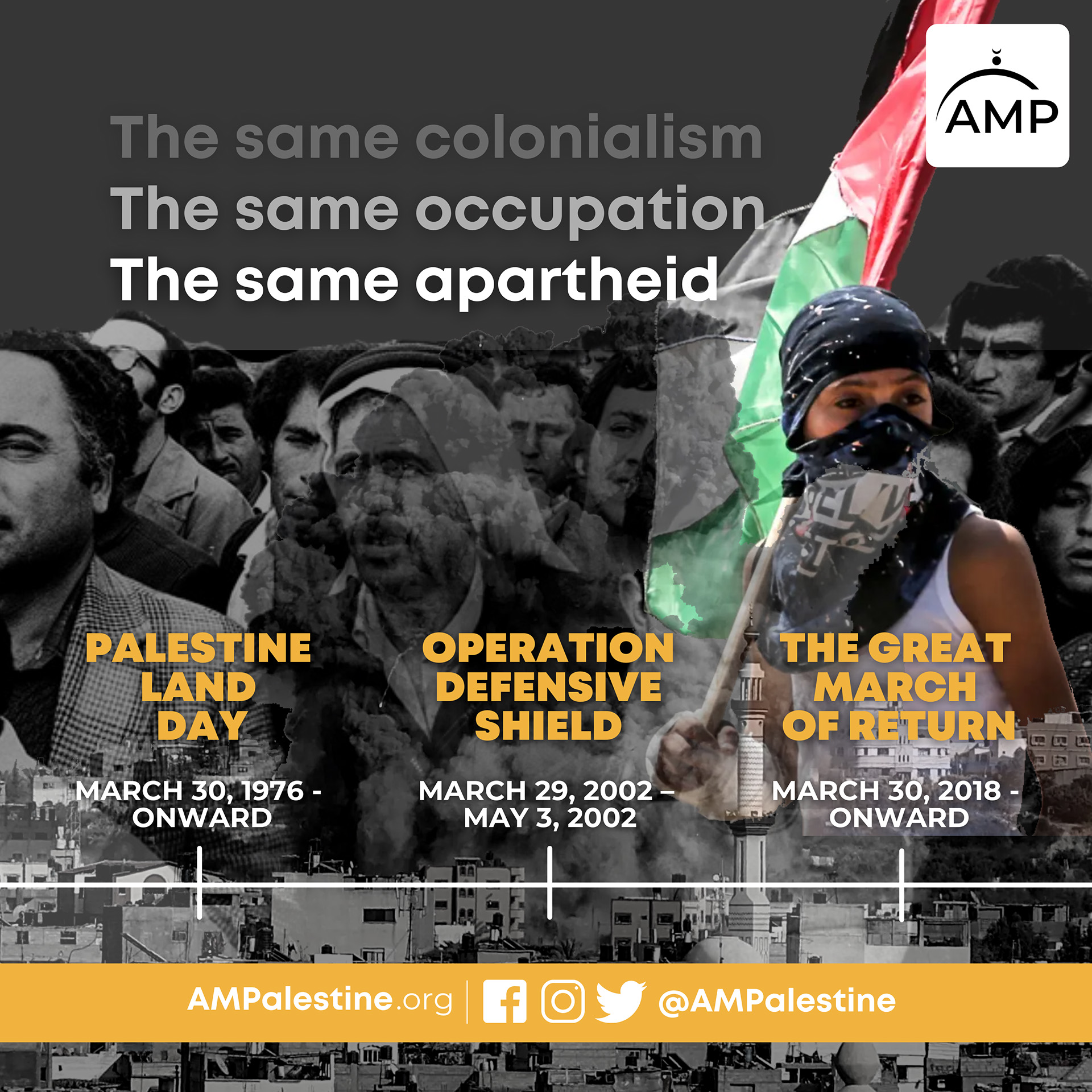 Land Day
On March 30th, 1976, the National Committee for the Defense of Arab Lands declared 'Land Day' in response to the Israeli government's decision to confiscate 5,000 acres of Palestinian land. This confiscation of land was required for the expansion of Israel's illegal settlement project, and more specifically, an effort to Judaize the Galilee. On that day in 1976, 6 unarmed Palestinians were killed, close to 100 were wounded, and hundreds of others were arrested. Almost every year on Land Day commemorations, Palestinians are subject to murder, harassment, and imprisonment.
Great March of Return
In March of 2018, the Great March of Return began, a series of Palestinian protests in the Gaza Strip demanding the right of refugees expelled during the Nakba to return to their homes. The protesters also demanded an end to the Israeli blockade, described by the United Nations as collective punishment. The Israeli regime cracked down on the demonstrations, killing almost 300 Palestinian men, women, and children, and injuring almost 30,000 others in one year, according to Gaza's health ministry. The Great March of Return would come to an end in December of 2019.
Operation Defensive Shield
On March 29, 2002, at the height of the Second Intifada, Israel launched Operation Defensive Shield, a devastating military assault that killed nearly 500 Palestinians, wounded over 1400, and left over 17,000 Palestinians homeless.
Though these events all happened years apart, they serve as a great representation of the realities of ongoing Israeli settler-colonialism, ethnic cleansing, occupation, and apartheid today. Whether it be 46, 20, or 4 years ago – it has all been and continues to be, the same colonialism, the same occupation, and the same apartheid.
Want to continue resisting settler colonialism and Israeli apartheid? Join this webinar led by Stop The Wall and organized by a global Palestinian coalition on April 1, 2022, at 12 PM Eastern Time.