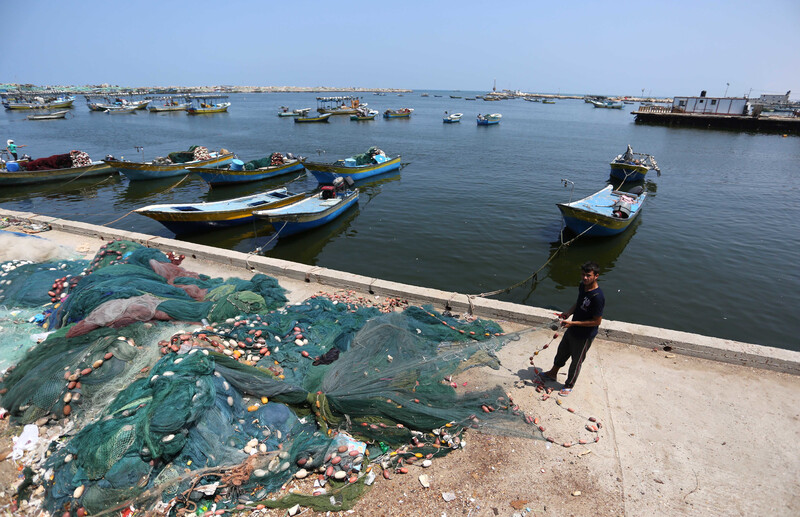 Palestinian fishing boats in the Gaza City seaport in July 2018. (Ashraf Amra | APA images)
Maureen Clare Murphy, The Electronic Intifada, 14 November 2018
Israel killed a fisherman in Gaza less than 24 hours after a ceasefire ended intensive bombing against and rocket fire from the territory.
Gaza's health ministry identified the slain man as Nawaf Ahmad al-Attar, 20.
The head of Gaza's fishers union said that Israeli soldiers positioned on land shot at al-Attar when he was only 30 meters into the sea in northern Gaza.
Israel restricted access to the sea for fishing since Monday evening, according to the rights group Gisha.
On Wednesday Israel partly lifted the restrictions but banned fishers from working in the waters of northern Gaza, accounting for one-third of the coastline.
The permitted fishing areas off of other areas of Gaza range from six to nine nautical miles.
Under the 1993 Oslo accords signed by Israel and the Palestine Liberation Organization, Gaza's fishing zone was supposed to extend 20 nautical miles out from shore. But Israel has never allowed this and the furthest Gaza's fishers have been able to sail out has been 12 nautical miles.
"These restrictions and practices further impoverish fishers who live below the subsistence level," the rights group Al Mezan stated on Wednesday.
Nine fishers have been killed by Israeli forces in Gaza since the year 2000.
Two Palestinian fishers were killed by Egyptian naval forces this year, including Mustafa Khalil Abu Odeh, 30, who was shot dead off the coast of Rafah, southern Gaza, last week.
The use of lethal force against fishers in Gaza is part of a militarily enforced land, air and naval blockade imposed on the territory for more than 11 years.
The human rights group Al-Haq stated this week that the blockade, which amounts to unlawful collective punishment, has created "a human-made humanitarian crisis" for its two million residents, "more than half of whom are Palestinian refugees."
The ceasefire agreement announced on Tuesday, essentially a return to the status quo that followed the ceasefire ending a massive assault on Gaza in 2014, is not enough to prevent further escalation and bring normal living conditions to the territory, Gisha stated on Wednesday.
"In the four-plus years since the ceasefire was reached, there has been a gaping chasm between Israel's official rhetoric and its actions on the ground in Gaza," Gisha stated.
"Israeli officials pay lip service to the difficult situation and the need for economic recovery in the Strip, while harsh restrictions on movement of people and goods continue in a way that renders recovery a distant dream."
Over the past eight months nearly 175 Palestinians have been killed by Israeli forces during mass protests against the blockade. The protests also call for the realization of refugees' right to return to lands of origin on the other side of the Gaza-Israel boundary.
This week Al-Haq reiterated its call for sanctions on Israel over its "systematic suppression of the Great Return March protests."

Palestinians celebrate the resignation of Israeli defense minister Avigdor Lieberman outside the Gaza City home of Hamas leader Ismail Haniyeh on 14 November. (Ashraf Amra | APA images)
Avigdor Lieberman, blamed by Hamas for the botched commando raid precipitating the crisis earlier this week, resigned from his post as defense minister on Wednesday in protest of Tuesday's ceasefire and an influx of Qatari cash bringing economic relief to Gaza last week.
Weeks earlier Lieberman had advocated for another war on Gaza to enforce Israel's blockade on the territory.
He had unilaterally halted fuel deliveries to Gaza, bringing essential services such as health and sanitation to near collapse, until Israel's security cabinet hampered his ability to make such orders.
"There is no other definition, no other significance, but a capitulation to terror," Lieberman said on Wednesday. "What we are doing now as a country is buying short-term quiet at the cost of our long-term security."
Hamas greeted Lieberman's resignation as an "admission of defeat and a political triumph for the Palestinian people," in the words of spokesperson Sami Abu Zuhri.
Education minister Naftali Bennett, who also opposed the ceasefire with Hamas, said that his far-right Habayit Hayehudi (Jewish Home) party would quit Benjamin Netanyahu's ruling coalition if he doesn't get the defense minister portfolio.