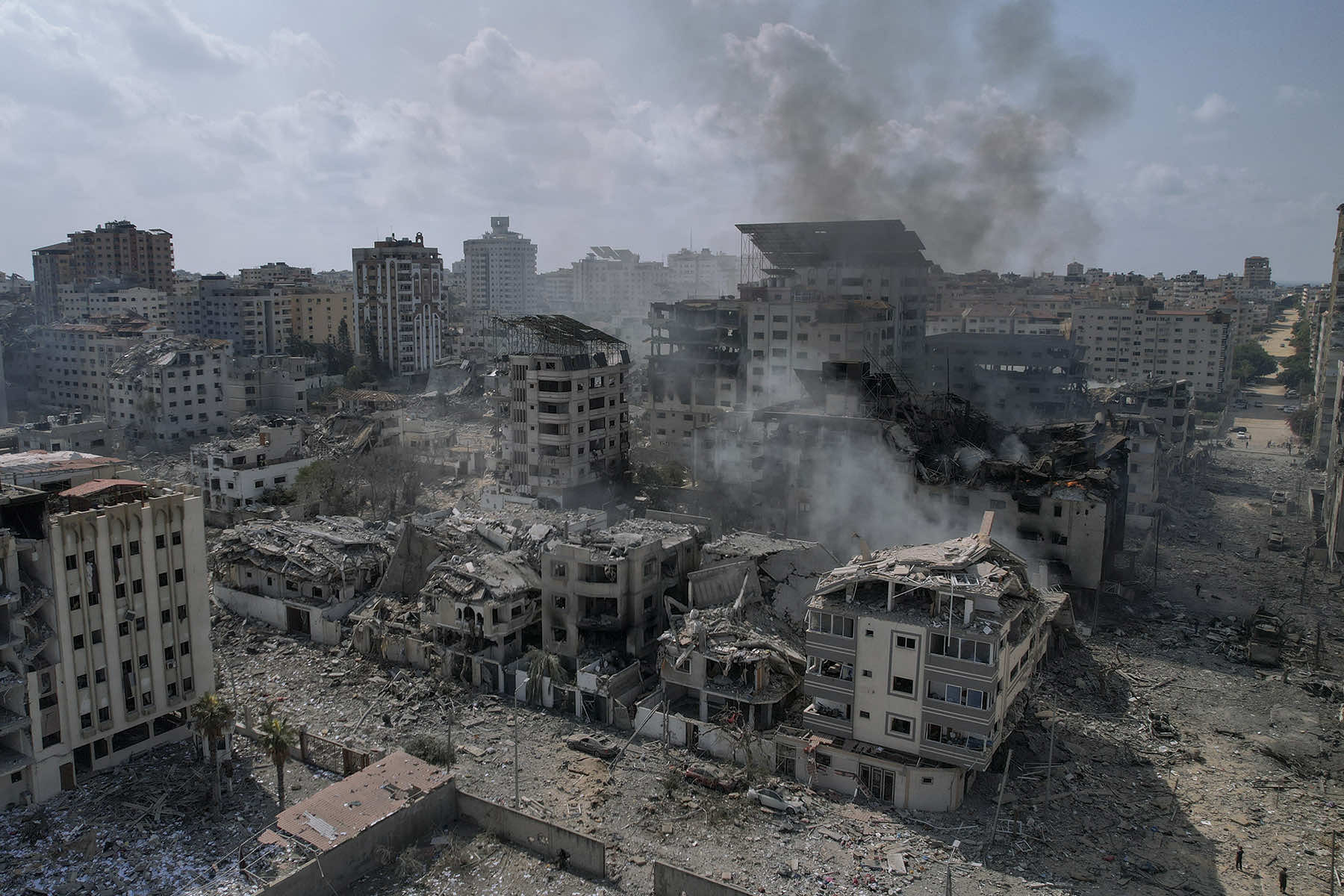 Guest, Milwaukee Independent, Oct 11, 2023
A diverse and broad coalition of Wisconsin-based organizations dedicated to peace and social justice recently formed in response to what they believe has been a misrepresentation of the conflict faced by the Palestinian people.
In a joint statement on October 10, the coalition expressed deep sorrow for the loss of lives on both Palestinian and Israeli sides. They also condemned what they described as years of provocation by the right-wing Israeli government under Prime Minister Benjamin Netanyahu, who has been indicted for corruption in 2019.
The group also voiced their concerns over the one-sided narrative presented in the mainstream U.S. media and by President Biden's administration, which they believe portrays Israel primarily as the victim and overlooks the suffering of Palestinians.
The coalition's member organizations include Milwaukee Muslim Women's Coalition, Jewish Voice for Peace–Milwaukee, Wisconsin Muslim Civic Alliance, Islamic Society of Milwaukee, Racine Coalition for Peace and Justice, Milwaukee Anti-war Committee, American Muslims for Palestine, University of Wisconsin-Milwaukee's Students for Democratic Society, Adalah Justice Group, Syrian American Medical Society-Milwaukee, Peace Action Wisconsin, Students for Justice in Palestine at UWM, Marquette University and UW-Madison; and Arab and Muslim Women's Research and Resource Institute, among many others.
"Our coalition's position is that the United States must end its partnership with Israel's brutal occupation," said Professor Lorraine Halinka Malcoe, a member of Jewish Voice for Peace.
Continue:



Hamas officials cited long-simmering tensions, including a dispute over the sensitive Al-Aqsa Mosque sacred to both Muslims and Jews, for what prompted their October 7 attack on Israel. Competing claims over the site, known to Jews as the Temple Mount, have spilled into violence before, including a bloody 11-day war between Israel and Hamas in 2021.

"A lack of context makes it appear that this was an unprovoked attack by Hamas when in fact it is a result of decades of brutal policies on Gaza, often referred to as an open-air prison," said Janan Najeeb, MMWC executive director.

Opinions in the U.S. rapidly became polarized, as the battle for the narrative followed the battles on the ground in Israel.

"It is fine to criticize various Israeli policies. But this 'prison break' talking point is deeply problematic. If Gaza is a prison, it is in part because it is run by a prison gang in the form of Hamas, which brutalizes and exploits Palestinian inmates." – Jonah Goldberg

The White House originally described the Hamas assault as "unprovoked," a line widely adopted by some pro-Israel groups seeking to portray the attack as driven solely by the hatred of Jews. But the Biden administration's position was swiftly challenged.

"To call this 'unprovoked,' as the initial White House statement did, is to ignore the daily and constant Israeli violence and war crimes against Palestinians, which has only escalated in recent years. It is language that erases Palestinians and enables continued violence against them," said Yousef Munayyer, the former executive director of the U.S. Campaign for Palestinian Rights, in a statement.

In recent years, Israeli religious nationalists have increased their visits to the compound. During the Jewish harvest festival of Sukkot this year, hundreds of ultra-Orthodox Jews and Israeli activists visited the site, prompting condemnation from Hamas and accusations that Jews were praying there in violation of the status quo agreement.

Hamas also has cited the expansion of Jewish settlements on lands Palestinians claim for a future state, and efforts to toughen restrictions on Palestinian prisoners in Israel. Tensions escalated with recent violent Palestinian protests.

In negotiations with Qatar, Egypt, and the United Nations, Hamas pushed for Israeli concessions that could loosen the 17-year blockade on the enclave and help halt a deteriorating financial crisis.

"Among the scores of imperiled people in Israel and Palestine are a small minority of Christians who have lived on the land continuously since the time of Christ and know well the decades of
human rights abuses and violations of international law that fuel the deadly violence we witness today," states Rev. Lisa Bates-Froiland, Ph.D., of Redeemer Lutheran Church, who has visited the West Bank.

Rev. Bates-Froiland said that racist depictions of Palestinians as "violent Muslims," disregarding the significant Palestinian Christian population who are also suffering under Israel's brutal rule, as well as portraying European Jews as civilized White people, is not new. It was the same model used for centuries by those who have colonized and ethnically cleansed indigenous peoples around the world.

Early reports have suggested that Iran played a role in funding and orchestrating the Hamas attack, although the Biden administration disputed the claim.

While the Israeli government's supporters sought to absolve it of responsibility for raising tensions, its critics have for months warned that a mix of settlement expansion, creeping annexation of the West Bank, and unrestrained settler attacks on Palestinian civilians was pushing the occupied territories toward an increase in violence and even a third intifada.

There has also been a push to claim that Gaza is no longer occupied and therefore has no justification for confrontation with Israel. However, the United Nations still considers the area occupied, because of Israeli controls over Gaza's borders, airspace, and waters. The extent of that control was made clear with the Israeli defense minister Yoav Gallant's announcement of a "complete siege" of the territory, shutting off power, food, and water.

The Israeli-Palestinian conflict has roots going back over a century, with both sides holding deep-seated claims to the land. Palestinians have long felt marginalized and displaced, as settlements expanded and borders shifted.

For Palestinians, the story of the past decades has been one of resilience in the face of what they perceive as oppressive policies and practices by the Israeli government. From land seizures to the building of settlements and barriers, many Palestinians feel they have been gradually pushed out of their ancestral homes, leading to vast numbers of refugees.

The blockade on Gaza, in particular, has been a significant point of contention, with Palestinians viewing it as a form of collective punishment that has stifled their economy and limited their movement.

While global headlines are dominated by the sudden surge in hostilities on October 7, the lived realities of average Palestinians, often overshadowed by larger political narratives, are crucial to understanding the broader context. For many Palestinians, life has become an intricate tapestry of navigating daily adversities.

Economic hardships, restrictions on movement due to blockades, and limited access to essential resources have become the norm for many Palestinian families. The situation has only been exacerbated by the internal divisions between the Palestinian Authority in the West Bank and Hamas in Gaza, leading to contrasting governance styles and policies.

While Hamas may champion itself as a resistance movement against Israeli transgressions, its tactics and governance style have not always found unanimous support among the Palestinian population. There has been a growing sentiment among many Palestinians that they are caught between the aggressive policies of Hamas and the stringent defensive measures of Israel, leaving them victimized on both fronts.

Many Palestinians also lament the lack of international attention to their daily struggles. Media bias has been a persistent issue that surfaces when discussing the Israeli-Palestinian conflict. Whether on the ground or from a distance, reporting on the complex and sensitive topic can be challenging due to the deeply rooted historical, political, emotional, and religious factors involved.

The Israeli government has been accused of suffocating Gaza under a blockade for 17 years, holding more than 2 million people captive, while starving them and denying them medical aid in violation of international human rights law and countless U.N. resolutions.

Eighty percent of the people of Gaza are refugees who were ethnically cleansed from their homes in Palestine to make room for Jewish settlers. Gazans suffered numerous Israeli attacks in 2008, 2012, 2014, and 2021.

"The United States is sending jet planes, naval carriers, and ammunition to back up Israel's plans to collectively punish and ethnically cleanse the civilians that Israel has trapped in Gaza for over 17 years," said Munjed Ahmad from American Muslims for Palestine.