With this denial of entry, Israel appears to have once again enlisted the Trump administration to do its bidding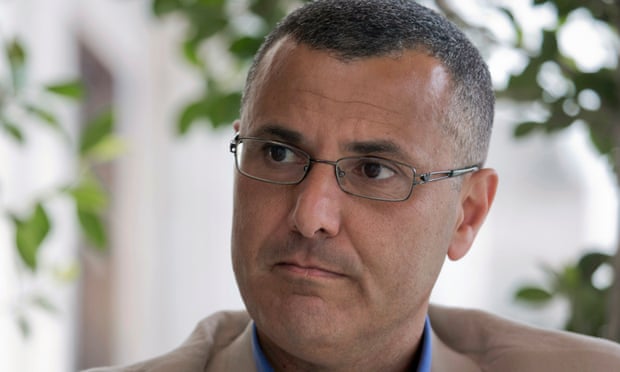 "Palestinians are now helplessly anticipating a far-right Israeli tsunami that will wipe out whatever rights we have left." (Photograph: Nasser Nasser/AP)
Omar Barghouti, The Guardian, 16 Apr 2019
Last Wednesday, as I was preparing to depart for the United States for a series of speaking engagements, I was abruptly stopped and prevented from boarding my flight at Ben Gurion airport. The US consulate informed the airline staff that US immigration has banned me from entering the country, despite having a valid visa, without providing a reason.
Given my regular, unhindered travel to the US for years, this ban seems to be an ideologically and politically motivated measure that fits in with Israel's escalating repression against human rights defenders. Israel's far-right regime is not merely continuing its decades-old system of military occupation, apartheid and ethnic cleansing against Palestinians, it is increasingly outsourcing its anti-democratic tactics to the US.
As a co-founder of the nonviolent Boycott, Divestment and Sanctions (BDS) movement for Palestinian rights, I have been smeared by the Israeli government and banned from travel repeatedly, including in 2018 when I was prevented from going to Jordan to accompany my late mother during cancer surgery. Israel's intelligence minister threatened me with "targeted civil elimination", drawing condemnation from Amnesty International. Their de facto and "arbitrary travel ban" against me was recently lifted for three months after Amnesty International's pressure.
On this US trip, I was scheduled to meet with policymakers and journalists and to address the critical need for cutting US complicity in Israel's grave violations of Palestinian rights before audiences at New York University, Harvard, a black community bookstore in Philadelphia and the Tzedek Chicago synagogue. Afterwards, I was going to attend my daughter's wedding in Houston.
I have decided not to miss any of my speaking engagements, joining via video in the middle of my nights, but I cannot possibly compensate the personal loss of missing my daughter's wedding. I am hurt, but I am far from deterred.
Since Trump took office, he has repeatedly signaled his deep bias in favor of Israel. His Middle East team, Jared Kushner, Jason Greenblatt and David Friedman, with their fervent support for Israel's illegal settlements and other crimes, must be the most dishonest broker in the history of US "peacemaking". He has recognized Israeli sovereignty over Jerusalem and the Syrian Golan Heights in violation of international law and more than seven decades of official US policy.
Meanwhile, members of Congress and politicians in 27 states have passed laws intended to suppress the voices of Americans who support BDS. The ACLU has condemned these repressive measures as an unconstitutional violation of free speech that is "reminiscent of McCarthy-era loyalty oaths".
All of this has emboldened Israel's hardline rightwing government to accelerate its racist, oppressive policies towards the Palestinian people. Over the last year, Israeli soldiers have massacred hundreds and injured thousands of unarmed Palestinian protesters demanding refugee rights and freedom from the open-air prison that Israel has turned Gaza into.