As the UN's day of solidarity with Palestinians nears, Gazans have restored a hesitant bustle
Miriam Berger, The Guardian, Saturday 25 November 2017

Fishermen off the coast of Gaza City, which is home to a 5,000-year-old port. (David Levene, The Guardian)
Today Medinat Ghazzah, or Gaza City, is running on empty – and yet still going. Gaza City, the Gaza Strip's principal urban centre, carries various scars of war. Since 2006, Gaza has endured one civil war between Palestinians, three wars between the ruling Hamas militant group and Israel, a decade of Hamas' repressive rule, and a crushing blockade by neighbouring Israel and Egypt – all of which have crippled the economy and turned the tiny territory into a site of humanitarian crisis.
Gaza City's dusty buildings and bumpy roads, many still damaged or half-rebuilt from the last war, are at times reminiscent of facades found in Egypt and the Palestinian West Bank. But it is the crushing monotony and suffocating limits of life that define the city for residents who have walked the same streets for a decade without a chance of getting out. Still, the city carries on, with coffee shops, traffic, clothes stores, restaurants and even a new upscale mall offering diversions for those who can afford them.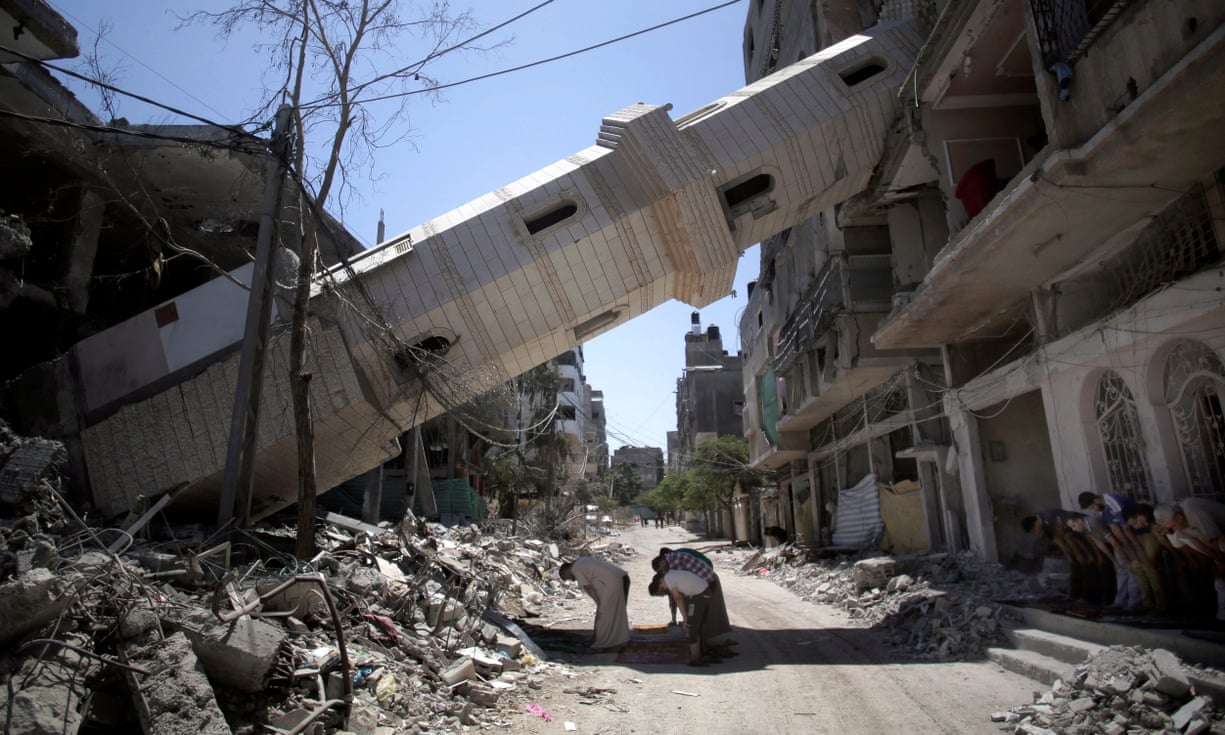 Palestinians attend Friday noon prayer beneath the fallen minaret during the 2014 war.
The city's framework, like the rest of Gaza, is innately tied up with politics. Gaza was once part of Britain's Mandate Palestine. Then came Egyptian occupation in 1948, followed by Israeli in 1967. Now, for the last decade, Hamas, which the European Union has designated as terrorist group, has ruled the tiny territory while Israel controls most borders.
Limited visitors