Ramah Kudaimi, US Campaign for Palestinian Rights, 06 Jul 2017
Big news! Minutes ago, the Mennonite Church (USA) voted to create an investment screen for the purpose of "withdrawing investments from companies that are profiting from the occupation." The resolution was approved near unanimously, with approximately 98% of the 548 voters supporting it. Click here to say thank you to the Mennonites!
The comprehensive resolution lifts up the rights of Palestinian refugees, citizens of Israel, and those living under occupation, calling for an end to U.S. military aid; urging church agencies and members to review their own investments; and encouraging individuals and congregations boycott products associated with violence or military occupation; among other things.
This is the largest margin yet by which such a vote has passed in a U.S. denominational assembly. Congratulations to

US Campaign member group Mennonite Palestine Israel Network (MennoPIN), who led this extraordinary initiative!
With this vote, the Mennonite Church (USA) joins the fast-growing list of denominations that have engaged in economic acts of conscience in recent years to support justice for Palestinians, including the Quakers, United Methodists, Presbyterians, United Church of Christ, Unitarian Universalists, Catholic Conference of Major Superiors of Men, the Alliance of Baptists, and the Evangelical Lutheran Church in America.
The US Campaign was proud to support this crucial effort alongside several Palestinian friends, leaders, and organizations; and member groups Friends of Sabeel – North America, Jewish Voice for Peace, and the American Friends Service Committee.
I have been on the ground at the Mennonite Church USA convention here in Orlando, Florida with MennoPIN, working around the clock supporting their preparations, talking with delegates, providing strategic support, bringing lessons learned from the many church votes that came before this one, and speaking at delegate receptions.
But I couldn't have been here without people like you investing in the US Campaign's critical role in connecting, strengthening, resourcing, and lifting up amazing member group-led initiatives and successes like this.
Today, please be a part of these extraordinary victories — and invest in many more to come — with a donation to the US Campaign.
Israeli soldiers carried out raid on solar farm which allegedly did not have proper building permits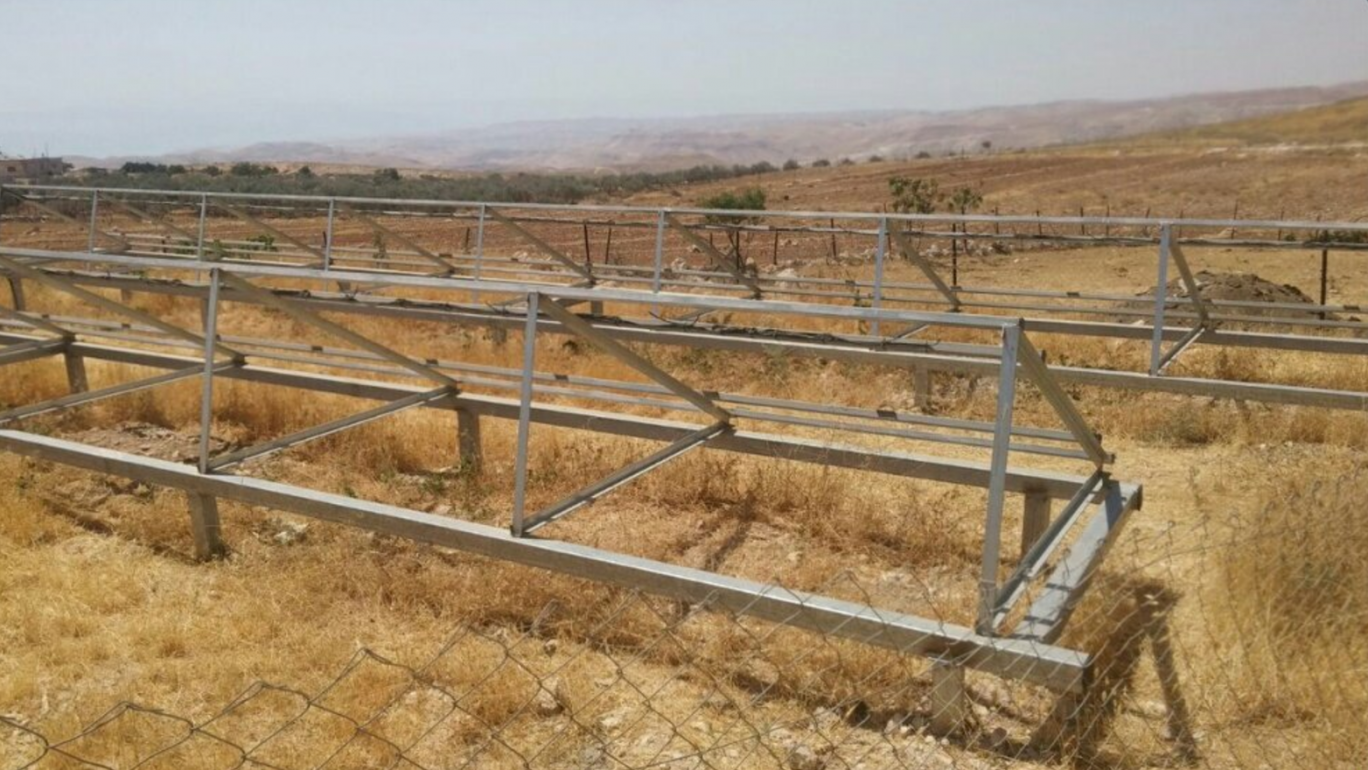 Bethan McKernan, The Independent, 3 July 2017
The Netherlands has lodged a complaint with the Israeli government after dozens of Dutch solar panels donated to a West Bank village were confiscated by Israeli authorities.
The hybrid diesel and solar power electricity system was installed last year in remote Jubbet al-Dhib, a village home to 150 people in an area of the West Bank occupied by Israel.
The panels were not built with proper permits and permissions, the authorities said, confiscating equipment belonging to the £307,000 humanitarian project last week.
Critics points out that building permissions for new Palestinian homes and infrastructure are almost impossible to obtain.
The village mayor told Palestinian outlet Ma'an News that the panels were destroyed, although Comet-ME, the aid organisation which installed the panels, said that between 60 and 90 were taken away intact and other equipment at the site destroyed and left behind by Israeli forces.
The Dutch Foreign Ministry has asked for the equipment to be returned to Jubbet al-Dhib and is considering what "next steps can be taken", according to a report in Israeli daily newspaper Haaretz published on Saturday.
The issue has sparked anger both in the Dutch government and in the Palestinian territories over how it was handled.
Cogat, the Israeli military agency responsible for coordinating Israeli policy in Palestinian areas, said that several work-stop orders were issued before the day of the raid. Villagers maintain that they did not know the site had been targeted until Israel Defence Force (IDF) soldiers showed up.
Of particular note is that Jubbet al-Dhib is very close to Israeli outpost villages – settlements illegal under both Israeli and international law – which enjoy a full connection to the main power grid.
Cogat said in a statement that the village had "other electricity sources" other than the "illegal electricity room". Haaretz said that before the solar panel system was installed, the 150 residents relied on a couple of "old and noisy" diesel generators for three hours of power a day.
More than 300 structures in the occupied West Bank demolished by the Israeli authorities in 2016 were at least in part funded by the EU or international NGOs, an Israeli military official said earlier this year.
Last year also saw the highest number of Israeli demolitions of Palestinian structures since rights groups began records.
More about: