Churches for Middle East Peace, July 28, 2017
In The News
Democratic Senators Rethink Bill Criminalizing Support for Israel Boycott [Roll Call]
Roll Call reports, "Democratic senators are thinking twice about the proposed Israel Anti-Boycott Act after an outcry by the American Civil Liberties Union (ACLU), which considers it a 'serious threat to free speech.' While Maryland Sen. Ben Cardin, the bill's lead author, said that the ACLU had misinterpreted the piece of legislation, he expressed his intention to 'make it clearer.' The act targets the boycott, divestment, and sanctions movement, an international effort to boycott businesses in Israel and occupied Palestinian territories in order to pressure Israel to comply with international law and stop the further construction of settlements."
This Piece of Pro-Israel Legislation Is a Serious Threat to Free Speech [The Washington Post]
"The Israel Anti-Boycott Act is designed to stifle efforts to protest Israel's settlement policies by boycotting businesses in Israel and the occupied Palestinian territories. … Whether one approves or disapproves of the BDS movement itself, people should have a right to make up their own minds about it. … By using their power in the marketplace, consumers can act collectively to express their political points of view. There is nothing illegal about such collective action; indeed, it is constitutionally protected," write the American Civil Liberties Union's National Legal Director David Cole and National Political Director Faiz Shakir.

Read The Small Print. How Nearly 200 Congressmen Could've Signed on a Bill Criminalizing Free Speech And Legitimizing Israel's Occupation Of Palestine [Huffpost]

Political consultant Marilyn Katz writes, "Hidden behind the benign language of the [Israel Anti-Boycott Act] legislation … are laws that would criminalize even speaking out about a boycott while legitimizing Israel's 50-year occupation of the West Bank ― an occupation considered illegal by the world, and condemned even by the United States."
J Street, a Reliable Foe Of BDS, Urges Congress to Oppose Israel Anti-Boycott Act For Now [The Intercept]

"J Street, founded in late 2007 to promote a two-state solution, opposes the Israeli occupation and general treatment of the Palestinians, but also has refused to endorse the Palestinian-led nonviolent boycott movement. Its activists regularly find themselves at odds with left-wing groups such as Jewish Voices for Peace and Students for Justice in Palestine who view BDS as the best way to end the occupation of the Palestinians. Thus J Street often lobbies in favor of anti-BDS legislation. However, the Israel Anti-Boycott Act is a step too far for even these reliable opponents of BDS," reports The Intercept.

Israel Anti-Boycott Bill Does Not Violate Free Speech [The Washington Post]
Northwestern University School of Law Professor Eugene Kontorovich writes, "The Israel Anti-Boycott Act is a minor updating of a venerable statute that has been at the center of the U.S. consensus on Israel policy — the laws designed to counteract Arab states' boycott of Israel by barring Americans from joining such boycotts. … Current law prohibits U.S. entities from participating in or cooperating with international boycotts organized by foreign countries. These measures, first adopted in 1977, were explicitly aimed at the Arab states' boycott of Israel, but its language is far broader, not mentioning any particular countries."

Jewish, Muslim & Christian Leaders Denied Entry to Israel for Supporting Palestinian Human Rights [Presbyterian News Service]

"Five leaders on an interfaith delegation to Israel/Palestine were refused permission to board their plane in the United States, in what appears to be an implementation of Israel's travel ban on supporters of Palestinian rights and Boycott, Divestment Sanctions (BDS). … 'I am part of a Jewish, Muslim and Christian delegation of committed, nonviolent peacemakers whose plan is to meet with those in both Israel and Palestine who are working every day for a Just Peace in the Holy Lands,' [stated] Rick Ufford-Chase, Moderator of the 216th General Assembly, PC(USA) and member of the Activist Council of the Presbyterian Peace Fellowship. 'At this time when tension and violence are rising once again, the work we are doing to build trust and work for a viable peace is more important than ever, and I stand ready to go the moment the State of Israel gives us permission to fly,'" reported Presbyterian Peace Fellowship in a statement released Monday.
I'm The First Jew Banned From Israel For Supporting BDS [The Forward]

Deputy Director of Jewish Voice for Peace Rabbi Alissa Wise was one of five members of an interfaith delegation refused permission to board a flight to Israel at the Israeli government's request. Wise writes that she "became a rabbi for one core reason: to build toward justice and liberation for all people by organizing with Jews in deep partnership with directly impacted communities across borders and faiths. Our delegation planned to spend 12 days in Israel and the occupied Palestinian Territories, meeting with Palestinian and Israeli grassroots activists and faith leaders and visiting our respective holy sites."
CMEP is organized to educate and give witness to principles of peace and justice in the Middle East on behalf of its religious constituencies by advocating public
policy positions
approved by the CMEP board. CMEP's policy position seven states: "In order to defend free speech and religious liberty,  uphold the right of churches and organizations to find appropriate and various ways to end unjust practices and policies that violate international laws and conventions, including exerting economic leverage on commercial and government actors."
Barbara Olson, The Cap Times, Jun 11, 2017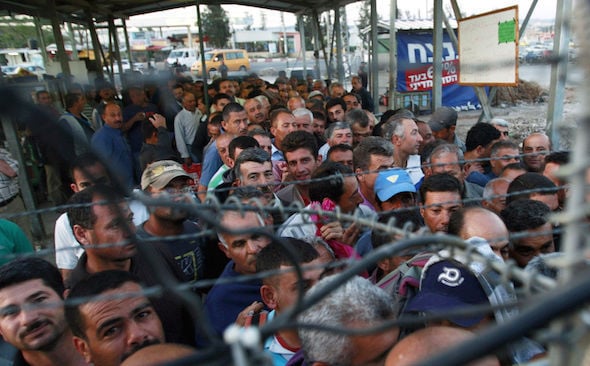 Palestinian workers wait to cross the Israeli checkpoint of Al-Jalameh, south of the West Bank city of Jenin, on their way to work in Israel May 1, 2014. (AP Photo/Mohammed Ballas)
June 2017 marks 50 years of Israeli military occupation of Palestinians in the West Bank, Gaza Strip and East Jerusalem. In 1967, in open defiance of international law prohibiting acquisition of territory by force, Israel began settling its own Jewish population on occupied Palestinian land, seizing large swathes of the most valuable, fertile and resource-rich areas.
For 50 years this dispossession has been enforced by a violent regime of military occupation, a regime that has expanded and deepened until many argue that it now meets or exceeds the legal definition of apartheid — a system of laws, institutions and practices that treat people differently based on race, ethnicity, nationality or religion.
For the last 70 years, Israel has also denied millions of Palestinian refugees their right under international law to return to the homes and properties from which they were ethnically cleansed from 1947 onward. In contrast, Israel's "Law of Return" gives automatic citizenship rights to any Jewish person from anywhere in the world.
Those Palestinians who refused to flee after the Israeli state was declared in 1948 spent years living under martial law before gaining Israeli citizenship. Now making up at least 20 percent of Israel's population, they face dozens of discriminatory laws that privilege Israeli Jews.
A special mention must be made of Gaza. While Israeli soldiers and settlements were withdrawn in 2005, Israel exercises "effective control" over Gaza's borders, coastal waters and airspace, making it the occupying power under international law. For 10 years it has enforced a suffocating and deadly blockade of Gaza, condemned by the UN as an inhumane act of collective punishment of nearly 2 million civilians, half of them children. Devastating Israeli military assaults in 2008-09, 2012 and 2014 killed thousands of civilians and deliberately destroyed Gaza's civilian infrastructure.
U.S. political, military and financial support makes this possible. Republican and Democratic administrations have given lip service to the establishment of a Palestinian state in the West Bank and Gaza Strip, calling the settlements and occupation "obstacles to peace." In reality, they envision not two equal states side by side, but disconnected, fragmented and nonviable "Bantustans" for Palestinians under permanent Israeli control.
Meanwhile, the U.S. is underwriting Israel's abuses of Palestinians and the massive expansion of the Jewish-only settlements that long ago killed the possibility for any two-state solution. U.S. taxpayers already give Israel more than $3 billion in weapons like F-16 (and now F-35) fighter jets, Apache helicopter gunships, Caterpillar bulldozers, the Iron Dome, and more each year. This was before President Obama agreed to give Israel another $38 billion in weapons over the next decade. And before the election of Donald Trump, who has enthusiastically aligned himself with Netanyahu and the most racist and militaristic elements of Israeli society.
As Trump recently — at least temporarily — backed off on his campaign pledge to move the U.S. embassy from Tel Aviv to Jerusalem, Senate Democrats, including progressives Tammy Baldwin and Bernie Sanders, joined Republicans to unanimously call for just that.
While such congressional efforts to make the Israel lobby happy go back many decades, no president has yet chosen to inflame tensions in the region by legitimizing Israel's East Jerusalem occupation and mistreatment of Palestinians in this way.
Sen. Baldwin actually joined Mitch McConnell in co-sponsoring the resolution, which as U.S. Campaign for Palestinian Rights policy director Josh Ruebner pointed out also "celebrates a half century of Israeli military occupation of East Jerusalem while ignoring Israel's violations of international law there and its separate-and-unequal regime which discriminates against Palestinian Jerusalemites."
Rebecca Vilkomerson of Jewish Voice for Peace noted that "Jerusalem could not be more divided, physically, economically, socially and politically," as Palestinians there face home demolitions, property seizures, collective punishment, and discrimination in residency rights and public resources.
One would think that true progressives would condemn rather than celebrate 50 years of military occupation, mass imprisonment, violent repression, property theft, and expulsions, and call for a just solution based on respect for international law, equality, justice and human rights. Clearly, both Baldwin and Sanders failed that test.
Barbara Olson is a member of the Madison-Rafah Sister City Project.
Share your opinion on this topic by sending a letter to the editor to tctvoice@madison.com. Include your full name, hometown and phone number. Your name and town will be published. The phone number is for verification purposes only. Please keep your letter to 250 words or less.